You know what rules? Tabletop Games. Seriously, we love them here. But do you know what's hard to do right now, in the back end of 2020?
Invite people over to play tabletop board games, that's what.
So unless you happen to live with other board game enthusiasts, gathering as a group to roll dice and sling cards may unfortunately be…off the table for a bit. (Get it?)
Luckily, developers have gotten really good at converting tabletop games into a digital form. These days, you can play by yourself against a computer opponent or together with friends and family over the internet. What an age we live in! The future is here!
Not along ago Steam was celebrating digital tabletop games with a combination of panels, live streams and a store-wide sale. (And they're often included in the much-beloved, deep-discount "Steam Sales" that happen regularly.) When that happens, or even if it doesn't, the current social climate makes this a fantastic time to give digital versions of tabletop games a shot.
The staff here at Geek to Geek have put together a list of digital tabletop games that we think you'll really dig and love to dig into.
Talisman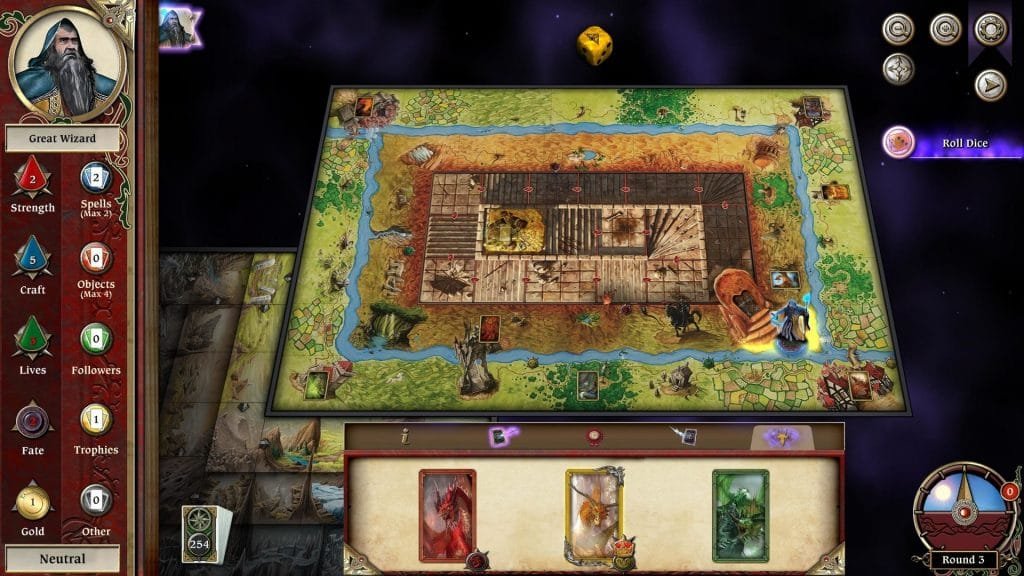 Recommended for: RPG Enthusiasts and Self-Driven Players
On Steam
You know what else is harder right now than it already was? Wrangling people together to roll some D20s and encounter a dungeon (or possibly even a dragon). Sure, you can do that in other choice-driven RPGs like Baldur's Gate, but it's not quite the same feeling. Luckily, Talisman will get you a lot closer.
It's halfway between a traditional race-to-the-end board game and a miniature, competitive tabletop RPG session. You start as one of a dozen classes and alignments, level up through a combination of combat and questing, and venture to the land's unforgiving center ring.
Granted, RPGs take a long time to see through, so this could take a whole afternoon with even a party of two or three, though you could just as easily tackle it at leisure as a single-player challenge. Better yet, you can save a game and resume it later, maintain your progression and unlocked content across PC and mobile versions, and even play on one device in a "hot-seat" mode if you're lucky enough to have other players at hand. If you've been itching to roll a character but haven't had the means to recently, Talisman is definitely worth a look.
Heart of Crown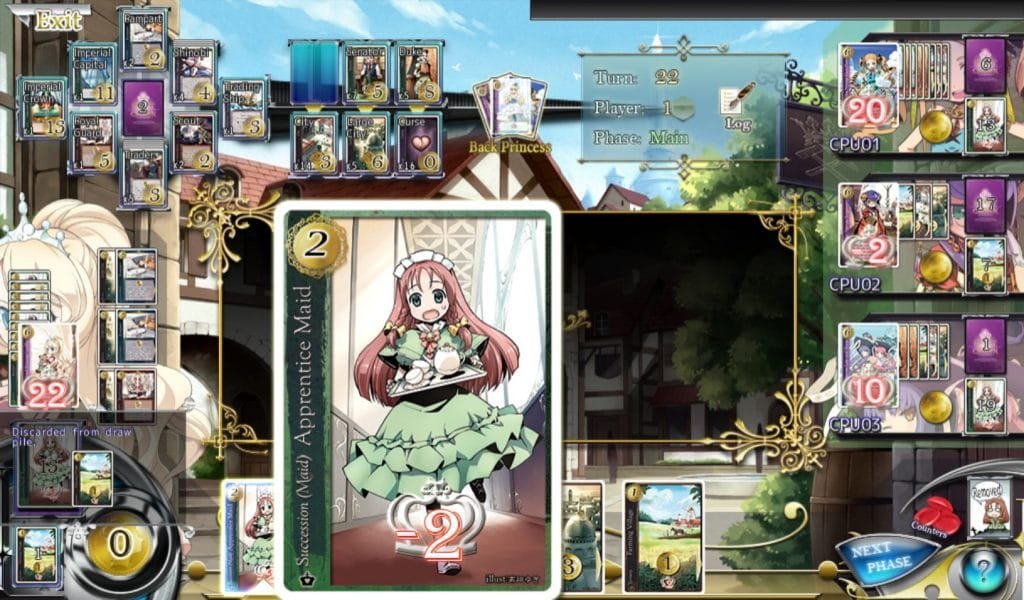 Recommended for: Novice Deck-builders and Anime Fans
On Steam
I can find deck-building games to be awfully confusing and awkward in-person. Stopping play every few turns to acquaint myself with every new piece that comes into play can make me feel like I'm slowing things down for everyone. And no, this has nothing to do with how out-of-my-depth I feel about Magic the Gathering.
Digital versions of deck-building games solve a lot of these problems, since I can look at my opponents' cards at any time without having to physically take it from its place across the table. Heart of Crown in particular benefits from a simplified, shared card pool – everybody uses the same market of Villages and Trading Ships, which dramatically cuts down on unique and potentially-confusing rules. Much like Slay the Spire, you're also building your deck on the fly as you play, meaning that you can react and correct your choices rather than front-loading the "building" portion before you've even got a feel for the game itself.
It's hard to avoid this game's art style, created by the same team as the Etrian Odyssey games on the (3)DS. Some – myself included – will find it bright and cheery and endearing. Others will be averse to it, and you probably didn't need me to tell you so. But the underlying game here is great fun that benefits from a solid single-player showing, from a campaign mode (with a proper story!) to ranked matchmaking. If you, like me, like the idea of deck-builders but struggle with playing them in practice, Heart of Crown could well be your way into the genre.
Gloomhaven
Recommended by: Beej
Recommended for: RPG players, impatient players, and cheapskates like me
On Steam
The physical Gloomhaven board game is both a masterpiece and monster. The game itself has been one of the most acclaimed titles over the past few years, but it's so intimidating to set up and get into that it gives Twilight Imperium a run for its money.
With that in mind, you can save yourself and your gaming group that trouble with the digital version of Gloomhaven that's in Early Access right now. While the game was obviously in rough shape when it was released (it's early access, after all), the developers over at Asmodee Digital have really improved things over time. With content updates, modules, rules, quality-of-life/playability improvements, and just overall polish, dropping the $25 on the digital version of this tabletop favorite is definitely worth it (especially when you consider that's under 1/5 of the price of its physical counterpart).
You can play solo or with friends, but with zero setup and rules enforcement handled by the game itself. Even with the streamlined version of Gloomhaven, Jaws of the Lion, we think that the digital version is the best way to get into it and see if this is something you want to invest in, both time and money-wise.
Root
Recommended For: Lovers of Asymmetry and People Who Like A Little Bit of Strategy
On Steam
Probably the strongest sentiment after our friend group first played Root was "boy, I can't wait to play that the third time".
It's one of those games that has eleventy-seven turning gears, only half of which any given player can touch. Everybody has a specific goal in mind, and it's different from everybody else's, creating this wonderful push-and-pull. But that also means that the rules are complicated, especially your first time out.
Which is where digital tabletop games absolutely shine.
A handy tutorial sets you straight with every character on the board and what they want. The in-built restrictions mean you can't accidentally make an illegal move, and what you can do is miles clearer. You don't have to have exactly four people any more, either – a CPU will readily fill empty seats. Root is just a perfect example of how to take an already-good board game and round off the rougher corners for new players. Plus, the game pieces are rendered with the same rustic charm as the box art now instead of just being meeples. Ten points to the art teams.
Scythe
Recommended For: The Competitive Tabletop Player and The Tragically Dieselpunk
On Steam
Our last pick, I'll admit, I didn't have a ton of fun with when I first played it. But it's important to recognize when a game is good, and just not for you.
Scythe is a complicated, strategic resource-management and warmongering game. It's got a lot of rules, a lot of stats to track, and a lot of places where you wish you could take back a move when a turn doesn't play out as expected. The first two of these, at least, go down way way smoother when a computer is managing all those things for you in a complicated-but-comprehensive layout. That last one, unfortunately, is on the player.
But, like many things, a high skill floor indicates a stratospheric skill ceiling. Its complex nature means it's possible to get stupidly-good at Scythe, and that's reflected in its ranked mode. I had to pause to register that this tabletop game has a concept of "Elo Ranking" to matchmake players like a chess simulator. I dare not touch it, but the fact that it exists proves that the digital version of Scythe is built to facilitate more serious play.
Oh, and you get to stomp around with giant pseudo-Cold-War mecha – which you can custom-paint the miniatures for within your copy of the game. Y'know, in case you hardcore players weren't invested enough.
…And More
Obviously a round-up of five of our favorites just can't cover all of the fantastic tabletop games converted to digital form. That's not even touching independent games with official versions on Tabletop Simulator, or those that have been given new life through fan modifications.
Let us know about your favorite digital tabletop games in the comments!