Last week, I talked a lot about the characters in Dragon Quest VIII. This week, I want to focus more on the gameplay mechanics that make this entry unique from the others in the series.
DQ VIII has a lot to offer in terms of side quests and mini-games. There's the new photo scavenger hunt in the 3DS version. There's the monster arena, the alchemy pot, books to look for, rare enemies to fight, and so much more!
I don't think I'll be able to cover everything in this single post, but I do want to highlight some of my favorites!
The Monster Arena
Typically, if there's a monster arena in Dragon Quest, I'm pretty indifferent toward it. It's not that I hate it; I just don't love it. I've never spent much time fighting in the arena (in Dragon Quest or any other game to feature one, actually), but Dragon Quest VIII is different.
Maybe it's because you get Morrie as an additional playable character from winning the arena's challenges in the 3DS version. Or maybe I just really wanted that Bunny Suit as a prize…
Whatever the reason, I kept coming back to the Monster Arena and fighting. I liked being able to befriend rare monsters and recruiting them into my arena party. It was a fun mechanic that encouraged both exploration in the overworld to hunt for the monsters, and it fed my constant need to collect everything inside of a video game.
Cameron's Codex
Probably my favorite new addition is Cameron's Codex in the 3DS version. Aside from mini-medal hunting (which is in pretty much every Dragon Quest game), Cameron's Codex is probably my favorite mini-game in the entire series.
It goes like this: a guy named Cameron Obscura (get it?) wants you to explore the world and take photos of interesting and rare things. You can switch into camera mode and take snapshots of these items on his list. You get stamps for taking the requested snapshots.
Obtaining enough stamps = sweet rewards.
My favorite part of this has been finding Golden Slimes in towns and other areas. I've loved it so much, in fact, that I hope they add it to other future Dragon Quest games.
The Alchemy Pot
Dragon Quest VIII was developed by Level-5 (Ni No Kuni, Fantasy Life, Rogue Galaxy, Yo-Kai Watch, etc.). If you needed proof of this fact, take a look at the alchemy pot. Level-5 games are known for their crafting and collecting mini-games. Of all the mini-games in DQ VIII, the alchemy pot feels the most like something Akihiro Hino from Level-5 cooked up (pun intended).
You go around collecting ingredients and experimenting by cooking them in King Trode's alchemy pot. Along the way, the alchemy pot gets upgraded so you can make more fun things. Make sure to check every bookshelf you find! You can find some good recipes hidden in the pages of some of the books.
Rare Monsters
The 3DS version also comes with new, powerful monsters! Most of these you find via the Cameron's Codex side quest. It works like this, for example: kill 30 slimes in a certain zone, and a rare slime monster will appear.
I'll admit, I sometimes got bored killing thirty of the same enemy over and over again. And it sometimes took a bit of hunting to find where the rare monster spawned. Overall, though, I thought it was a fun addition to the game.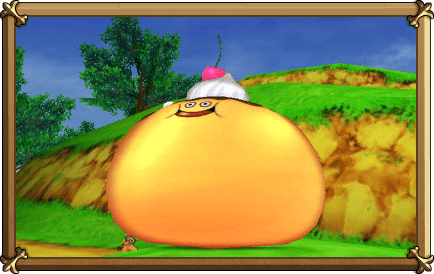 Plus, if you like filling up every part of your bestiary like I do, you have to take down these monsters anyway. And because they're so rare, you get a lot of stamps for snapping a photo of them!
Mini-Medals and More!
Like I've said many times before, hunting mini-medals is one of my favorite parts of Dragon Quest games. DQ VIII is no different. This time around, you turn in your mini-medals to Princess Minnie on an island. The rewards are pretty nice, and if you're a fan of the Miracle Sword (like I am), you can unlock it pretty early.
There are lots of fun things to do to occupy your time in Dragon Quest VIII. At the time of its original release, I'd argue it had more mini-games and side content than any other game in the series. I think this is probably a direct influence from Level-5, but I could totally be wrong on that. Either way, it improved the series and took it to completely new heights!
That about wraps it up for this week. Join me next week when I discuss my final thoughts on Dragon Quest VIII!