Starting today, we're bringing you regular posts about all the cool collectibles that have us excited here at Geek to Geek. For his first post, Scott takes a look at all the amazing Star Wars goodies that are currently out and releasing soon!
"This is the Way"
Before The Mandalorian premiered, I was hopeful but skeptical of whether it was going to be a good addition to Star Wars. The only thing I had picked up prior was a New York Comic Con Exclusive Funko Pop of the Mandaloorian. After watching it, I now have to have anything and everything related to the show! Some of the collectibles releasing in the spring that I'm stoked for are the 3.75 Vintage Collection figures of Mando and Cara Dune.
These are a bit more unique than your standard Black Series figure because of the packaging. The card back to each figure is unique and usually shows an iconic moment from the film/show it is from. They haven't officially revealed the card backs for these two figures, but to give you an idea, here are a few of the vintage figures in our collection:
If you want to preorder the Mando and Cara Dune figures yourself, you can find them in Guaranteed Mint condition at Entertainment Earth by clicking the links here: Mando figure and Cara Dune figure.
LEGO Mandos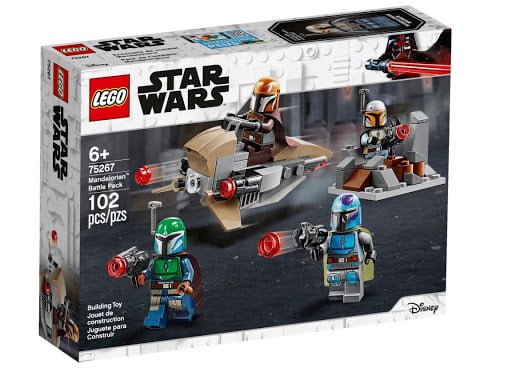 At some point in your life, there's a good chance you've either picked up a Lego brick or built some kind of Lego set. When I saw the Mandalorian Battle Pack at my local Target, I just had to have it.
It is one of two sets currently available from the show. It did not take long to assemble, but it is still a cool piece for my shelf. You may be able to find this in your local store, but it is available for backorder off of the official Lego website! The same applies for the AT-ST Raider Set, which I haven't gotten to take a crack at yet!
The Force is Strong with These Pops!
When I started collecting Funko Pops back in 2015, I had no idea what I was getting into. I casually collected specific ones I liked up until the end of 2017. When I started dating my girlfriend, she had quite the collection. The majority of her collection is Star Wars.
Now in 2020, between the two of us, we have over 500 Funko Pops! When the London and New York Toy Fairs roll around every year, it's like Christmas all over again. The highlight of the London Toy Fair this year was the announcement of the 40th Anniversary Empire Strikes Back Pops.
This line features some of the iconic looks and moments from the film. Not pictured here are the previously released "Pop & Town" Yoda with his Dagobah Hut. The two I'm most excited for from this line are Luke with Yoda on his back and Darth Vader in his meditation chamber. These will be releasing in the spring and can be preordered on Entertainment Earth.