No Place Like Home is basically amazing. A game of cleaning up the post-apocalyptic Earth, solving a mystery, farming, crafting, and bedecking your farm animals with hats so they can dance under disco balls. What else do you need?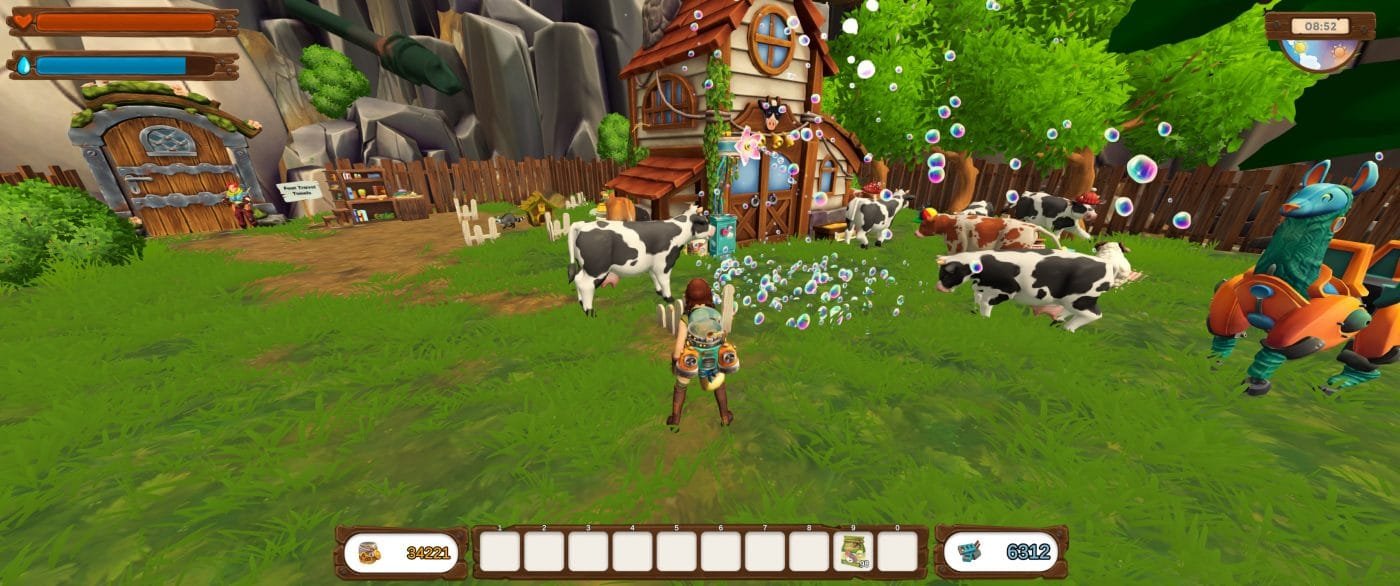 Quick View
Title: No Place Like Home
Developer: Chicken Launcher (which is a fantastic name for a game developer in my opinion)
Publisher: Realms Distribution
Release Date: March 17, 2022
Price: $19.99
Suggested Audience Age: everyone
Number of Players: 1
Time to Play: 14 hours (supposedly…for me it's a lot longer!)
Availability: Steam
Recommended for fans of: cute games, cleaning, farming, or games like My Time At Portia

Geek to Geek Media was provided with a review copy of this title
What's The Story
In this post-apocalyptic world, humans have basically covered the planet with trash and left to go start a new home on Mars. A few stalwart individuals stayed behind despite the clutter, one of these being your grandpa. You play as Ellen, a young woman who was waiting on a space station for her turn to officially move to Mars when the game starts. She decides to take one final trip to Earth and visit her grandpa…only to find he has vanished! And apparently, there is a talking chicken named Cornelius. Who likes to wear hats. It's a thing.
Anyway, you care about your grandpa and want to find him. So, you start planting pumpkins and raising chickens. Because…reasons. Thankfully Ellen somehow has a superpowered vacuum gun thing that can help clean up all the trash that is everywhere because it doesn't look like anyone else is doing anything about it.
Cleaning up trash, planting vegetables, and adopting farm animals pretty much become your life as you clean paths to where other humans are holed up in this world. Asking around, they don't really offer much guidance about where to find your grandpa, but they do sell you crafting recipes, and you get to help them with some of their goals towards possibly making Earth okay again.
What the Gameplay Feels Like
If I had to choose one word for the gameplay, I would say Satisfying. Seriously, running around cleaning up garbage is much more relaxing and fun than I ever think it is in real life.
The bulk of your time in this game is spent cleaning up using your superpower vacuum thing. Then, taking that garbage and putting it into a recycler, you can get materials to craft with. You can craft things to help around your farm (sprinklers are amazing) or upgrade your farm buildings to have a bubble blower for your cows to play with or a disco ball for your chickens. Then you can also eventually start fixing up the inside of dear old grandpa's house. Since, apparently, it is also full of garbage, and he had no furniture? It really makes me wonder what Grandpa did.
As you clean up your way into other regions and areas, you can unlock new plants and vegetables, and find new NPCs. The NPCs can give you some fun quests and offer things for sale; such as new crafting recipes or upgrades.
Another fun aspect of the game for completionists like myself is the achievements and goals available. I can spend far too much time trying to find a feather just to fill in my log. But, I digress. The point is, there are a lot of fun things to focus on, lots of areas to unlock of all different types of terrain and plants, lots of animals to befriend, and even mechanical llamas.
Oh, and there are robots that shoot you. But don't worry, you can defeat them by using the drill attachment on your super vacuum.
Seriously, where do they sell these vacuums?
What I liked
The art style and humor in the game are fantastic. It is very cheerful and immersive, and just plain fun. The people who worked on this game obviously had fun with it, as there are plenty of little Easter eggs hidden around the game. Also, just the fact that you can make your animals happy by things like disco balls (with lasers and music to dance to, of course), bubble blowers, giant bouncy balls, and hats. Your animals look adorable in these hats. My favorite is the banana peel hat, but if you get a chance to put the balloons on a pig- well, let's just say you will not be disappointed.
I am also VERY excited to see fishing brought to the game soon. The developers have announced this is in the works, and as I have mentioned before, I love fishing in video games.
Also, I am very happy that for once a post-apocalyptic world game uses food rations as currency rather than something absolutely pointless like bottle caps.
What I didn't like
So, there are very few things to nitpick with this game, and they are just that- nitpicks. However, I do feel like there should be more that can be done with the garbage that is recycled. I know there are a lot of things to craft and do, but even with all of that, I seem to fill up several chests with recycled garbage.
Speaking of garbage, how are there SO MANY PIZZA BOXES in the piles of rubbish? What type of material were they making pizza boxes out of that those are some of the most clearly recognizable objects in the entire world of waste?
Geek to Geek Rating: 4.5 out of 5 pizza boxes