Fashion Police Squad drops you into the well-shined shoes of a fashion-cop out to make the world a more stylish place.
Quick View
Title: Fashion Police Squad
Release Date: February 2, 2023 (Switch Version)
Price: $19.99
Suggested Audience Age: Rated T for Teen by the ESRB
Availability: Switch, Steam, Epic (Xbox and PlayStation coming soon)
Recommended for fans of: Doom, Drip, and Delight
Geek to Geek Media was provided with a review copy of this title.
The boomer shooter space has been exploding since the resurgence of Doom back in 2016. There's been a constant flood of games like Prodeus and Dread Templar that throwback to the early 90s with chunky sprites, gooshey gore, and metal licks. Fashion Police Squad takes the same fast-paced, high-octane action formula and applies it to a very different sort of aesthetic. Instead of a grizzled space marine, you play as a member of a special forces unit out to stop fashion crimes. Yours isn't a battle to save the world from alien hell-spawn but from baggy trousers and drab suits. Instead of an unbelievably large machine gun, you wield a projectile sewing machine. It's absurd and stupid and absolutely wonderful!
Fashion Fighting
Fans of Doom and it's many -likes will fine the gameplay and level structure of Fashion Police Squad pretty familiar. Each level has you exploring a space full of combat arenas and connecting corridors, usually in search of an item that will unlook a new corridor that takes you to new combat arenas. The structure is absolutely familiar, but the feel becomes wildly different thanks to the over-the-top, fashion-focused aesthetics.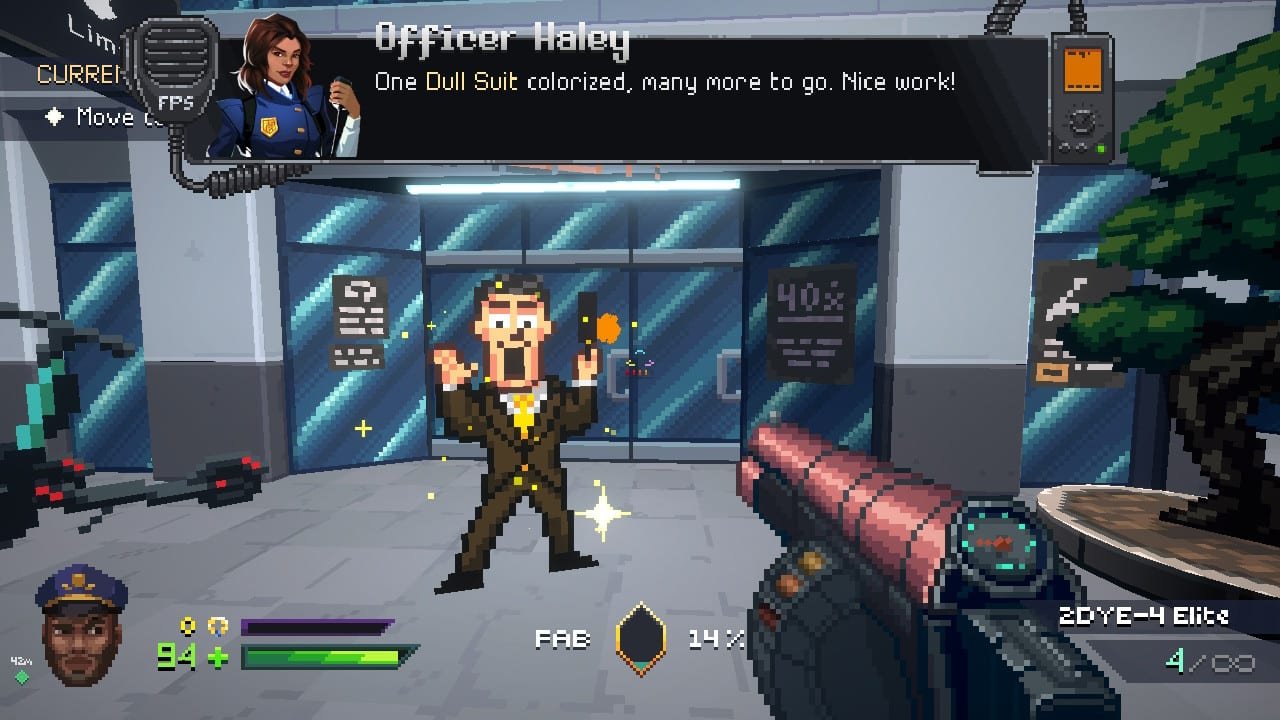 The first enemies you encounter are businessmen in drab, gray suits. You battle them using a paintball gun that adds color to their wardrobe. Instead of exploding into a bloody mess, they signal defeat by becoming sparkling, smiling, fabulous members of the community. Later you'll take on Karen's who will demand to speak to a manager while spraying you with pepper spray, Guy Fieri look-alikes that you douse with water, and over-caffeinated yuppies in overly-tight pants.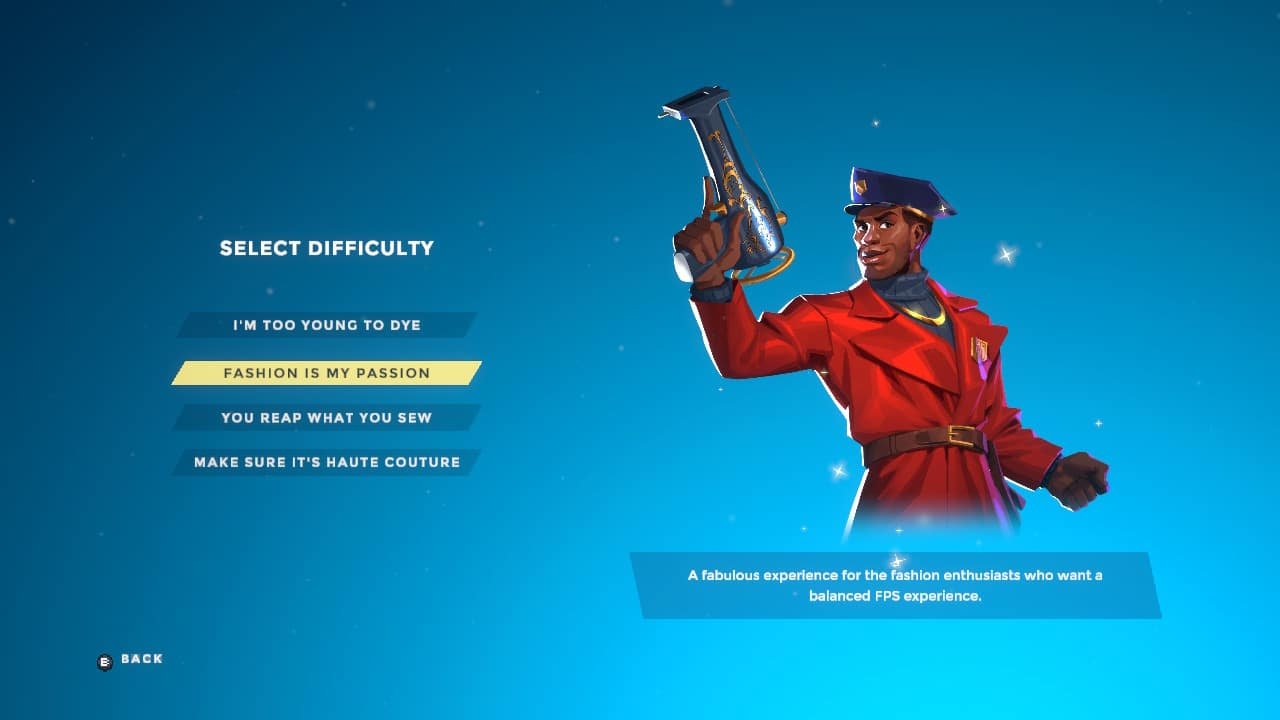 The weapon selection in Fashion Police Squad is fairly limited at first, but you pick up a new tool every few levels. The fun aspect of the combat is that different enemies require different tools, and most arenas will have several different enemy types. Instead of just equipping a shotgun and shooting wildly, you have to make sure you switch to the right weapon each time you focus in on a new target. This makes each encounter really engaging compared to a lot of boomer shooters, but the fairly generous health system keeps the difficulty from feeling too punishing.
Massive Mobility
I remember looking at this game when it was originally released on PC, but since I rarely play games there I never got around to trying it out. It caught my eye again during this year's AGDQ, when I learned how much mobility plays into Fashion Police Squad. This is absolutely a boomer shooter, but it's also got a few twists on how you get around the levels that make the in-between combat sections really fun.
Firstly, it's a game with a grappling hook! Or, well, a grappling belt. At any time you can hit your left trigger to snap a belt out at enemies (to stun them) or at flagpoles or other environmental objects to swing from them. I would expect swinging in first person to be a motion-sickness nightmare, but it actually feels really good. Especially in segments where you have to swing from multiple objects in succession to make your way from one high rise to another, swinging feels fast, fun, and rewarding. It actually made me even more frustrated with SpongeBob SquarePants: The Cosmic Shake, which features a whole level based around a much rougher grappling mechanic.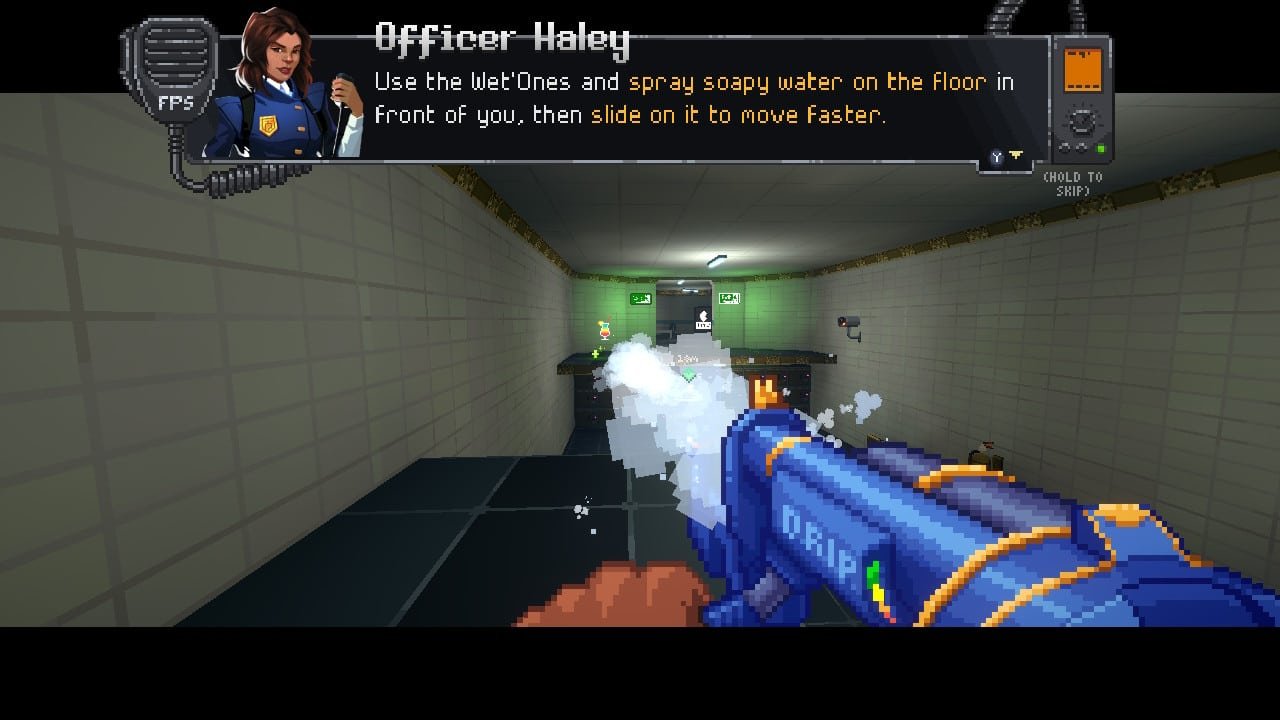 The second tool that helps you get around is the spray gun that you unlock to battle the Guy Fieri-style enemies. Since it basically lets you shoot a stream of soapy water, you can point it at the ground to lower the friction and move way faster. The game requires this to build up speed to get over some long gaps, but once you have the spray bottle unlocked you can use it everywhere to fly through the levels like Neon White. This tool is essential for the speedrunning community, but even for general gameplay, it makes moving around incredibly fun.
Final Thoughts
I think I'm about halfway through Fashion Police Squad, and I'm loving it so far. The absurd story about cops fighting fashion crimes and trying to uncover the source of dull dress is charming and fun, but it's the fast gameplay and super bright colors that are keeping me hooked. WIth GoldenEye releasing through the Nintendo Switch Online Service last week, there's a solid, retro FPS that you've probably already got on your Switch, but for a boomer shooter that feels a bit different, Fashion Police Squad is an excellent choice!
Geek to Geek Rating: 4.5 out of 5