The Torchlight series has long held a Top 3 spot in my list of favorites. I have put more hours into Torchlight I & II than I would ever feel comfortable admitting. As a teenager during the dawn of computer gaming, I have many fond memories of playing the original Diablo game with my dad, my brother, and at LAN parties with lots of friends of my brother.
So when Torchlight I came around in 2009 it was perfect for me in every way. The Torchlight games have the same gameplay style and feel of the Diablo series, but with a much more cartoony, cheerful feel to them. Brighter colors, more lively characters, and a fun story too.  In 2012, Runic released Torchlight II which was also fantastic. Everything that made Torchlight I a hit, but with everything more polished. They added multiplayer with the sequel and improved support for modders to enter the scene and make some amazing mods.
And now… we finally have Torchlight III .
First, A Little Torchlight History
If you were not aware, Torchlight III released this week on October 13, 2020. Prior to this official launch, Torchlight III has been having a lot of ups and downs ever since the initial announcements. It has gone through several rebrands (Torchlight Free-to-Play MMO, Torchlight Frontiers, and ultimately Torchlight III). The developers and publishers have changed around and have been passing the game back and forth. Alpha testers of the game had so many negative things to say about it that Torchlight III was ultimately stripped down to take it back to its roots and be modeled more directly after Torchlight I & II.
So What Was The Outcome Of All This?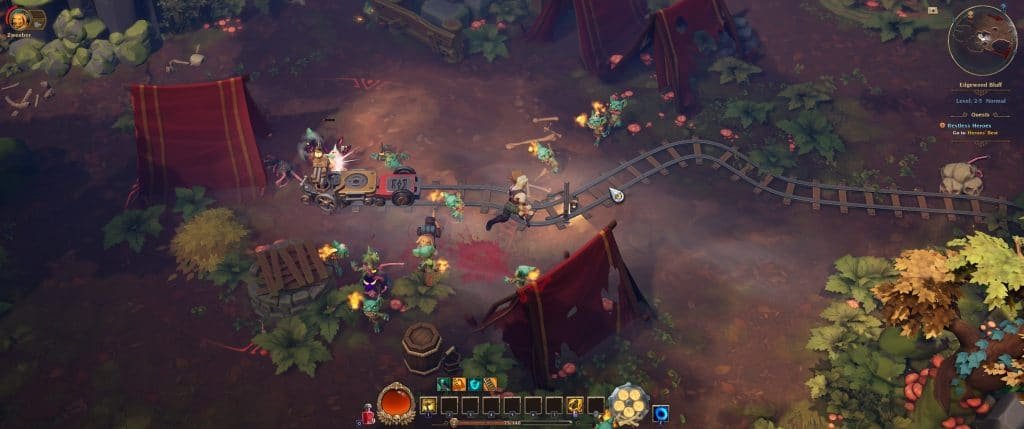 I'll be honest… as much of a fangirl as I am of the Torchlight series, all of this back and forth and the drastic changes being made were making me a little nervous about how the game would turn out. Friends that played in Alpha had few positive things to say about the game, which made me even more anxious. I decided to reserve judgement until the game was done though, and I am glad I did.
After abandoning the MMO idea, Torchlight 3 ended up being remarkably similar to Torchlight II in play style. It is a much more linear game with very few novel, ground-breaking mechanics. Essentially, it is a true sequel in that it is Torchlight II but better. The artwork for the game is 100% my style so I am of course in love with how this game looks. The colors are vibrant, the monsters are cartoony, and everything has a cheerful edge to it despite the world being overrun with evil demonic netherim. There are four classes you can choose from, each with a male and female option: Dusk Mage, Forged, Sharpshooter, and Railmaster.
Looking for more cool content? We recommend reading about Blizzard's Shadowlands Delay (and why it's a good thing)! You can totally read right here: Blizzard's Shadowlands Delay.

Now, back to your regularly scheduled Geek To Geek Media post.

–Geek to Geek Staff
Single Player Characters
For my single player character, I went with the Railmaster simply because it sounded so unique and, well, cool. While the Railmaster does have a big hammer to smack goblins with, the main ability that makes this class different is that you literally are laying down rails for a train everywhere you go (when you want to at least). When this skill is active, as you run along looking for baddies to bash or gold to grab, railroad tracks appear under/behind you and a little train reminiscent to those that little kids get to ride on at the fair follows you.
Of course, unlike the ones that little kids ride in real life, this train has a massive turret on the front of it that shoots everyone within range. As you upgrade your abilities, you can unlock additional train cars such as the Mortar Car (bombing everyone with incendiary rounds), the Shield Car (gives you a shield if you are close), or The Ghost Train (which literally "calls forth the spirit of an ancient train" to smash into everyone).
Let's Talk About The Sharpshooter Class
For my multiplayer character I started a Sharpshooter. The sharpshooter class is one I am much more comfortable with as I generally like to play someone with either a bow or a gun and obviously by the name- the sharpshooter class is just that.
In addition to the classes, there are also Relics that you can choose from that essentially gives you another subclass: Bane, Blood Drinker, Coldheart, Electrode, and Flaming Destroyer. I chose Bane which allows you to have poisonous spiders fight with you and I liked the idea of my girl having a train, her regular companion pet, and a hoard of spiders all there with her. She would certainly be an imposing sight.
Although, as my brother pointed out… when you have the option of something called "Flaming Destroyer" why would you really want to go with anything else?
Did I Mention The Pets?!
Did I mention PETS? I love all games that let you have a pet, as long as the pet can't die. If I have a pet along with me in a battle and it dies… you can guarantee I will be rage-quitting that game (Legend of Zelda's Epona still haunts me). In Torchlight III you do get to have a companion pet and, best of all, they do NOT die. If they have their health run low enough, your pet will just "flee" and run back to town. After a couple minutes they will show up by your side again all nice and happy and healed with no ill will.
This pet not only assists you in battles, but if your inventory is getting full you can send your pet back to town to sell items for you, which is a mechanic I wish all games had! One downgrade with Torchlight III though is that your pet is no longer able to purchase potions for you when he runs back to town as they could in Torchlight II. Now, you have to come along if you want to buy anything.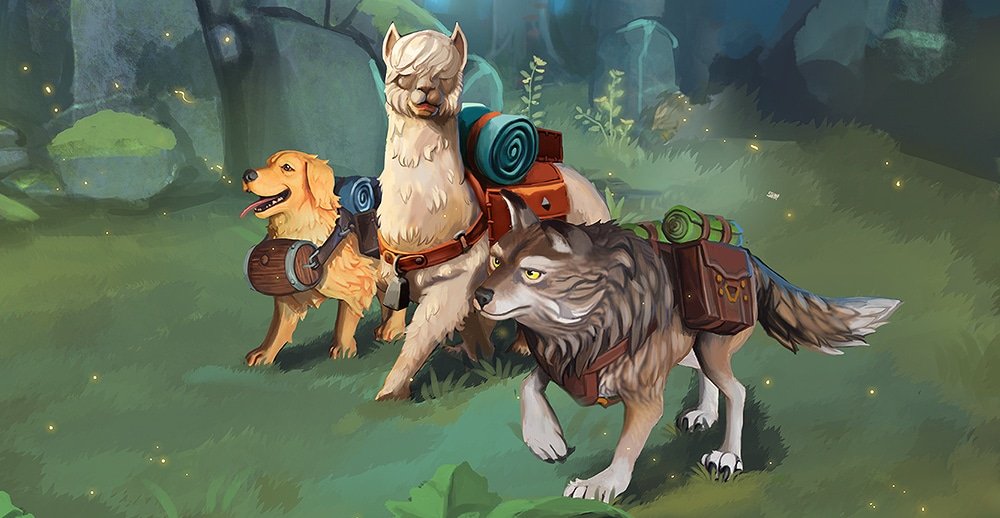 When the game starts you can choose from a happy Golden Retriever, an Owl, or a Llama. During the course of the game you can obtain additional pets as well and there are often "pet cages" next to the big boss's treasure chests. In these you can get other pets such as wolves, dragonlings, eagles, and more.
New Features In Torchlight 3
A new feature to Torchlight III is that you now have your own customizable Fort that unlocks pretty early in the game and becomes your home base. While not entirely necessary to the story, it is a fun addition to the game. In your fort you can place buildings that can help to boost your gear or that allow for crafting or enchanting of items. You can have a lot more storage available with some of the buildings, and you can decorate the whole fort to your little hearts content with pavers, plants, statues, and decorations.
One of my favorite buildings is the Pet Shelter which allows you to quickly and easily swap between some of your pets… and for role playing it gives you the idea of having a nice little home for all these pets I keep saving around the world. Of course, a lot of players argue that the fort is not really all that meaningful, and they are right. I would argue however that it is a fun little addition that you don't really have to use if you don't want to- and for those of us that do enjoy it, it adds a lot of personality to the game.
The Not-So-Good Stuff
There really are very few, minor complaints that I have at this time. Mainly, the difficulty of "normal" mode seems much too easy. I haven't yet tried the game on any of the other difficulty settings though and as they have Hard, Painful, and Ridiculous listed as difficulties, I perhaps shouldn't have been surprised that normal would be this easy.
The other big issue I have is that mods were a HUGE part of what made Torchlight II have such a long, successful lifespan. Talented fans added so much to an already incredible game and the end result was something epic. Hopefully Torchlight III will offer just as much support for modders to be able to create new pets, character customizations, and more… but so far it has not been confirmed. There are rumors, but no actual confirmations. The last thing I could find from developers on the matter of modding simply said that they will consider it based on feedback received after launch. Personally, I think not supporting mods would be a mistake on their part.
Multiplayer In Torchlight 3
You may have noticed that I haven't discussed the multiplayer aspects of the game much. At the time of writing this article, I have only played multiplayer for about 45 minutes total with just my husband. So, even though this is still just a "First Impressions" article… that really isn't enough to get any concrete thoughts about it.
Final Thoughts
To me, ARPGS like Torchlight, Diablo, Level-5's Snack World, and others are cathartic in their style of being the all-powerful hero who can just mow down enemies and collect tons of gold, loot, and the esteem of all the NPC's back in town. This game is absolutely that. With all the goodness of Torchlight II and some new, fun classes and polished graphics. I will definitely be giving many, many more hours of my life to this game.
Geek To Geek Rating: 5 out of 5