Release date: January 20th, 2022
Price: $19.99
Rating: E for Everyone
Platform: Nintendo Switch, Playstation 4 & 5, XBox One & X|S, and PC via Steam and GamePass
A code for the Switch version of this game was provided by DotEmu.
---
I remember when Windjammers and I first met.
Our friends and I were out at UpDown in Des Moines. It's almost like the kind of basement arcade straight out of an '80s movie: hard brick walls, poorly-lit by neon signage two aisles of assorted pinball tables, and an X-Men cabinet that mostly worked. This was back when barcades were first making a real resurgence, so the whole experience was a bit of a novelty, at that.
But the most novel was a peppy little game I couldn't recognize, nestled next to Street Fighter and Mortal Kombat. It was just so unlike the things around it – as a good arcade game is – that I didn't know where to start.
So I grabbed a friend and asked him to play. He agreed, and promptly ground my face into the dirt. And after that, I still wanted to go five more rounds.
That is to say:
Windjammers absolutely slaps.
And, by all accounts, Windjammers 2 hits every bit as hard.
The Sport of Champions
Let me back up a bit.
For newcomers to the series, Windjammers is pretty closely summarized as "air hockey by way of a fighting game". It's a fast-moving, one-on-one sporting duel where the object is to throw a disc into the enemy goal. Simple enough to understand, but as their cheekily in-character tutorial shows, it's deceptively complicated and frantic in motion. You have a variety of dashes, grabs, blocks, lobs and spin shots – and "super" versions of most of them – to intercept off-the-wall attacks and find the right angle to slip past your opponent.
Needless to say, you can get really good at Windjammers.
The sequel keeps every bit of that tight gameplay intact, and seamlessly weaves in new elements. Jump shots and slapshots each feel like such a natural addition that I had to check which ones were new to this installment. Sometimes that ultra-responsiveness is a double-edged sword, sure – it can be easy to dodge past a pop-shot when you meant to ready a return volley. But that's the trade-off to Windjammers 2 feeling even snappier than its predecessor, with its four action buttons marking the comfortable limit of how much a competitior should need to think of at any given moment.
There's a healthy crop of new characters, to boot, pushing the further extremes of heavy-hitters and agile speedsters. Which isn't to say that the playing field isn't really even – if anything, it just caters better to individual play styles. I had a ton of fun throwing myself at the classic Arcade Mode with every character on the roster before settling on the spunky, hyper-fast newcomer J. Raposa, but I'm sure some people will absolutely dominate with the heavy-set K. Wessel.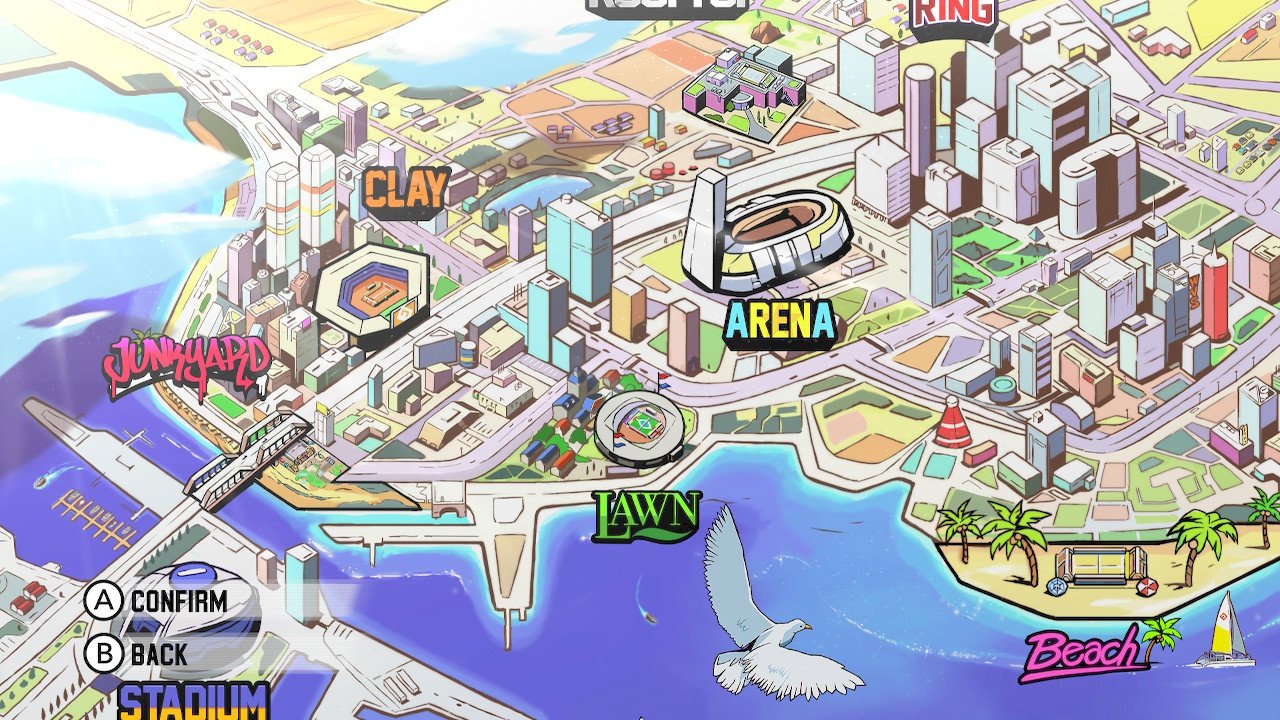 Game of the People
But, ultimately, Windjammers 2 is a game for, of, and by its fans. After successfully reviving the original for a port to modern consoles, DotEmu used that archeological work to build a successor from the ground up, recreating its feel as closely as possible. But you don't have to take their word for it. DotEmu has made no secret about how they've collaborated with the Windjammers community in their home country to replicate the expectation of the original. And if anything was going to be off, an active fan would be the first to complain.
And if there's one thing an active fan would ask for, it's a killer feature that might make Windjammers 2 the new standard:
Rollback Netcode.
If you know what that is, you're immediately happy to hear that Windjammers 2 has it.
If you don't, just know that, for some, it separates a good online game experience from a seamless one.
In fact, Windjammers 2's much-delayed release feels as good as evidence as any that this whole game is a labor of love.
The next best evidence is apparent in its art style.
DotEmu has lovingly cast these retro characters in vibrant pop art, oozing with early-90s charm via pastel highlights, deep shadows, and comic-book dot shading. Its visual effects are bright and eye-catching in the best way – the hokey 3D model used for a disc flying into the screen is a particular highlight. Every animation is bursting with personality from how G.Scott flexes his pecs after a successful goal to the wacky spectators stuck into the crowds.
And personally, I'm counting down the days until its urban-pop soundtrack – particularly the jammin' Junkyard track – is available to listen to on repeat. It all just works, and I feel like I can't help but get amped up whenever I (frequently) boot up the game for another match.
Crowd-Pleaser
Of course, Windjammers 2 doesn't only exist to service its existing fanbase. It's just a solid game from top-to-bottom.
To wit, you can (still) play fetch with the dogs.
If anything major concerns me about the new-player experience, it's that the AI can ramp up to a "pull no punches" difficulty level pretty quickly. It took me some time to find my legs and make headway in the Arcade Mode, though I'm admittedly rusty. On one hand, this feels like an honest preservation of its arcade DNA; who among us didn't lose a billion quarters on Street Fighter? On the other, that sensibility can feel outdated for a home release, especially when arbitrary "credits" prevent you from continuing.
And if anything small concerns me about the new-player experience, it's nothing core to the game. Like how exiting a game mode can pops just a step too far back in the menus, or that its "Bonus Stage" mini-games have to be unlocked for Free Play.
Ultimately, though, Windjammers 2 is designed as an arcade-like experience first, with its greatest joy being in throwing down against other humans. And there, it still excels. Even if you don't feel especially competitive, trick stages like the rubber-banding Stadium and the new randomly-scoring Casino can transform it into a fun party game offering.
In fact, I foresee that being the game's lifeblood for years to come. I've spent a fair few hours in hotel rooms playing pick-up Windjammers matches over the years, and the sequel is perfectly positioned to carry on that mantle.
RIGHT ON
I've been anticipating Windjammers for ages, and in no way does it disappoint.
If you're already a fan, this is absolutely the sequel you've been waiting for. Go get it, go tell your friends to get it, have yourselves some tournaments. It's what a new installment to a competitive game should be: a little snappier, a little shinier, but pound for pound the same game you've come to love.
If you've never played Windjammers before, this is a fine place to jump on. It's a modern version of a cult arcade classic with wonderfully broad appeal. Maybe a little tough up front, but I guarantee that, with a bit of practice, it'll be worth it.
Either way, old fan or new blood, Windjammers is absolutely worth a pick-up game.
Now, if you'll excuse me, I'm gonna go keep throwing myself at the arcade Hard mode. Klaus Wessel's gotta slip up one of these days.
Geek to Geek Rating: