One of the biggest complaints against Dungeons & Dragons 5th Edition is that the Forgotten Realms is the primary setting. Not that FR is bad. It's just overused. It has a lot of content that has been created for it over the past few decades. Players know inside and out. That is specifically why Doomed Forgotten Realms is so dang refreshing.
It takes the most familiar D&D setting (for most people) and gives it a nice twist. By ravaging the whole thing with a horrible catastrophe. And it's awesome. The Sword Coast Gazetteer has so much in it that by the time you're finished with it, the Forgotten Realms will feel much less mundane. But a little more doomed.
Disclaimer: I received a free review copy of this title from the project lead. Additionally, some links within this post may contain affiliate codes from which the author may earn a commission if clicked.
Art & Design for Doomed Forgotten Realms: Sword Coast Gazetteer
First, I want to say that while the content of the title is really awesome, the cartography (by Christian Zeuch) is probably my favorite part of it all. The map of the Sword Coast after Vecna has ravaged it is just stellar.
Below is the preview image from the product page at DMs Guild (and there are regional maps that are zoomed in and more detailed in the book itself):
With that said, the rest of the art in the book is phenomenal, too. While a lot of titles on the Guild use only stock or royalty-free art (mine included), when you have a team of artists creating interior art for your title, it just ups the quality exponentially.
Now, Doomed Forgotten Realms absolutely has some of the stock images, but the original art definitely stands out and elevates the product.
There's a lot more where that came from. The design for the book is outstanding, too, with a definite feel that love went into putting it together. The entries are easily referenced, the asides are clear and concise, and the entire book just feels like it was made with a lot of effort by people who genuinely cared about their product.
What to Expect Inside
The real value of any Dungeons & Dragons sourcebook is in how much content there is. More than that, how much usable content there is. I think this being a gazetteer (a geographical overview that synopsizes and provides details on an area), there is a lot of usable content. You just have to know how to use it.
Major and Minor Locations
Any DM who's looking for ways to liven up the Forgotten Realms, the Sword Coast Gazetteer is filled with snippets and explanations of just about every place you can imagine. Want to know how Vecna's multiversal crusade affected the Underdark landmarks? You got it.
For major locations such as Icewind Dale, Waterdeep, and Baldur's Gate (now called Helldoor's Gate because it was dragged into the Nine Hells much like Elturel was in Descent into Avernus) get huge sections fleshing out each one for the post-apocalyptic setting. These include the history of the place, economic and religious details, as well as population, defenses, organizations within, government structure, citizenry, and just fun and noteworthy tidbits DMs and players might will definitely want to know. Oh, and location-specific adventure hooks to get your party going. Those are neat.
Campaign Hooks
Speaking of hooks, you get an entire chapter of Campaign Hooks! These are are broken into tiered ranges all the way up to level 20. The downside is that they are just campaign hooks and not full adventures, but that's not the purpose of this book.
After reading through the dozen prompts available, you can easily string together a solid outline for a 1-20 campaign. These ideas are great plot points to drive your characters toward an inevitable confrontation with Vecna.
Character Options
I'm a sucker for character options. Admittedly, I rarely use DMs Guild player options because they aren't easily accessed through D&D Beyond where I build/keep most of my characters.
But that may be changing soon for a number of reasons (not the least of which is having a regular in-person game again, woohoo!). And when that happens, I am definitely reaching for the Doomed Forgotten Realms "School of Secrets" Wizard subclass (seen in an image above). I just love the idea of exposing weaknesses and giving vulnerabilities to enemies.
Adjusted character Backgrounds, too, are included with changes to fit the catastrophic doom that's fallen over Faerûn. Acolytes may end up being "Draconic Cultists" or you might even become a "Folk Villain" instead of hero. Some players might not take much care with their Backgrounds. But for those that do, I like the changes in the Sword Coast Gazetteer.
Heroic Chronicles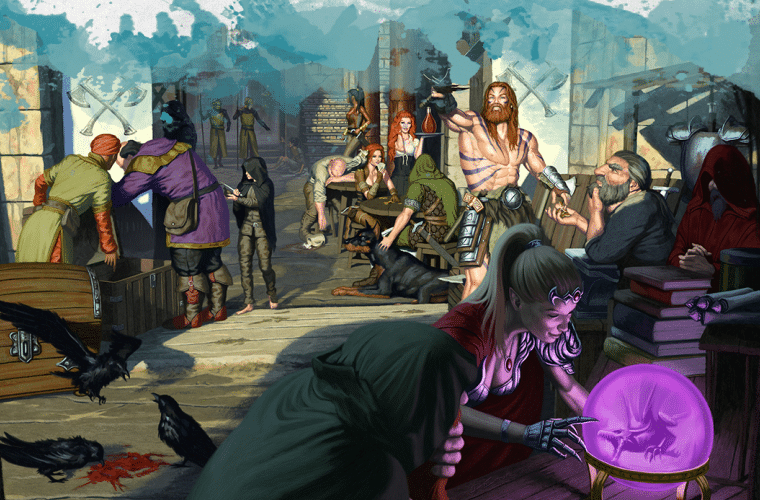 This isn't the Forgotten Realms you knew. So there have to be adjustments made for your character's place in it. There are tables and entries on everything from Home Settlements to the Secrets that a PC might keep in Rime of the Frostmaiden.
This is a player character section, for sure. But there are also a number of ways that DMs can take advantage of them to build out the world. Especially with the Fateful Moments section about those "fateful moments [that] strike suddenly and leave ripples throughout the rest of your life."
Players can use these as Calls to Adventure to build their characters. But DMs can use the tables for spicing up campaigns with incredibly prominent set pieces that can be campaign-defining moments. Good stuff.
More Doomed Forgotten Realms
The Sword Coast Gazetteer isn't the only title in the Doomed Forgotten Realms series. In fact, it's the third! The first two entries, Academy of Adventure ($3.99) and Rise of Vecna ($9.99), are adventure paths that take players through post-apocalyptic Faerûn from level 1 to 3 in AoA, and then 3-10 in RoV. In total, you get almost a nearly 200-page campaign for just under $15. Not bad.
Plus, if you want to continue after that, there are plenty of level 10+ Campaign Hooks in the Sword Coast Gazetteer.
If (read: when) I use these for campaigns, I will be taking my friends through post-apocalyptic Faerûnian Strixwarts Hoghaven Center for Vecnaology. (Note that is absolutely not the name of the school or anything related to it.) Having Academy of Adventure end with the PCs graduating and heading out into the Doomed Realms is a great starting place for any campaign, honestly, even if you don't use Rise of Vecna.
Additionally, if you like the idea of a magic school in D&D, but aren't a fan of Strixhaven's hardcover campaign, the AoA/RoV adventure path is definitely a solid replacement.
Doom, Gloom, and Vecna, Too!
In case you couldn't tell, I'm a big fan of what the team at Quill & Cauldron has done with the Doomed Forgotten Realms. Being one of the long-time D&D players who is a little tired of being in ordinary Faerûn all the time, having fan-favorite Vecna raze the countryside is a breath of fresh air.
Wait. That sounds bad. I mean…well, you get it. The Doomed Forgotten Realms: Sword Coast Gazetteer is a stellar entry into the series. And it would make a great standalone title for anyone wanting to spice up a tried-and-true-but-tired setting.
If you're looking for more D&D content, don't miss our list of the top free D&D one-shots money can't buy.
GtG Rating: 5 out of 5