Genshin Impact's 3.0 Sumeru Update offers new Archon and world quests, the Dendro element, and numerous new characters.
It has been roughly three months since Genshin Impact's 3.0 update dropped, introducing players to the massive Sumeru region. The Traveler once again mended the relationship between an Archon and its people while recruiting a handful of new companions. With the core Sumeru-related story wrapped up, it's time to look back and evaluate everything added since the nation of Dendro became available.
New Element: Dendro
Elemental reactions are a huge part of Genshin Impact's appeal. Prior to the Sumeru update, each character could use one of six elements: Pyro, Hydro, Cryo, Electro, Anemo, and Geo. Elements react to one another in numerous ways, and the game rewards players for experimentation and clever team composition. The 3.0 update adds the much-anticipated Dendro element for playable characters along with a host of new reactions.
Combining Dendro and Hydro creates explosive "bloom" reactions. Dendro combined with Electro leads to catalyzation, boosting Dendro DMG significantly. Lastly, Dendro and Pyro combine to create a burning status that causes DMG over time. Each reaction has multiple levels of effectiveness, and striking a balance between the new Dendro reactions and the pre-3.0 reactions is a new and exciting challenge in team composition.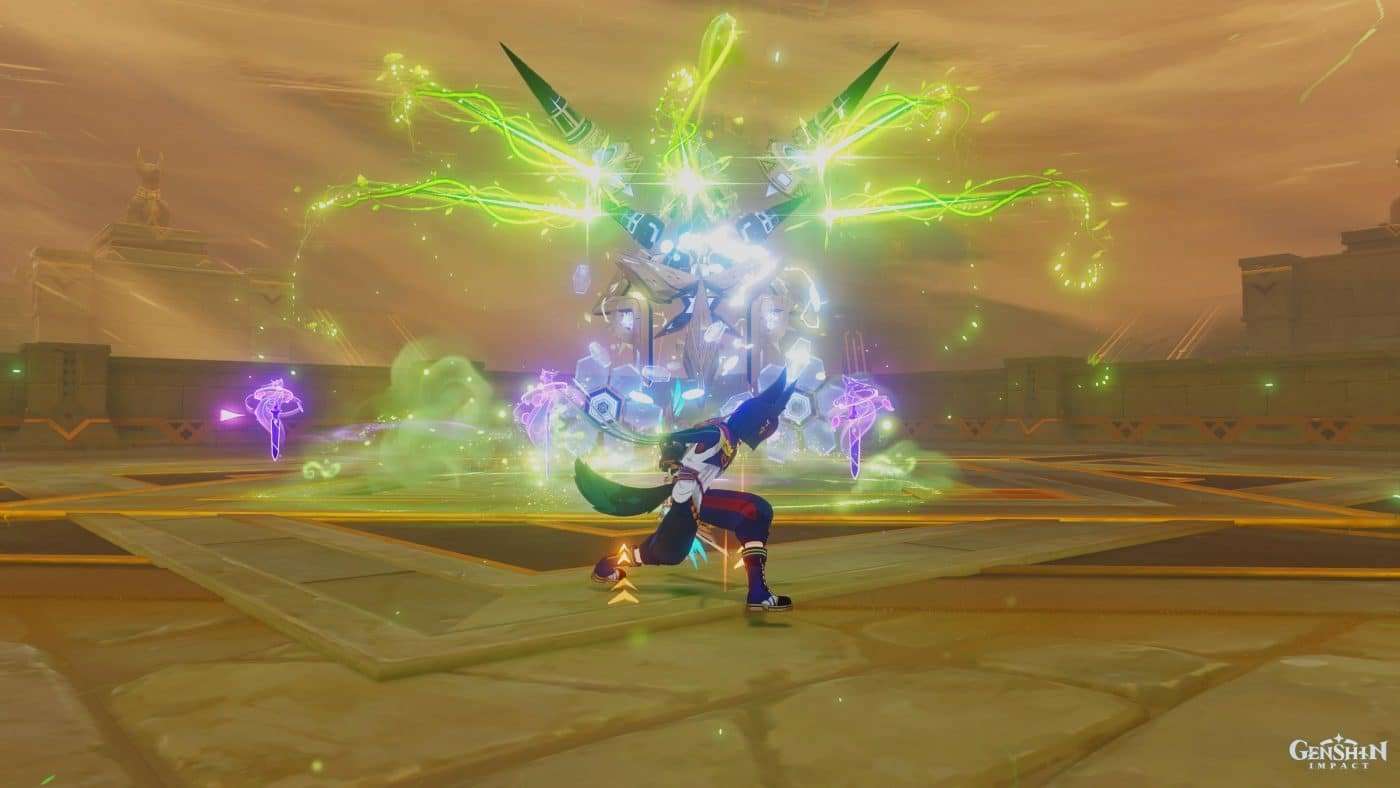 The Dendro element is also frequently needed for the myriad puzzles scattered about Sumeru. Dendro-imbued attacks can open pathways or destroy malignant roots in areas affected by the "Withering." Hoyoverse has graciously given a free Dendro character in Collei to anyone who clears the fourth floor of the Spiral Abyss, and quite frankly, you shouldn't be exploring Sumeru if you're not capable of that feat anyways. So claim your Collei and explore the enormous Sumeru region to your heart's content!
Grade: A
Archon Quests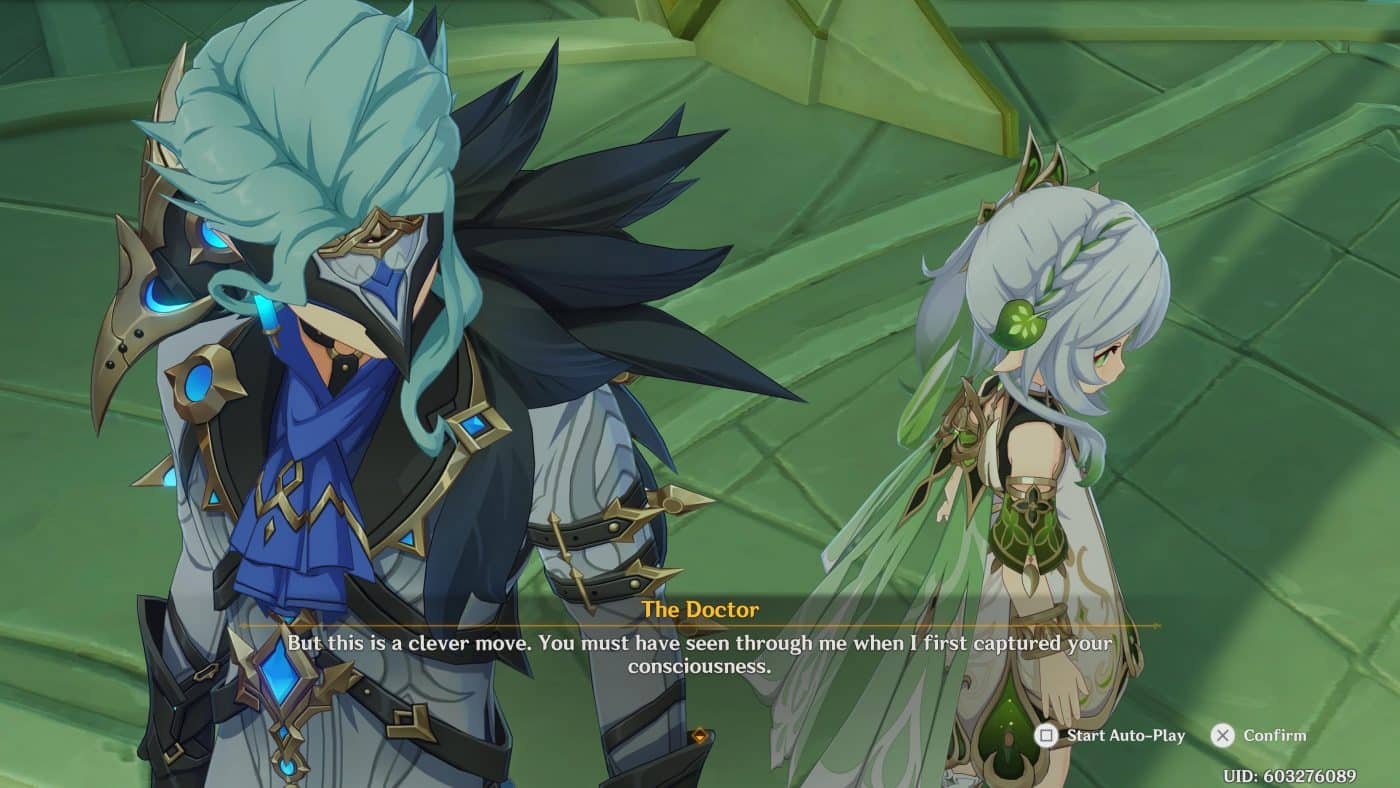 The Archon Quests chronicle the Traveler's journey across Teyvat to find their missing sibling, which is inevitably sidelined by any given region's political tumult. As the Traveler's sibling was spirited away by a nameless Archon, meeting each region's Archon is the Traveler's top priority. Sumeru's current Archon is Lesser Lord Kusanali, AKA Nahida, who is the Archon of wisdom. Nahida is but a shadow of her former self after expending most of her energy to prevent a crisis, and as such, has lost much of the respect of her citizens.
As anyone who played through the previous regions' Archon quests would guess, the villainous Fatui organization from Snezhnaya is once again meddling in the affairs of other regions – this time sowing distrust between the Archon and her people while working to create a manufactured deity that will rule over Sumeru. The Fatui's "Balladeer" and "Doctor" play the chief roles of antagonists, and their schemes culminate in one of the more epic boss battles in Genshin Impact.
The Archon quest starts as a slow-burn story that uses a time loop gimmick to great effect. It introduces Nahida as a mysterious-yet-caring Archon who is desperately trying to win the respect of her people. The narrative then shifts to the vast Sumeru desert, where we are introduced to a warring faction that worships a long-dead "rival" deity. The third act is a rousing finale where it's up to a motley crew of Sumeru's most loyal warriors and scholars to stage an elaborate rescue mission and save the day.
Grade: A-
World Quests
Here's where things go a little downhill. Sumeri's world quests are lengthy and repetitive. It's really mostly worth noting two branches – the Aranara quests and the King Deshret quests. The Aranara are an adorable race of little, uh… mushroom-type… guys. They have cute crooked smiles and bounce around happily, but their broken speech makes comprehension a nightmare – especially with the lack of voiced lines. They play a vital role in bringing balance back to Sumeru's forested areas, but I never ever want to hear one of their monologues again.
The King Deshret quest line has the Traveler exploring numerous underground ruins in the Sumeru desert. The gimmick here is a tablet that grants various levels of clearance, so ruins should be explored in a very particular order. Ruins provide some clever environmental puzzles, but the sheer number of them is exhausting. Making matters worse, the Traveler is accompanied by a scholar and his bodyguards who, like the Aranara, simply won't shut the **** up.
Grade: C+
The Sumeru Update's New Characters
The 3.0 update gave us two new Dendro archers right out the gate with Tighnari (five-star) and Collei (four-star). Tighnari is especially good when paired with Electro characters, with a double-charged shot that rivals (but doesn't surpass) Ganyu's. Collei is like Amber, only with Dendro instead of Pyro, and, you know what? That is A-OK. The Electro merchant, Dori (four-star), rounded out the first trio of characters, and she is… slightly less A-OK than Collei. But she does have a cute little genie pal!
The second set of characters features Cyno (five-star), the Anubis-like Electro general who is essentially Razor 2.0, with all the good and bad that comparison entails. Nilou (five-star) is an entrancing dancer who is sadly only viable with a very specific team composition. Nahida (five-star) is the real stand-out of this group, and of the entire Sumeru cast in all honesty. Her abilities make for bountiful Dendro reactions with almost any team composition. Oh, and there's also Layla (four-stars), the ever-sleepy Cryo user who was only just released, but seems decent!
Grade: B+
And Still More to Come From the Sumeru Update!
While the bulk of the Sumeru content is now available, there are still some notable updates on the horizon. In just a few short weeks, the Balladeer himself (now referred to as "Wanderer") becomes a playable character. He hasn't exactly redeemed himself for his sins in the game's story, but perhaps his fellow Fatui agent, Tartaglia, will coerce him into assisting the Traveler on their journey. Creative events such as the "Fabulous Fungus Frenzy," which has the Traveler use a team of fungi in a Pokémon-like tournament, are also effectively padding things out before the next big update.
Overall, the Sumeru update provides a solid continuation of my favorite ongoing game. The Archon quest wraps things up nicely while leaving just enough loose ends to keep players chomping at the bit for answers. The new characters offer diverse play styles and reward experimentation with elemental reactions. The world quests are… a great way to prepare for a restful night of sleep. The future of Genshin Impact is looking bright as fans begin to clamor for the unveiling of the Fontaine region.