Key Takeaways
1. Visit a beautiful voxel world with stunning lighting!
2. Use sledgehammers, pipe bombs, flamethrowers, and more to destroy everything you see!
3. Plan your route to pull off heists as efficiently as possible!
After years of playing Minecraft on and off to the point of exhaustion, Teardown caught my eye immediately. The first footage showed me a world that looked like Minecraft with realistic physics. I was sold immediately, and then unsold when I realized there was zero chance I'd be able to run the PC-only release last year.
This week the wait is finally over for me and anyone else with a PlayStation 5 or Xbox Series console, as a fully featured port finally releases and is, pardon the terrible joke, an absolute blast.
Overwhelmingly Beautiful
For a wildly intuitive game, Teardown is a bit hard to describe in words. Imagine stepping into a world where everything is made of cubes. Unlike Minecraft, however, cubes in Teardown are small. I'd estimate each cube is maybe two or three inches, so something as simple as a wall is often 2 or 3 cubes deep.
Now, take that art style, and draw up an industrial park, a shopping mall, a marina, a modern mansion, and a few other locals. It looks nice, right? Now drench everything in incredibly vivid and vibrant lighting, and then put a bit of a tilt-shift on your mental camera. Beautiful. Now we're getting close to understanding how unbelievably pretty the world of Teardown is.
Now grab a rocket launcher and start firing it at everything you can see.
The Demolition to Corporate Espionage Pipeline
At its most basic, Teardown is a physics-based destruction game. It takes the "break block" satisfaction of Minecraft and multiplies it by including way more blocks and way, way more ways to destroy them.
At the start of the game, you are a down-on-your-luck demolition specialist who is tasked with using your sledgehammer to tear down (get it) a house to make room for a retail expansion. At night. When no one is around. With no witnesses.
When you get caught in the act, you start taking on a variety of less-than-legal jobs for a series of more and more shady employers. As you complete jobs you'll earn new tools and scrape together cash to upgrade the ones you've already unlocked.
Some missions are purely based on destroying buildings, but more often you are tasked with retrieving items from secure locations. Teardown is a game that starts with using a sledgehammer to demolish a house, but quickly has you using a rocket launcher to escape from a research facility after photographing prototype security robots.
A Whole Lotta Heists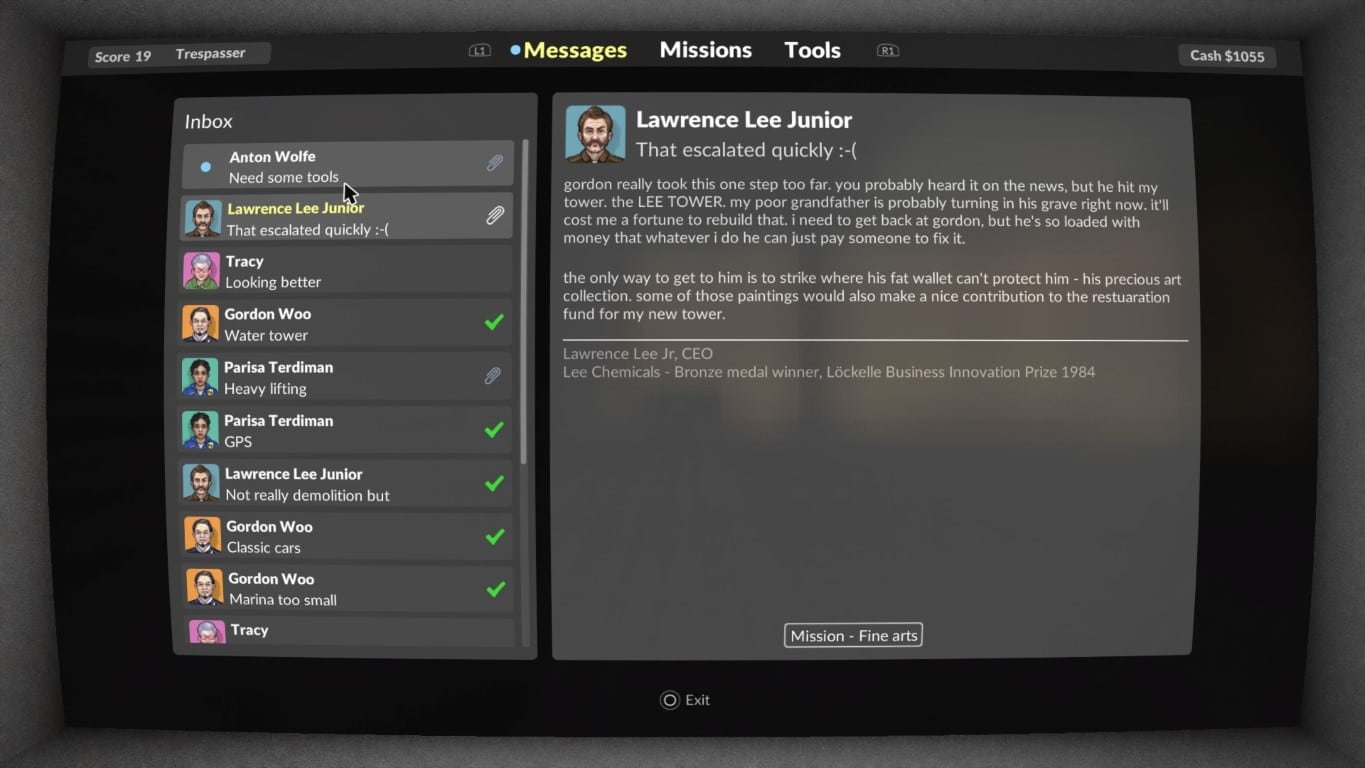 The great trick of Teardown is that it isn't actually a game about destruction. Rather, it's a game about planning and executing the perfect heist. In most missions, the objectives are wired up to alarms that trigger as soon as you snag the first one, giving you one minute from when you start the heist to when you have to make it to your escape vehicle.
There is a sandbox mode where you can destroy things to your heart's content, but in the main campaign destruction is rarely the whole point. Your sledgehammer is great for breaking through wooden objects, but tools like a shotgun or pipe bombs are the only way to get through brick or metal walls and come with limited ammunition.
The real game of Teardown is figuring out what destruction is necessary to make your way through a level as efficiently as possible.
Niggling Bits
I am more than halfway through Teardown's main campaign. I haven't seen everything the game has to offer, but I have seen enough to know that I love it. The game is constantly surprising me with escalations in the absurdity of my tasks and the tools it provides (like giving me tanks, plural, to destroy a food court). Most importantly, it causes me to surprise myself with how I keep finding ways to pull off heists that look impossible when I start them.
There's a quick save feature that is absolutely required in this game. Since most missions have you on that one-minute timer, it's always a good idea to make a quick save before you kick things off. I wish, however, that the game also had some sort of incremental auto-save feature. I have several times misjudged the power of an explosive in a way that either ruined a space or straight-up killed me, and having to start all over because I hadn't thought to auto-save yet is frustrating.
Other than that, I pretty much love what Teardown has to offer. The game looks stunning on the PlayStation 5 and maintains its framerate through massive explosions very well. I have had two hard crashes in the pre-release build, but as long as you remember to use that quick-save even that infrequent issue shouldn't be too much of a problem. There is also a decent suite of accessibility options that should open the game up to players who don't want as much time or ammo management pressure.
Final Thoughts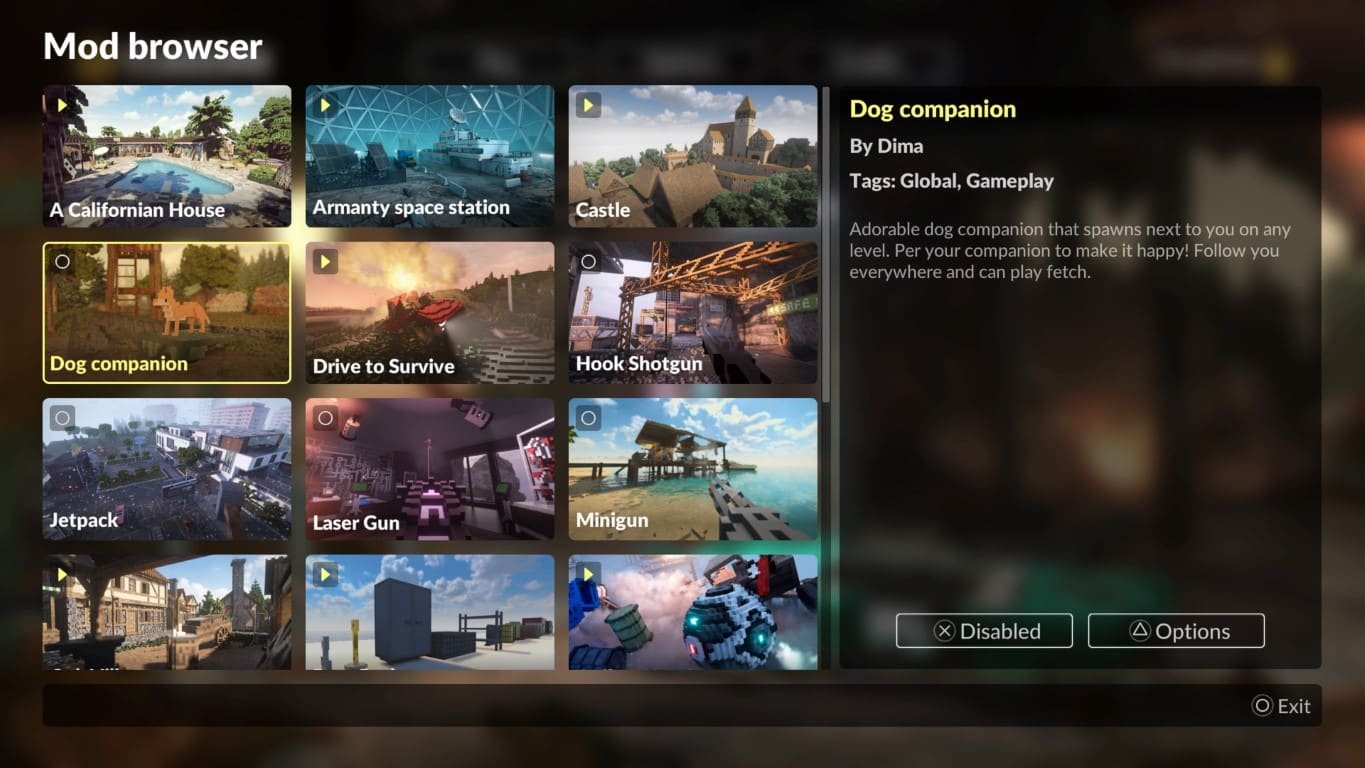 I haven't finished the campaign in Teardown yet, but I've seen enough to be confident in recommending this game. Its physics system and destructible environments alone are enough to have a good time with, but when you throw in the goofy writing and thrilling escapades of its campaign it becomes an incredibly fun experience.
While there is no multiplayer in the game, I have been playing this one with both my wife and soon-to-be-four-year-old. Everyone can have a good time just smashing things, but we've also had fun working together to plan out a route for a heist, and then scream way too excitedly as we pull it off.
Teardown is a great game that's great on PlayStation 5, and I haven't even dug into the creative mode, the packed-in, community-made mods, or the expansions, some of which are available now with more to come in the next year.
Get this game, put on the soundtrack from your favorite Guy Ritchie movie, and get smashing.
Overall Rating: 5 out of 5 Stolen Safes
Geek to Geek Media was provided with a review copy of this title.