It's always the hardest part about being a Dragon Quest fan. Games get announced and released, and they never make it to the West. It's happened time and time again over the years, but that doesn't mean we won't EVER get them. Sometimes, we just have to wait a while – like with Dragon Quest of the Stars and Dragon Quest 6.
Other times, it might seem hopeless. But it's like Joe Dirt says, "You gotta keep on keepin' on." It's not always easy, but we DQ fans have to persevere. Nevertheless, here are the Dragon Quest games that NEED to come West. Like, they needed to be here YESTERDAY!
Dragon Quest X
Yeah, I'm starting with the obvious choice here, but that's because we need Dragon Quest X in the West so freaking bad! Despite fan campaigns, petitions, and constant begging on social media, the prospects of seeing DQ10 in the West might seem slim. It's been almost a decade since the game first appeared on the Wii, and after FIVE expansions the length of full games, the only real DQ 10 stuff we have outside of Asia is from the Altar of Ages in Dragon Quest XI and some mobile game crossovers.
There are ways to play DQ10 in the United States (you can read about that by clicking here), but it's just not the same as getting to experience the world of Astoltia in your own native language. Dragon Quest X is the only mainline game to never make it West, and it's a real shame. Maybe after the Western success of DQ 11, Square Enix will be more open to bringing the tenth installment over here.
Dragon Quest Monsters Joker 3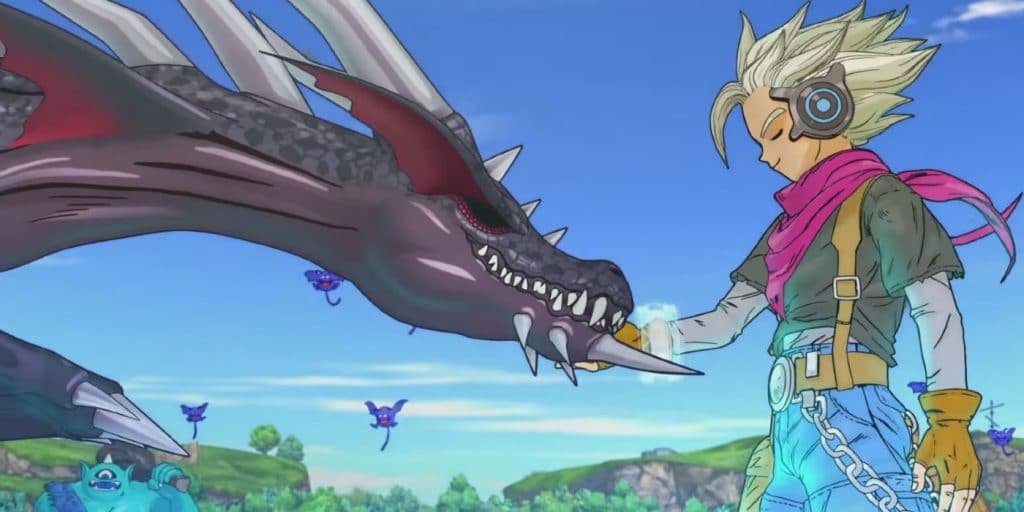 The first two Dragon Quest Monsters Joker games made it to the West, and we even got some awesome Monsters+ manga, but the third entry never made it. Monsters Joker 3 looks amazing! I mean, just look at that screenshot up there. It's gorgeous! But Dragon Quest games on 3DS weren't nearly as common as ones on DS. An official localization of the game should've happened years ago. Maybe we'll get a port on the Switch. Better late than never, right?
Dragon Quest Rocket Slime 3
The first Slime Mori Mori never made it here either, but let's let that one be bygones. The second installment, released in the West as Dragon Quest Heroes Rocket Slime, was one of the best (and cutest) games on the DS. When Slime Mori Mori 3 released on 3DS, it tweaked tank battles by adding in ships. You know how much I love ships! Old wooden ships paired with DQ slimes is not only the perfect combo for me, it should be the perfect combo for EVERYONE.
Seriously, Slime Mori Mori 3 should've made it West and didn't. There's a fan translation out there that's supposedly pretty great, so you might want to check it out. It could be the closest we ever get to an official localization.
DQ Tact
I don't typically like mobile games. I hate them, in fact, but Final Fantasy Tactics is one of my favorite PSOne games, and I've wanted a similar game set in the Dragon Quest universe for years. DQ Tact looks amazing, with reskins of famous monsters wearing quirky outfits. Plus, I was even lucky enough to be one of the 1000 winners of the DQ Tact Super Famicom prize a couple of months ago (but that's a story for another time, probably). Either way, I'd love to see DQ Tact come to the West, and it might actually make me play (and enjoy) a mobile game!
The Adventure of Dai: Infinity Strash
I'm preemptively putting this game on the list because Dragon Quest games (especially spin-offs) notoriously don't come West. The Adventure of Dai: Infinity Strash was announced earlier this year, and it looks awesome! An action-RPG DQ could be cool, and I'm a huge fan of the cel-shaded graphics and the way the combat looks. I hope to the Goddess Rubiss that I'm wrong about it staying in Japan, because I would absolutely adore getting to play it in English.
Itadaki Street: Dragon Quest & Final Fantasy 30th Anniversary
I get that Fortune Street on Wii wasn't exactly the hottest-selling game of the year, but more Itadaki Street games should come to the West. With the Western popularity of Final Fantasy (and Monopoly), it's weird that this 30th Anniversary version of Itadaki Street: Dragon Quest & Final Fantasy didn't release over here. I'd love getting to play around the board as Sylvando, bankrupting Final Fantasy VI's Kefka while FF9's Zidane and DQ Heroes's Healix chase after me. Sounds like a fun time, right?
This List Could Go On Forever
I started this post with about three or four games in mind, and it kinda got away from me. Honestly, this list could go on and on. Games like Young Yangus and the PSOne version of Dragon Quest IV all sound great. Theatrhythm Dragon Quest and Switch ports of the Monsters games would be cool, too. Even games I've tried and haven't especially enjoyed, like Dragon Quest Rivals, deserve to come West. TLDR: ALL DRAGON QUEST GAMES NEED TO COME WEST!
If you enjoyed this post, please check out more at DragonQuestAustin.com and be sure to read my new book, The Dragon Quest Book: Interviews and Reflections on the Fandom in the West, which is on sale now!