Turn-based RPGs are probably the hardest game to demo. Most of the time they are big, expansive stories, with combat systems whose intricacies are only revealed after several hours of leveling up and learning new techniques. Since demos are usually only twenty to thirty minutes long… well, you can see the issue. Still, I got a chance to check out a few turn-based role-play games at PAX West 2022, with varied results.
One Piece Odyssey
I remember seeing a trailer for One Piece Odyssey and it really captivated me. I've never watched One Piece, but I loved the idea of a sprawling adventure full of anime pirate nonsense. Somehow, what I had forgotten was that this is a turn-based game. Maybe it's because I just started up Kakarot after getting hooked on DBZ stuff, but I 100% thought this was going to be an action RPG.
Anyway! It's a turn-based RPG based on One Piece and I'm still super interested in it but this demo was a drag. You run along a super linear path to try to get to one of your friends and get into battle after battle after battle along the way. This was very clearly a battle tutorial section of the game, so I imagine that encounters will be more spread out in the larger experience.
Each of the battles I encountered was an introduction to a different mechanic or battle system. The problem is that most of the battle systems are pretty typical JRPG fair. Grinding through three different battles to learn about attacks, special abilities, and items at an event like PAX felt like a slog.
The one cool aspect of the battle system that I encountered near the end of my time was that your party can be separated into different "areas" within a battle. Basically, this means that there are multiple turn-based battles happening at the same time. When one area is cleared of enemies you can then send those characters to back up their teammates in another area. It's not groundbreaking, but it's a cool shakeup of the standard turn-based combat.
Alterium Shift
I was sold on Alterium Shift as soon as I walked by the booth. The visuals on this game sold me on its 16-bit inspirations immediately. Similar to the HD-2D style being used by games like Octopath Traveler and the mysteriously absent Dragon Quest 3 remake, this game uses a mix of 2D sprites and a 3D camera angle to call back to retro classics but with a modern twist. Unlike those games, Alterium Shift doesn't then apply a wild amount of tilt-shift effects to the proceedings, so in a lot of ways, it looks better than those AAA titles.
I didn't see a lot of the combat in Alterium Shift, but it looks like a pretty classic system. You can have up to three characters in active roles in a classic turn-based battle system. One of the two-person-team working on the game called out Chrono Trigger as a big inspiration, with a focus on combining different characters' abilities for overwhelming attacks.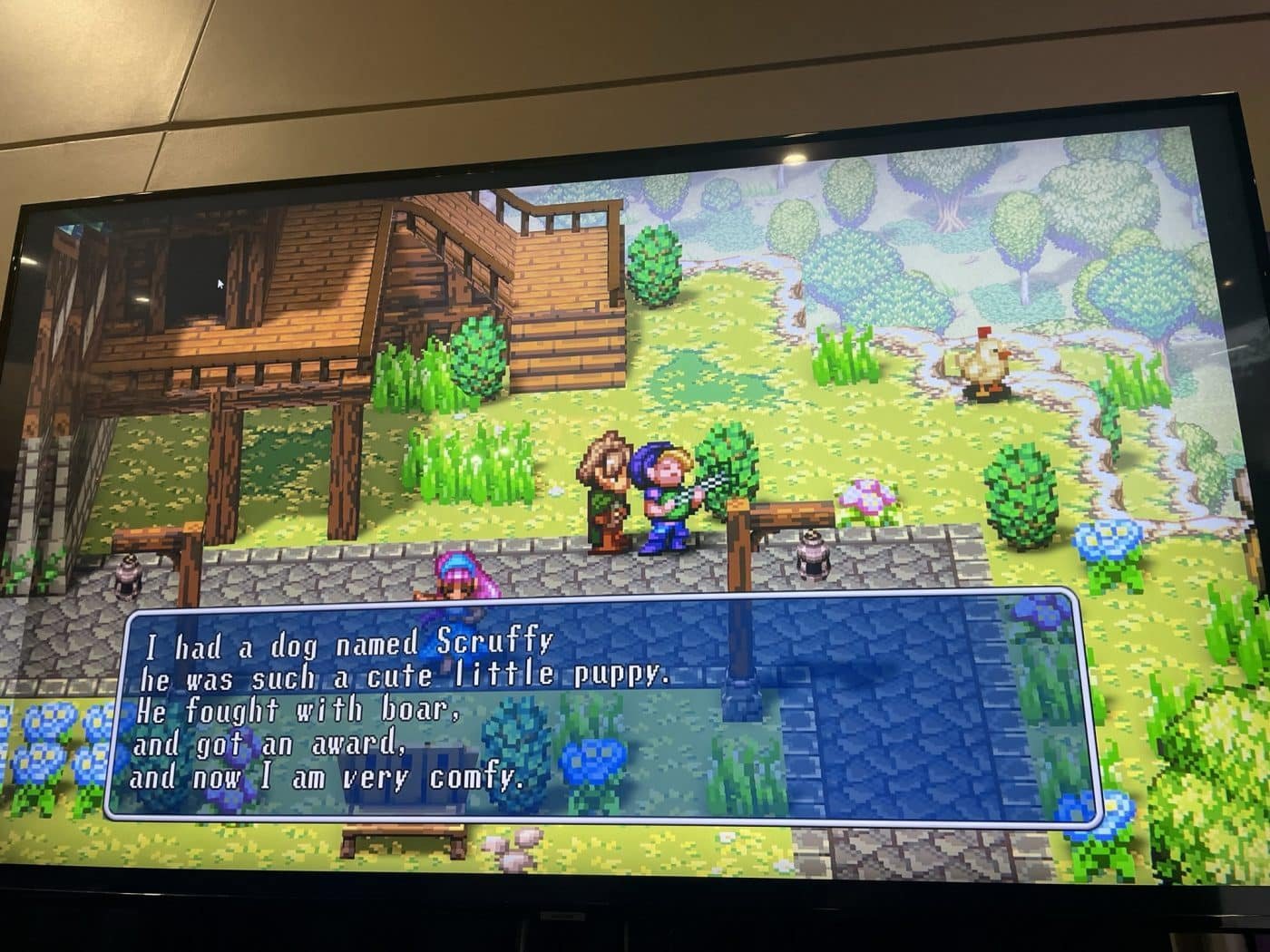 The reason I didn't spend much time with the combat in Alterium Shift is that the first NPC I talked to sang me a song about a dog. I mean, there's no voice acting here so it was a text-based song, but it was still adorable. As soon as that happened, I just went around talking to everyone I could. Eventually, I found a woman who had lost her chickens, so I ran all over the village collecting her chickens and was completely charmed by the game.
WrestleQuest
I have a weird relationship with WrestleQuest. It's a sort of silly, cartoony throwback to old-school RPGs, especially those starring an Italian plumber. It's got a turn-based combat system where different face buttons open different menus, and mid-battle button prompts come up to let you add a boost to your damage. I tend to like those sorts of games, but it's the whole other half of the affair that was clearly not targeted to me when I first saw the game: Every single aspect of the game is a reference to professional wrestling.
I have never, ever been a wrestling fan. Growing up, all I knew about wrestling was the N64 games were pretty good and the old line of "wrestling is fake". After college, my roommate Scoot was super into wrestling and tried really hard to hook me into it. He explained old rivalries to me, he showed me when Mankind went through the top of the cage in Hell in a Cell, and he tried to explain how things were scripted but it was still really real. I had a fine enough time, but I still didn't get into it.
Then I saw the WrestleQuest trailer a few months back, and for some reason, I knew it was time. I had to get into wrestling. I took to Twitter to ask for advice and ended up watching AEW Dynamite with KentuckyBeaverslap, and I've watched just about every AEW event since then. I'm so deep into wrestling now, and I love it.
With that in mind, I got to try out WrestleQuest at PAX, and it was exactly what I wanted. The turn-based battle system is pretty straightforward, but with a wrestling twist where you have to pin opponents to end the fight. The overworld map looks like something out of Final Fantasy VI, but with stuff like a massive statue of Macho Man Randy Savage. You get sent from place to place on quests, but the quest I had to complete was finding face paint and helping a new wrestler choose between a goth or surfer persona.
Instead of locked doors, there are tables. You collect tokens that summon NPCs so that you can slam them through the tables and proceed.
WrestleQuest is exactly what it looks like. It's a pretty solid RPG with a pitch-perfect theme.
Next at PAX
I've already written about what walking onto the show floor was like. In short, it was super overwhelming. Thankfully, I found a cozy little home at the booth for Limited Run Games and Wayforward, where I checked out three games that all felt great. Keep an eye out for my next PAX post, where I'll share some impressions on LUNARK, RVBY: Arrowfell, and River City Girls 2!