Snakeybus Quick View
Snakeybus Release Date: May 10, 2019
Snakeybus Price: $11.99
Snakeybus Rating: E 10+ (Everyone 10+)
Snakeybus Platform: Nintendo Switch, Playstation 4, Xbox One, Steam
Video games are great. By making a player part of the narrative they are the ultimate medium for storytelling. Whether they are allowing to visit a fantasy world where you can befriend adorable monsters, or putting you in the boots of a young hero in the wild west, or pitting you against your friends as a man-eating space monster, no other format can engross you in a story the way that video games can.
But sometimes…games are at their best when they don't worry about all of that and simply focus on being pure, dumb fun. That's when you need to…
Jump Aboard the Snakeybus!
Snakeybus is a video game. Snakeybus is a video game I just purchased the day before writing this. Snakeybus is one of the most fun video games I've played this year. Snakeybus is the title of a video game that I will never, ever get tired of saying over and over again.
In Snakeybus, you drive a bus around a map, hitting checkpoints to pick up passengers before hitting a different sort of checkpoint to drop them off. You drive forward automatically, can slow down or speed up a bit with the triggers, and you can jump. Yes, jump, because why shouldn't busses be able to jump?
That's literally all you do. You just drive this bus around. Except each time you drop off passengers, your (snakey)bus gets a little bit longer. Eventually, you've got like a hundred freaking pieces of this bus going all over the map that you have to try not to crash into as you go careening around corners to pick up even more passengers and make a bigger bus!
It's like the old phone game Snake…except it's a bus! Snakeybus, get it?
Why Aren't You Playing Snakeybus?
You aren't convinced yet? Fine, I'll tell you more about Snakeybus. Snakeybus starts you off with a pretty normal bus, but as you rack up points you'll unlock different buses you can drive. There's a school bus, a crazy rainbow party bus, and even a bus that's the truck from Clustertruck. Sadly, the closest you get to a snake-themed bus in Snakeybus is a dragon bus which, while awesome, isn't quite a snake.
Dragonbus doesn't roll off the tongue in quite the same way that Snakeybus does.
The first level you play on in Snakeybus has you on a miniaturized scale in a college dorm room, where you drive on Hot Wheels style ramps to get on top of furniture as you pick up passengers. After that, there are 10 other levels to unlock, including a retro-wave version of Miami, a completely accurate depiction of Seattle's endless rain, and the inside drum of a farm-filled spaceship that you drive around in a continuous loop. Because gravity can't stop Snakeybus!
Snakeybus also has a really nice soundtrack. It's unobtrusive, but there are some great beats in there that really facilitate getting into a meditative flow state as you play Snakeybus. There's a particular track I came across while cruising through Miami that had me transcending to another plane of Snakeybus existence.
Snakeybus Snakeybus Snakeybus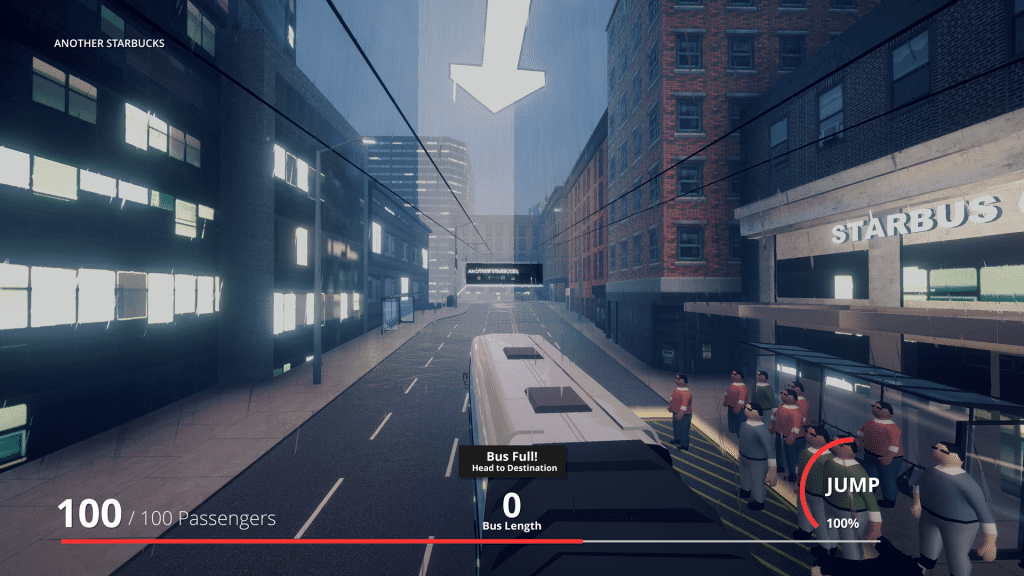 Snakeybus is ridiculous and silly and a little janky and endlessly fun. I love Snakeybus, and I think you will love Snakeybus, too. Now, one could argue that you'll see everything Snakeybus has to offer within the first hour of playing Snakeybus, and that's true. But that doesn't mean that you won't continue to have fun long, long after that first hour. After all… Snakeybus.
Snakeybus Score: 4.5 out of 5 Snakeybusses
For more train-like goodness, maybe check out Railways!