Quick View
Release Date: May 7, 2021
Price: $5.99
Rating: Everyone
Platform: Switch, itch.io
A game key for Sector 781 was provided by Refold.
I'm a big fan of Metroidvania games and a huge proponent of small games that accomplish what they set out to do. Sector 781 has been around on itch.io for a while, and just launched on the Switch. It's a teeny, tiny game with teeny, tiny pixel art that is a joy to play. Unfortunately, the game is divided into three fairly linear and totally disconnected maps makes it feel a bit lacking on the Metroidvania front, and the half-hour run time left me wanting more.
Thirty Minutes of Fun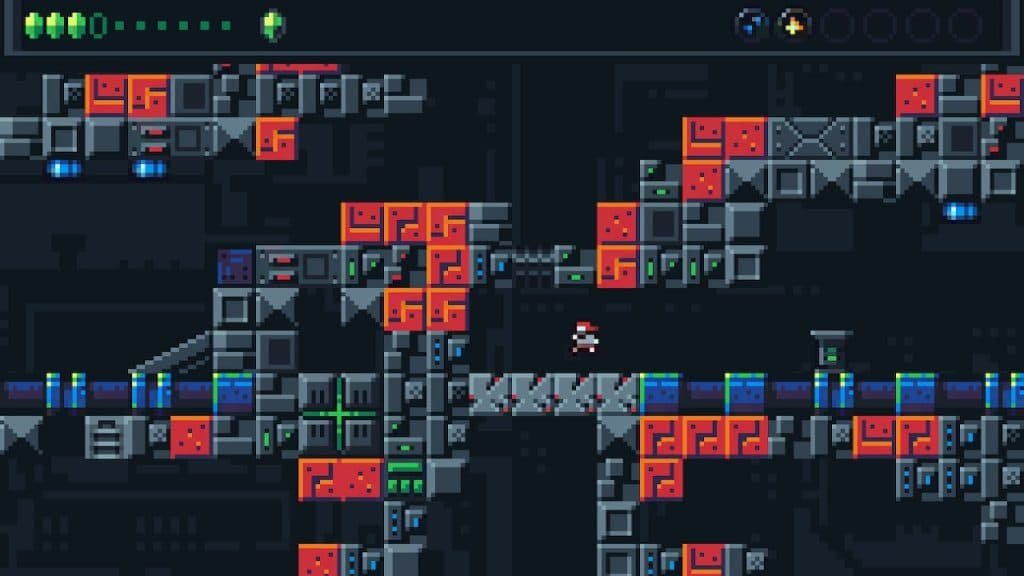 At the start of Sector 781, you take control of a 7 pixel tall character who can jump and shoot through a 2D environment. Each screen you enter has platformer challenges, enemies, and obstacles that you make your way past, until you eventually find an upgrade that gives you a new ability, which then lets you access new areas.
Throughout the levels there are transporters that will send you off to another part of the map. This is a cool way to keep having you loop back through rooms you've already seen. However, each of the three worlds you explore is pretty small and pretty linear… Unlike bigger, more expansive metroidvania games you will almost never find yourself lost or wondering where to go.
Scattered throughout the games are shards that you collect like Pieces of Heart from a Zelda game. Every fourth one gives you an extra block of health. On the whole the game isn't super challenging, so the extra health never feels critical. Still, these shards are the only real motivation to explore the little bit of the game you won't see on the critical path, and I made a point to snag them whenever I saw them.
At the end of each section there's a fight against a boss. These are a bit tougher than the rest of the game, but a fairly forgiving checkpoint system means you'll generally respawn right outside the boss's room.
Final Thoughts
Sector 781 is a perfectly pleasant game with almost no surprises. Playing it feels just like you'd think it would from looking at it. It's a nice, simple, straightforward Metroidvania-style game. The upgrades, enemies, and even bosses all felt familiar. I wish that the levels were a bit more labyrinthian. I wish that there was more motivation to go back in and play through it more than once. I wish there were more than three levels. I wish that there was anything to make me play more than the 30-some minutes it took me to get through the whole game.
Still, for a budget title, having the only complaint be "I wish there were more" is pretty darn good!
Geek to Geek Score: 3.5 out of 5 Tiny Stars