Looking for a spooky-scary Halloween game that isn't quite so spooky-scary?
The trappings around Halloween have always been pretty fun to me, but I'm also massively afraid of horror, gore, and jump scares. For folks like me, here are some less-scary games to play that still fit the feel of the frightful season!
Geek to Geek Media was provided with review copies of some or all of these titles.
Witchcrafty
Price: $9.99
Suggested Audience Age: Rated Everyone 10+ by the ESRB
Witchcrafty is a Metroidvania-style platformer where you play as an adorable witch as she searches for the source of the corruption spreading through her home. The adorable 16-bit aesthetic is the strongest part of the game, especially with the CRT filter turned on. Enemies and environments are all bright, bouncy, colorful, and cartoony.
On the gameplay side of things, it's sort of a mixed bag. Witchcrafty gives you a pretty good variety of abilities right off the bat. Within an hour you'll be hurling fireballs while you dash up close to an enemy to slam them with melee attacks. Unfortunately, there's some weirdness in the platforming physics, specifically with platforms you can jump through.
Going down through platforms just doesn't work sometimes, then does work a half second later. You also will run into those platforms if you hit the end of them while moving horizontally. It actually took me a few minutes to realize that both of these were recurring issues rather than one-off glitches because they just feel bad.
Once you get used to those weird issues, Witchcrafty is a fun ride. This would be a great game for folks to pick up to play with a young gamer this spooky season. Just don't go too young, because there is a surprising amount of text, and a lot of it is oddly translated… so reading comprehension is definitely a must!
Hell Pie
Price: $9.99
Suggested Audience Age: Rated M for Mature by the ESRB
For those without little ones around, or those raising little ones with extremely rude senses of humor, there's Hell Pie. This is part of the 3D Platformer renaissance that we've been in for a few years with two specific hooks to set it apart.
On the gameplay side of things, think of a Mario knockoff with a grappling hook. You explore an overworld on your quest to find ingredients for a meal for Satan. From there, you dip into smaller, more linear levels with challenges to complete. There are lots of baddies to fight, but this isn't as combat-focused as Kao the Kangaroo. Instead, a lot of the game's challenges come in navigating platforming challenges by swinging from your pet cherub.
That pet cherub is a great example of the other unique aspect of Hell Pie: its gross-out humor.
You first meet the Cherub when you steal him as meat for the Devil's dinner, but then you end up dragging his bulbous, naked butt around on a chain throughout the game.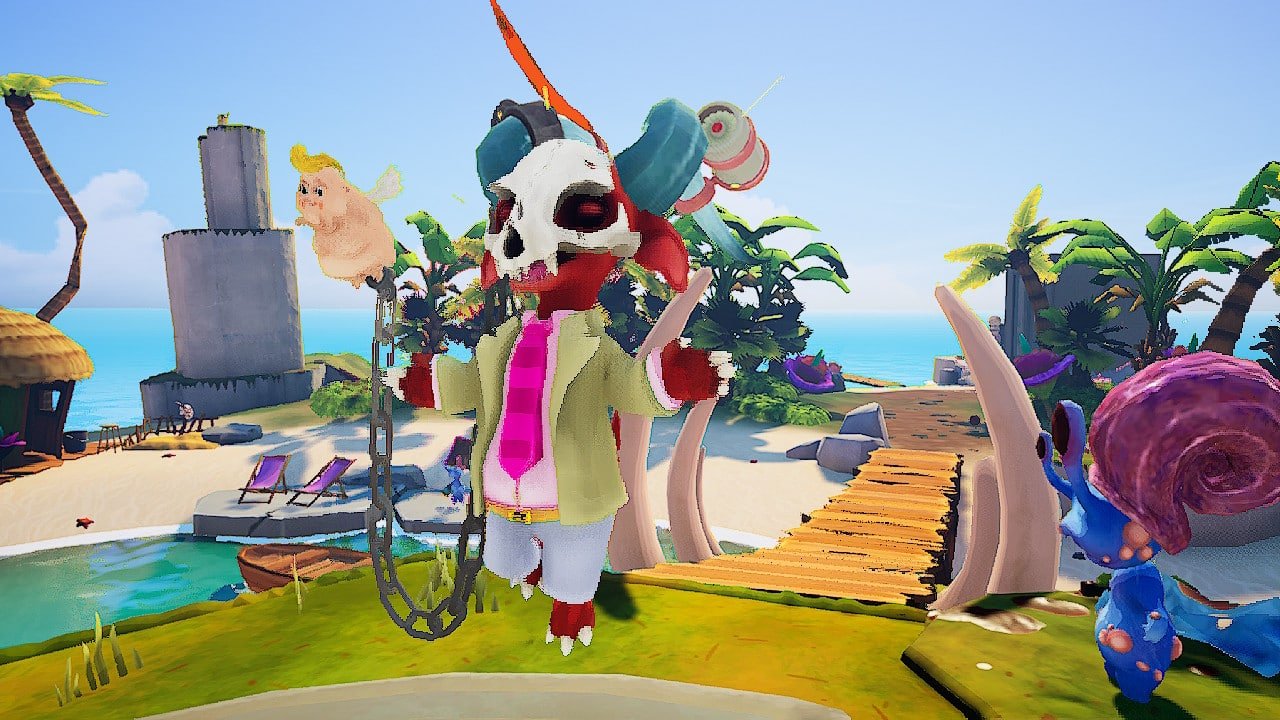 This is a good one for folks who miss Conker's Bad Fur Day or grew up on Ren and Stimpy. I would just avoid the Switch version if you can, because it doesn't run great on Nintendo's handheld.
Thymesia
For the pro gamers out there, Thymesia would be a great Halloween-time game to scratch your Souls-itch. This one looks a heck of a lot like Bloodborne, but with a few unique twists on the combat to give it its own sense of identity.
Combos are a huge part of combat in Thymesia. When you wail on enemies you lower their health bar, revealing another, green health bar behind it. You have to incorporate special moves to take the second bar down and actually eliminate them. I like this literal extra layer because it's another way to make even the most basic encounters impactful.
It's worth going into Thymesia knowing that it's not a full AAA experience. The game looks really good in action, but there are a lot of places where it shows its budget outside of the gameplay itself. Cutscenes, transitions from one area to the next, and menus are all just a little clunkier than they should be.
And so many more!
I've got more recommendations for you in the pipeline, but I'm also always interested in hearing other people's favorite seasonal games. Head over to our Discord to let us know what you like playing during Halloween, as long as it won't make me hide behind the couch!