With The Hand of Merlin, the Nintendo Switch has a new best-in-show tactical rogue-lite, and it's all wrapped up in an apocalyptic Arthurian tale.
Quick View
Title: The Hand of Merlin
Release Date: June 14. 2022 (Switch Version)
Price: $29.99
Suggested Audience Age: Rated T for Teen by the ESRB
Time to Play: A few hours for a successful run
Availability: Switch, Xbox, PlayStation, Steam, GOG, Epic
Recommended for fans of: Tactical RPGs like Final Fantasy Tactics, Table of Tales, or Guards; Rogue-lite Experiences like Evertried, and Arthurian Legend
Geek to Geek Media was provided with a review copy of this title.
Tactics games always catch my eye, even though they overwhelm me more often than not. Rogue-lite games always intrigue me, but when they are designed to be unbeatable until you've leveled up the meta I get frustrated. With that said, few things make me more excited and cautious than a rogue-lite tactics game.
The Hand of Merlin has been out and favorably reviewed on Steam for about a year, and has now made its way to the Switch, Xbox, and PlayStation. I've played a few runs on Normal difficulty and really dug it, then blew through an Easy run to see how the story unfolded. From what I've seen, this might be the best tactical rogue-lite game in the Nintendo Switch.
Merlin's Meta
I always respect a rogue-lite that builds the reset mechanic into the narrative, and The Hand of Merlin does this in a super cool fashion. Rather than playing as an individual character whose progress keeps resetting, the player takes on the role of a version of Arthurian Merlin who has gathered enough power to transcend the multiverse. Now that he is all-seeing, he seeks a world whose heroes can help him combat the mysterious darkness that is destroying everything it touches.
Think Kang the Conqueror in The Adventure Zone.
Each run through the game takes place in a fresh world where Merlin reaches out to three adventures and sends them on a quest to take The Holy Grail across the land in order to stall the darkness. When your heroes fall the darkness takes over that world and destroys it, and Merlin moves on to the next.
Throughout the heroes' adventures, Merlin can gain experience directly, which lets him unlock new spells he can use to support the party in combat. These carry over from run to run as the ongoing progression, along with certain milestones unlocking new characters for you to pick on future runs.
Superb Storytelling
While the whole overarching story of The Hand of Merlin is really good, the individual stories within each run are also wonderful. Like many rogue-lite games, this one has you progressing through the adventure via a node map. Each stop on the way triggers some sort of event, which is told via an illustrated book opening up.
A lot of these stops end up as combat encounters, but a surprising number of them are just about the story. During my journeys, I met cursed kings, helpful farmers, a lesbian couple on the wrong, and a pair of knights arguing over which was the rightful holder of a minor title. Most of these encounters give you a few choices on how to interact with the scene and then provide material rewards of cash, supplies, or a few other helpful items at the end.
Almost all of the stories I uncovered were self-contained. There were a few that started side quests, with the choices I made coming up again at a later node, but mostly they were totally episodic nuggets of story. You could skip almost everything about these stories and just play the combat, but I think you'd be missing out on a very juicy part of the package.
Competent Combat
The battles in The Hand of Merlin were exactly what I hoped they would be based on screenshots of the game. You typically control three characters, and usually, there are roughly the same amount of enemies on the field. Each of your characters gets two action points that they can use to move, attack, or use skills that can sway the field of battle. Taking cover behind obstacles gives you defense on ranged attacks, and for XCOM fans, the ranger-type characters have a move that is basically overwatch. Merlin also has the ability to cast spells to shift the battle, but that uses a fairly limited resource and is super important in the end game.
The combat all worked well enough for me but didn't feel nearly as unique or engaging as the storytelling. The only two actual issues I had were that enemies turns can sometimes go a bit slowly (even with a built-in fast forward button), and you weirdly can't rotate the camera. I never really ran into a situation where I felt like I needed to rotate the camera, but I'm so used to being able to do it in isometric tactics games that it felt a bit odd.
Difficulty Details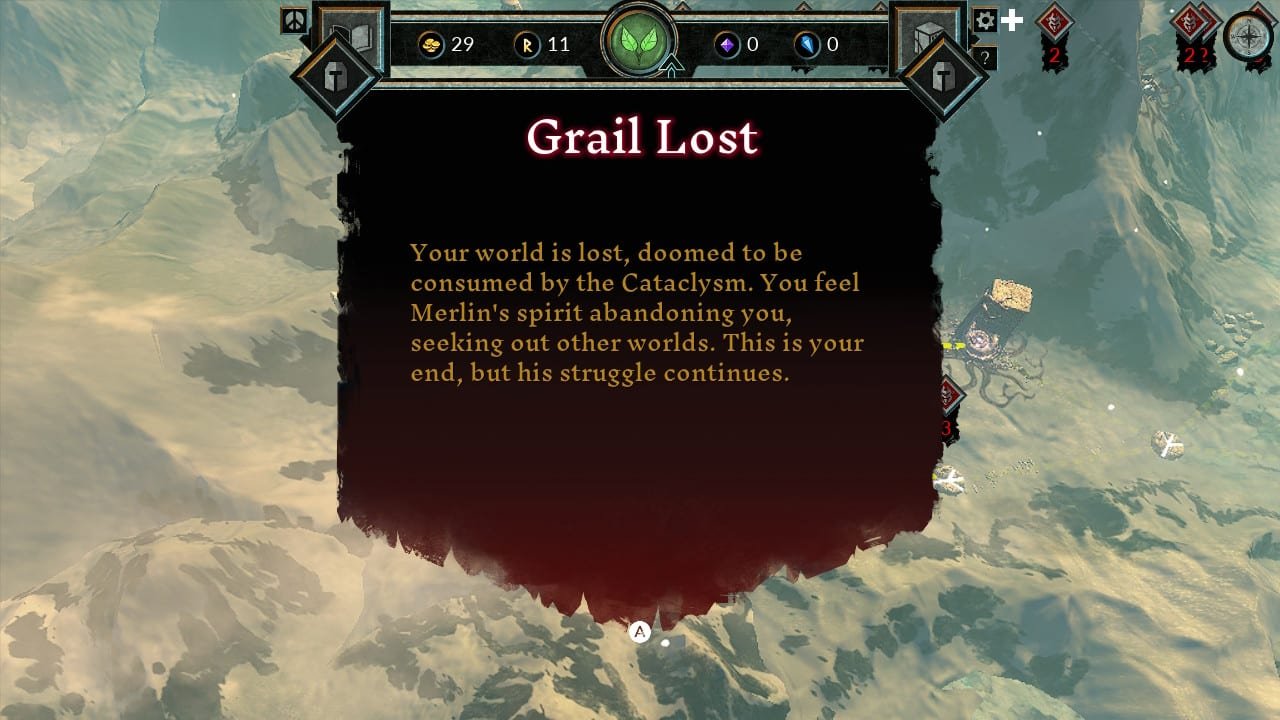 I do want to call out one weird issue I ran into with difficulty settings in The Hand of Merlin. There are five levels of difficulty to choose from. On the default setting the combat was super engaging, and the benefits I got from the story-based stuff really felt like it made a difference, mostly in terms of getting me funds to buy better gear for my squad. I decided I wanted to see more of what the story had to offer before writing this review, so I bumped the difficulty down, but only to "Easy" instead of all the way to "Story". The change in settings augments the amount of health and armor each of your characters has.
The problem is that it augments it a lot. The easier mode was so much easier that I barely had to pay attention to the combat. My units were all so beefy that there was virtually no risk.
Now, yes, that is the point of an easy mode, but it does make me wonder about how much harder the harder modes are. For most tactics fans the normal difficulty should be just fine. If you're someone who usually bumps the difficulty up or down, though, this one might be a bit odd for you.
Final Thoughts
I am extremely impressed with The Hand of Merlin on the Nintendo Switch. The gameplay is almost exactly what you'd want out of a tactics game, but with a very strong grasp on storytelling. I love a tactics game where the bits between the battles feel significant, and the mental images that will stick with me most are all from those little stories, rather than from mid-battle.
The game runs and controls well on Switch. Some of the interfaces can be a bit awkward on the controller, but there are button labels on everything to help if you forget what to click to access a certain tool.
All in all, this is a very good tactics game with solid gameplay, an interesting story, and a rogue-lite structure that lets you keep playing over and over again!
Geek to Geek Rating: 4 out of 5 Knights of the Round Table