Genius Invokation TCG is a free card game within Genshin Impact that allows you to build decks, collect cards, and challenge NPCs and other players to duels.
Genshin Impact's recent 3.3 update (part of the Sumeru region's content) included the highly anticipated release of the Wanderer (AKA Scaramouche) character and a new Archon quest. While these additions are nice, the real standout of the update (for me, at least) is the addition of a trading card game (TCG) called the Genius Invokation TCG.
The Impact of Hearthstone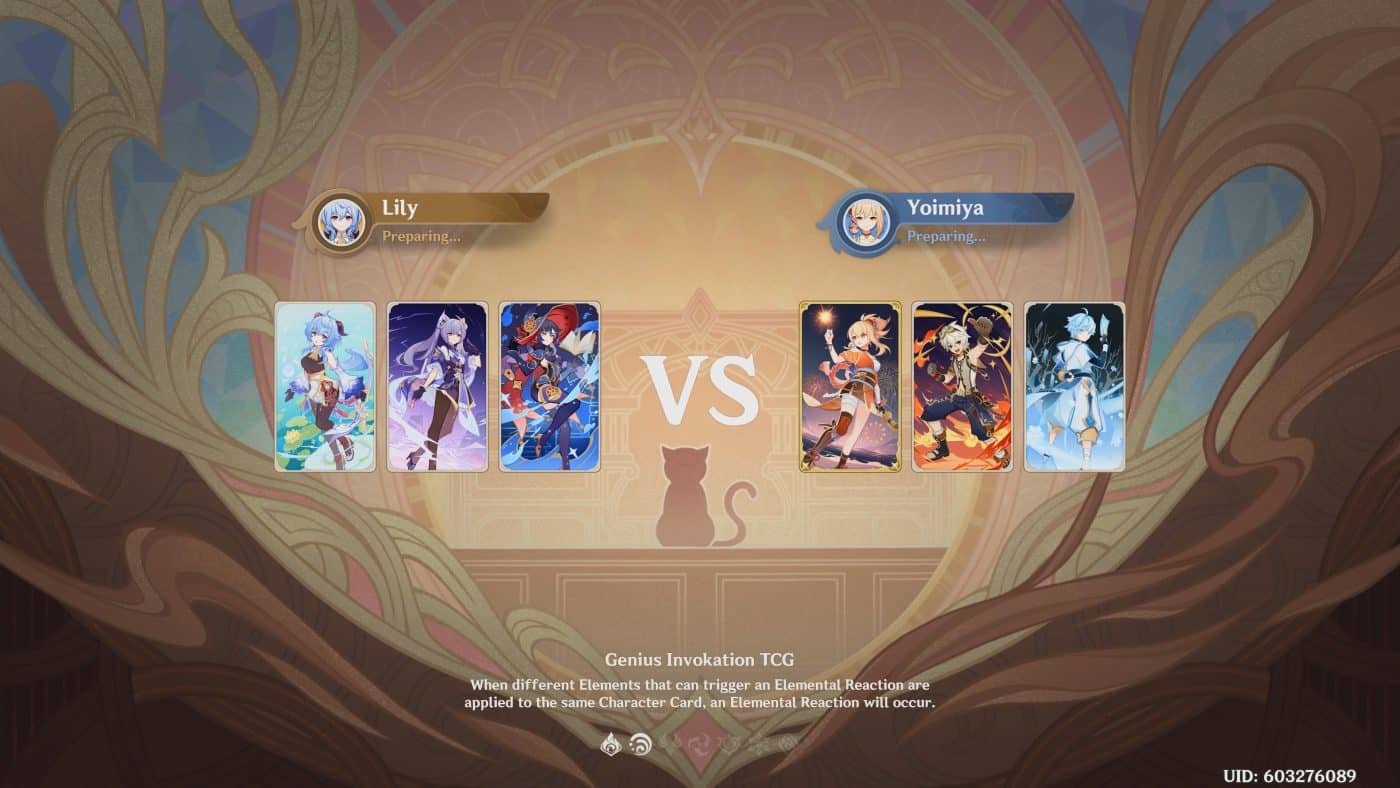 I'll be honest – I've always been more of a fan of digital TCGs than physical ones. Sure, I had my Magic: The Gathering phase and very much enjoy having a physical card with nice art to look at, but I prefer the clutterless approach to a digital card game.
To that end, there are obviously a good number of digital Magic: The Gathering games, along with more unique fare such as Hearthstone and (a personal favorite) Capcom vs SNK: Card Fighters Clash. Genius Invokation TCG takes a little from all of these, but primarily Hearthstone.
One major difference between Genius Invokation TCG and most of the games that inspired it is that in GITCG, you select a team of three "static" characters, while most other games make you settle on one or allow you to switch characters out when needed. While you're stuck with those three characters for the entirety of a match, you can draw cards at the beginning of a match and at certain intervals to supplement them.
Genius Invokation TCG's Card Types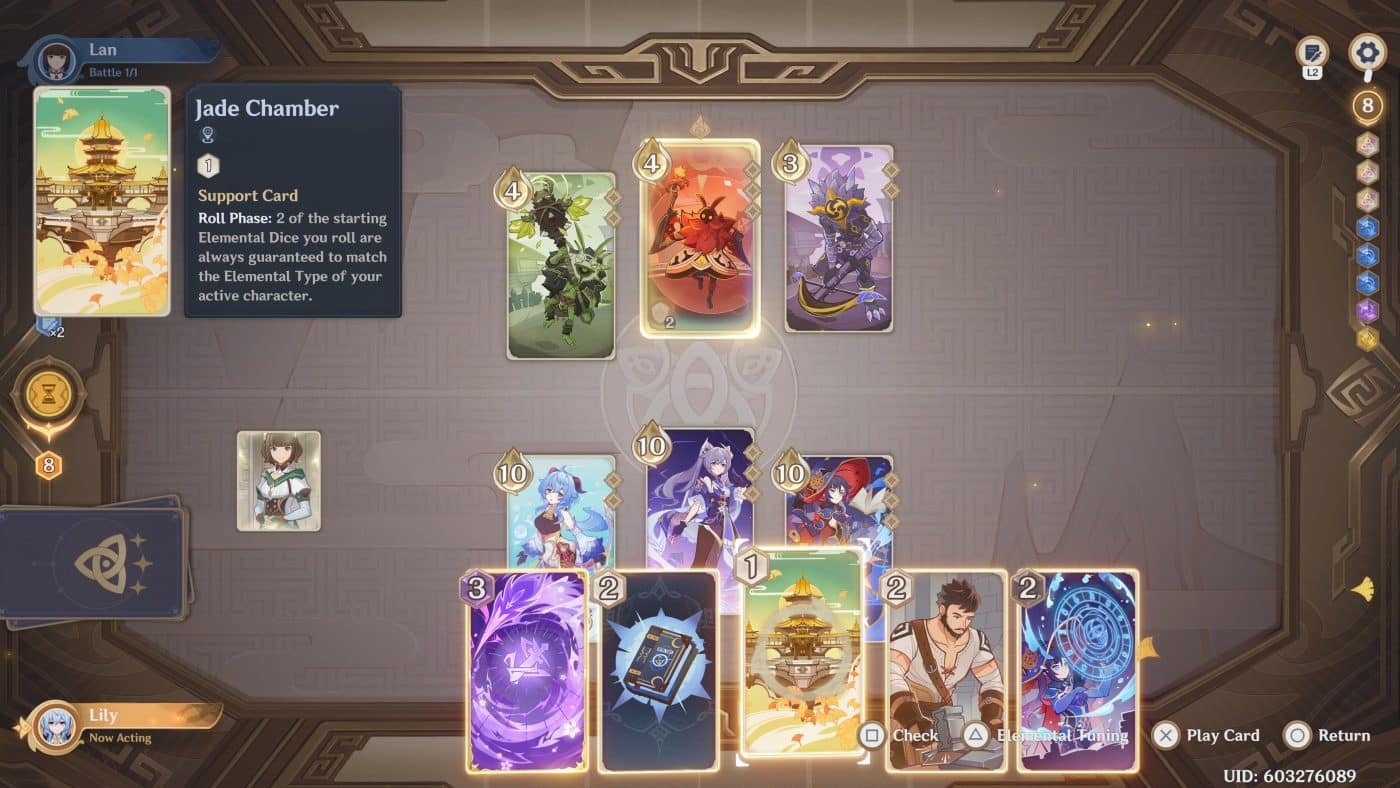 Your card hand consists of the following categories, all falling under the banner of "Action" cards:
Equipment Cards – Attach a weapon or artifact to a character to supplement their offense or defense. Example: give an archer character a generic bow to increase DMG by 1 for each attack.
Support Cards – These act as "summons" that either act on their own at pre-determined times or offer a passive buff. Example: a blacksmith support card allows you to freely equip your characters while it is out.
Event Cards – Allow you to instantly buff a character or create a temporary passive effect. Example: use a food card to gain HP.
Basic Rules for Genius Invokation TCG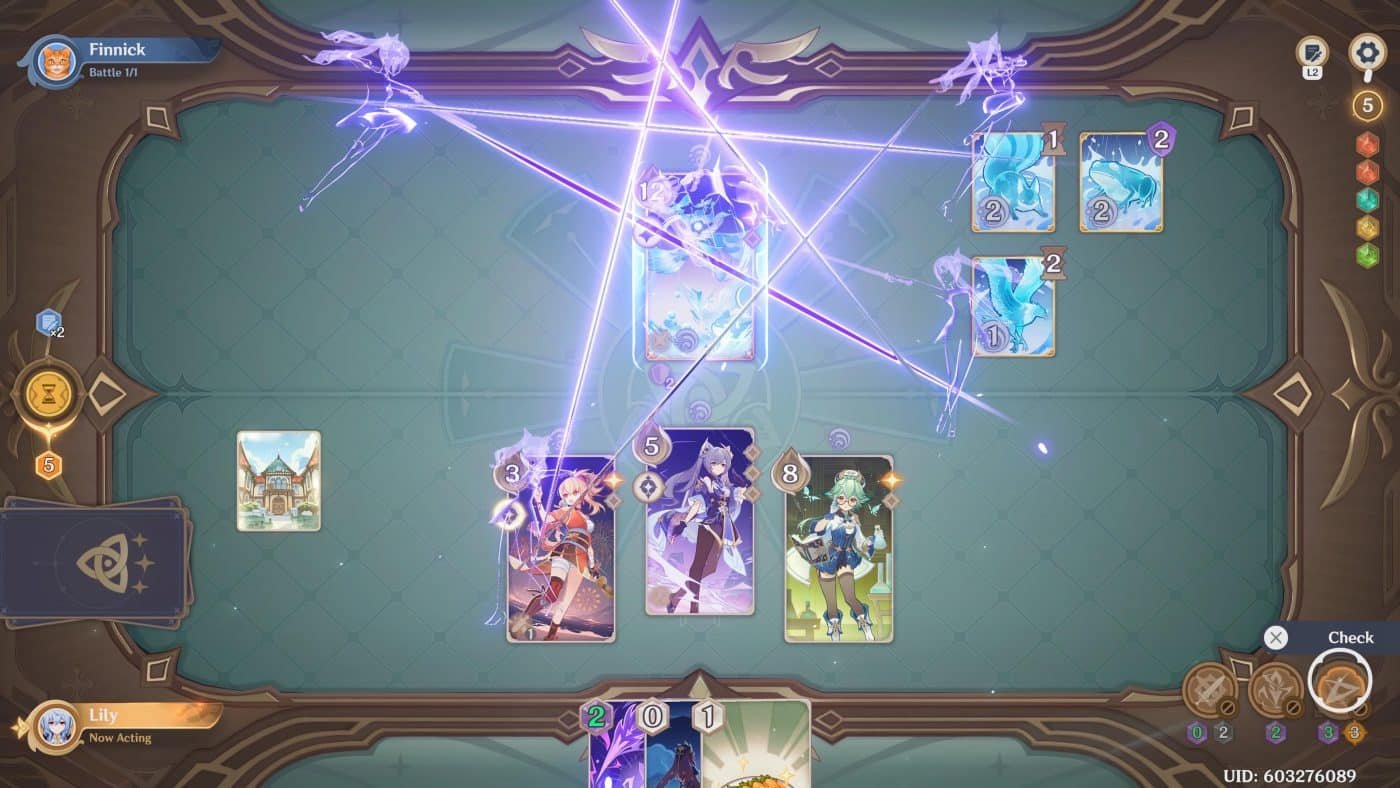 After creating a deck consisting of three Character cards and 30 Action cards, you can challenge NPCs throughout Teyvat to a card duel. The "Casket of Tomes" item can be used to edit decks and identify NPCs who are up for a match.
The Cat's Tail tavern in Mondstadt acts as a sort of hub area for Genius Invokation TCG. In it, you can seek NPC opponents, duel other plays, and even purchase cards from a cat NPC named Prince. Gaining experience from matches raises your Player Level, which unlocks more NPCs to duel against.
Once a match begins, your goal is to deplete all of your opponents' character cards' HP. You roll eight elemental dice, which determine the actions a character can take, and draw a hand of five Action cards. Select which character you want to start with, and use whatever Action cards you can. Most attacks and abilities require at least one die that matches the character's element, and dice are consumed for the round after attacks/abilities are used.
Using an attack or ability also grants the active character one energy point. Once a character's energy gauge is filled, they can use a devastating "burst" attack. After attacking or switching characters, your turn ends and the opponent's begins.
When a player runs out of dice/actions, they can signal that they are done for the round and the first to do so gets to act first in the next round. Each round begins by giving you two attempts to roll for elements that match your characters'.
Genius Invokation TCG Offers a Wealth of Content
Genius Invokation TCG offers an impressive amount of content within Genshin Impact for an entirely free minigame. With dozens of NPCs to challenge, boss battles to tackle within the Cat's Tail, and the option to play against other players at Player Level 5, there is honestly enough to warrant this being its own separate release.
Even after collecting all of the cards, you can spend many hours earning dynamic skins and custom card backs, with the latter even generously being tradable for otherwise unneeded materials. All that hoarding has finally paid off!
Overall, It's a Positive Impact on the Game
Overall, I'm extremely happy with Genius Invokation TCG, but I do have some nitpicks.
For one, it's a bit on the easy side. I haven't come even close to losing a match, but there are additional challenges offered within each match to spice things up.
Another minor gripe is that the controls are a bit awkward using a controller, with the confirmation button confusingly being used for multiple purposes.
Minor complaints aside, I've been hopelessly addicted to this TCG since the 3.3 update dropped, and I am greatly looking forward to additional content. Wanderer's story can wait; I've got card duels to win!