Wargroove was the game that filled the space when Advance Wars seemed forgotten, and now Wargroove 2 has made me realize that it's the franchise I'm nostalgic for!
Quick View
Geek to Geek Media was provided with a review copy of this title.
The first Wargroove game brought the Advance Wars format back to the spotlight. With excellent pixel art, silly characters, and tactical gameplay that did not punish you for the loss of a single unit, it quickly became one of my favorite games on the Switch.
When we first got word of a sequel that added pirates, I was immediately on board. I've played a few hours over the past few days leading up to release, and while I haven't seen enough to give a full review I can recommend Wargroove 2 to any fan of the first game (or tactics games in general), but it also works well as an entry point into the tactics genre.
Fire Emblem Setting, Advance Wars Gameplay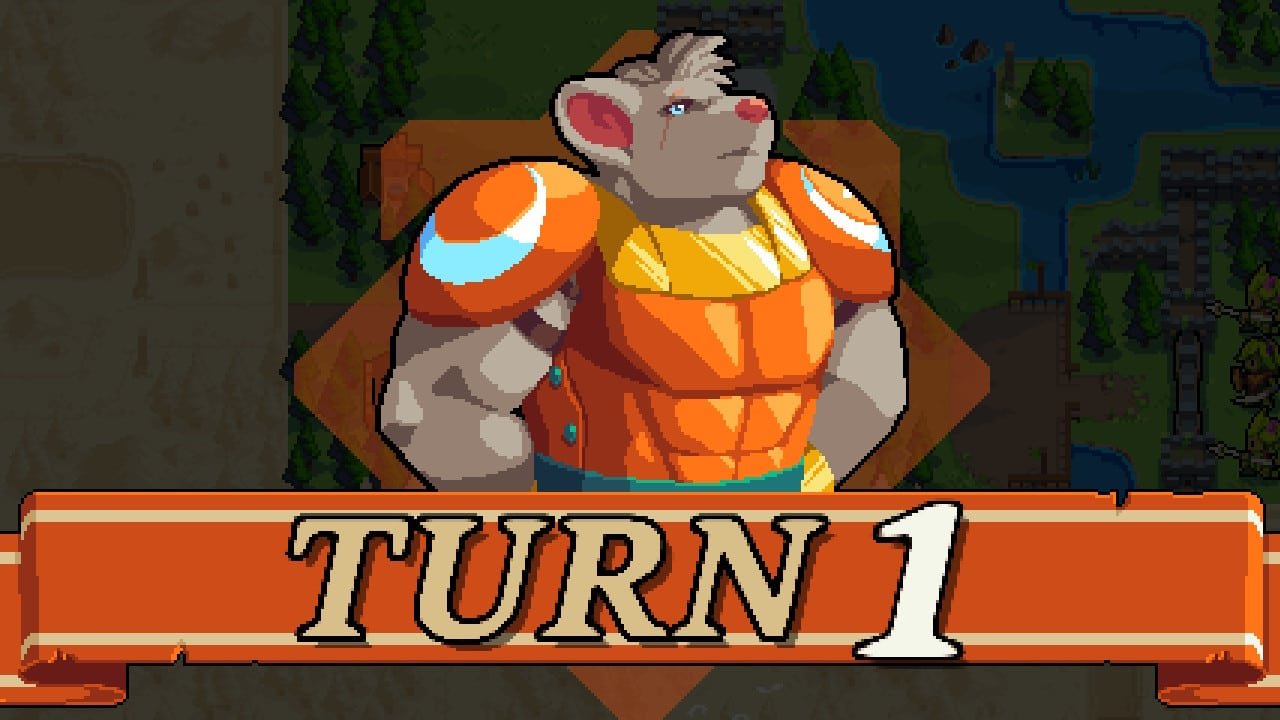 For the unfamiliar, Wargroove 2 is a turn-based tactics game. You control an army of little guys on a small map and take turns moving them around the board to battle other little guys. This series is set in a fantasy world, so you command units wielding swords or spears and bows, oh my. The unit types will feel familiar to anyone who has played Fire Emblem, but the gameplay actually functions more like Advance Wars.
The big difference between those two franchises (and the reason I like the Advance Wars side of things more), is that Fire Emblem uses individual, named characters as units. Meanwhile, Advance Wars has your character commanding nameless armies. When a little guy in Fire Emblem loses a confrontation with an enemy they die, and become unusable in further missions. In Advance Wars (and the Wargroove games), losing an individual unit doesn't impact anything beyond the current mission.
Recruitment and Loss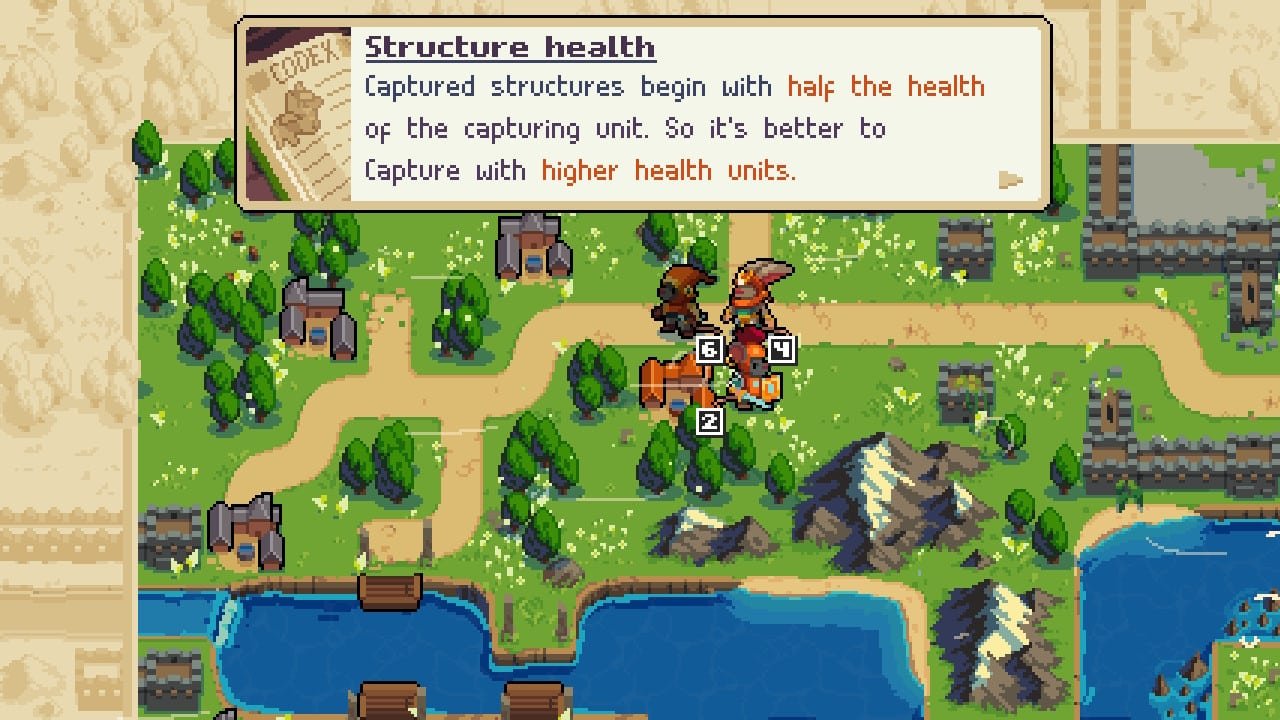 Like Advance Wars, a lot of the strategy in Wargroove 2 revolves around buildings placed around each map. Placing a unit next to a neutral city allows you to claim it as your own, which turns into funding at the start of each turn. You can then use that currency at Barracks or other recruitment facilities to build new armies throughout a mission.
That simple shift in gameplay makes the strategy elements of Wargroove feel way more approachable than any Fire Emblem game. Put simply, you can recover from mistakes in this game. You might overstretch your armies early in a mission, but you can often take a defensive posture while you rebuild your armies and claw your way back to victory.
There's a three-star rating system at the end of each mission to reward you for fast and efficient victories. Shooting for those stars (and the optional objectives in each mission) is fun, but I'm so glad that I can move on with a sloppy win, instead of feeling like I need to restart after a single mistake.
Practical Progression
Wargroove 2 opens with a short prologue that introduces you to the world of Wargroove, recaps the major events of the first game, and introduces you to the basic mechanics. After that opening, the game lets you choose from three different campaigns, each focused on a different faction in the world.
You are funneled towards continuing the story of the new faction introduced in the prologue, which is marked as "beginner". This route works well for newcomers to the genre, as it continues to introduce new unit types and mechanics and a comfortable pace. Folks who are already familiar with Wargroove's more advanced units will probably have more fun by jumping into one of the "Intermediate" campaigns as soon as they open up.
Final Thoughts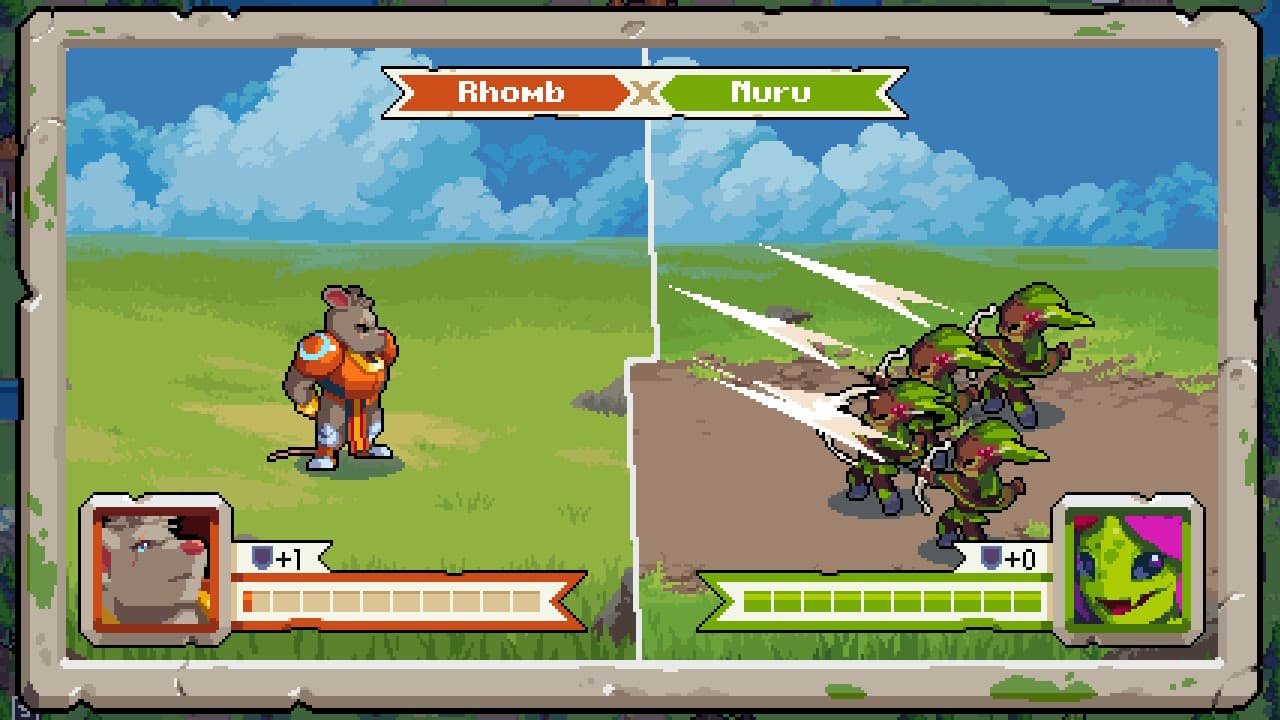 Like I said at the top, I'm only a few hours into Wargroove 2 but I am already loving it. After its repeated delays I did pick up Advance Wars 1+2 ReBoot Camp when it was released earlier this year, but between its drastically different art style and pretty slow ramp-up in difficulty I found myself bored of it pretty quickly. The first Wargroove acted as a salve when it seemed like Nintendo forgot about the Advance Wars series. Now, Wargroove 2 feels like putting on a big comfy sweater while going back to Advance Wars felt like trying to fit into a shirt from high school I found in the back of my closet.