Quick View
Game: SGC – Short Games Collection #1
Release Date: October 1, 2021
Price: $19.99
Rating: Mature
Platform: Switch
Geek to Geek Media was provided with a review copy of this title.
In the past few years, I've really found an appreciation for itty bitty games that execute on a core idea. There are a ton of great creators out there making weird, interesting experiences, but usually, they are relegated to the world of the PC. With SGC – Short Games Collection #1, a small selection of five games that are so weird I'd never expect to see them anywhere but Itch.io are hitting the Nintendo Switch.
Read on to hear just a bit about each of these five games. I won't get too deep into details to avoid spoiling the experiences, but I honestly think your best bet is to just go pick this package up and go in totally blind. Just know that 1) these games are weird, 2) they range from being touching to hilarious to psychologically upsetting, and 3) this collection absolutely earns its "M for Mature" rating.
Swallow the Sea
This was the first game in the collection I played. It's also the quickest one that I got into as a relatively traditional video game. You control a little creature (or maybe a cell? or maybe a single-celled creature?) who goes around eating up other little creatures to get bigger. It's a pretty straightforward formula that has a few surprises in enemy design, but it didn't blow my mind. It is the one I most feel like going back and playing more of, though.
A Game Literally About Doing Your Taxes
Okay, I'll be honest, I didn't actually get terribly far in A Game Literally About Doing Your Taxes because it absolutely freaked me the heck out. It's just a game where you've got a pile of mail in front of you, and you sort tax-related documents to one pile and other stuff to another. Every time you finish a stack you get a total dollar amount score for that day's work, then you do it again. Then it gets freaking weird. I can't handle this game. It is way too unsettling for my poor baby brain.
Ghostein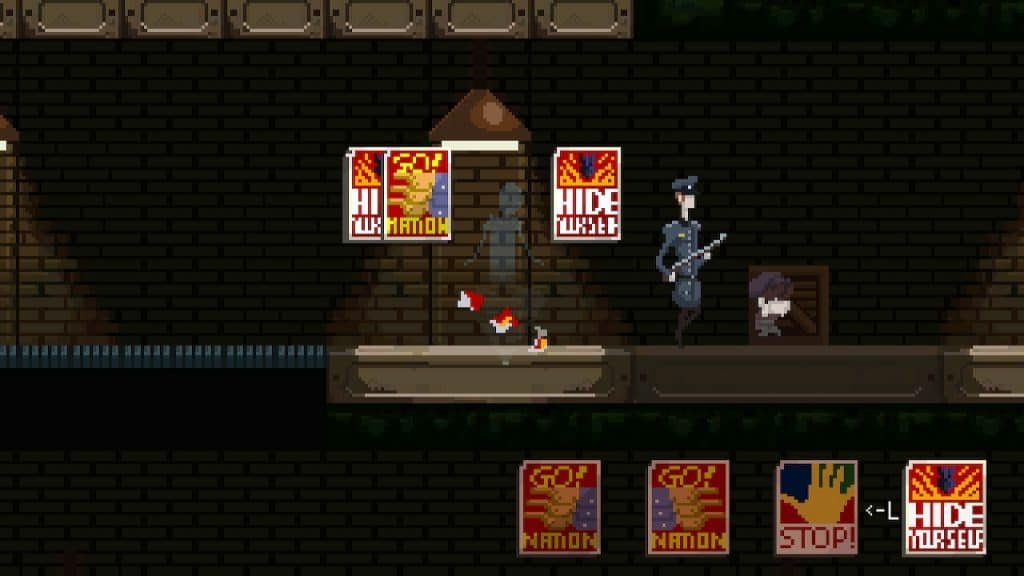 Ghostein made me cry. You take on the role of a spirit who is guiding a little boy as he tries to escape from Nazis during the Holocaust. Rather than controlling the boy directly, your ghost can throw up propaganda-looking posters telling the boy to move left or right, to stop, or to hide. Through simple art and dramatic storytelling this game gets super touching really quickly, and the first time I got a game over I literally yelped because I was so concerned for the fate of the little boy.
Uranus
I haven't quite clicked with Uranus, but I think that's because it'd work well as a multiplayer game. You control some sort of a character flying around an angel's eyeball, leaving a Tron-bike-like trail behind you to try to knock another player or CPU controller character off course. Build up enough speed and you explode, earning a point. It all works fine, but aside from the completely wild aesthetics, it felt like a game I'd seen before.
The Good Time Garden
I tried to record my first impressions as I played this collection, but a computer issue ruined that prospect. Mostly I'm not too upset, because you're better off not knowing more than I'm telling you here about these games. I am sad, though, to have lost the footage of me laughing so hard that I couldn't breathe as I explored The Good Time Garden. If you're into the idea of weirdly wobbly naked cartoons wandering around urinating on each other, then boy howdy do I have the game for you!
Final Thoughts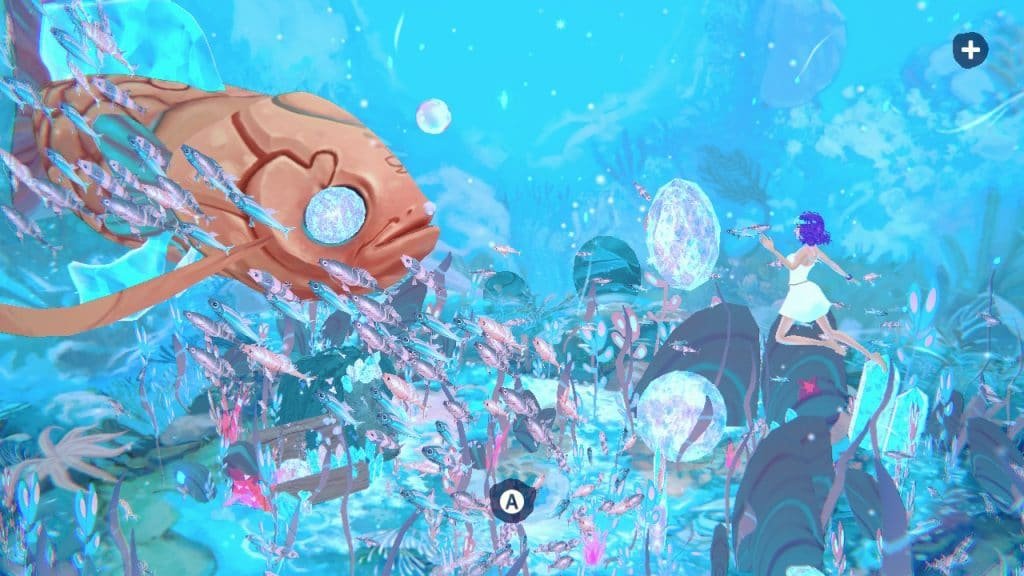 You probably won't find your next favorite game in SGC – Short Games Collection #1, but you will find five weird, unique games that will make you feel and think in a way that a lot of big game releases won't. Plus, picking this up is a way of saying "Yes, give me more weird art", and that's a sentiment we should all be shouting whenever we can.