Wreckfest is a collision-focused racing game that's finally made its way to the Nintendo Switch. It is an absolute perfect fit for Nintendo's handheld system.
Quick View
Title: Wreckfest
Release Date: June 21, 2022
Price: $39.99
Suggested Audience Age: Rated T for Teen by the ESRB
Time to Play: 18 Hours, according to How Long To Beat
Availability: Switch, Xbox, PlayStation, Steam
Recommended for fans of: Burnout Games, Demolition Derbies, and Smashing Cars
Geek to Geek Media was provided with a review copy of this title.
Thanks to the time I've spent with Wreckfest on the Nintendo Switch, my feelings about racing games are finally crystallized. I am not good at racing games, nor am I interested in understanding the minutia that helps someone become good at them. However, I really do love racing games.
Or, at least, I really love when you make the cars go really fast and then they run into each other.
Racing and Wrecking
In a lot of ways, Wreckfest feels like an offshoot of the Burnout games. It's a racing game where the standard primary objective is to be faster than the other cars, but you won't win without smashing a few cars along the way. Instead of smashing up knock-off supercars, though, Wrecked is covered in backcountry demolition derby dressings.
The campaign of Wreckfest is split into five championships, and each of those is made up of a bunch of different events. Most of these are races, with variety coming in the tracks, road conditions, and eligible classes of cars. There are also different levels of aggression the races are designed around, but even the most peaceful event has drivers trading paint throughout.
On the other end of the spectrum are straight-up destruction derbies. These events finally answer the question, "what if Twisted Metal with no guns?". They are absurd and wonderful. The biggest standout I've seen so far has been a match in an arena with massive ramps on the side a la Rocket League, in which a bunch of generic versions of the legendary, three-wheeled Reliant Robins sucked it out while avoiding a handful of school busses that were, for some reason, also in the melee.
Detail Diving
For the most part, I've been playing Wreckfest on the Easy driving setting with Amateur AI. The game started with the other drivers on Novice, but Amateur gave me a nice feeling of challenge while still letting me finish near the front in almost every event.
Experienced racing game players can bump that AI difficulty way up for a greater challenge. Tweaking the driving setting difficulty will take off things like assisted ABS. This will let you shift closer to a simulator experience than the arcadey version I'm loving.
On any difficulty level, there are a few settings on your car you can tweak on a per-event basis. For the first few hours, I ignored this section, but now I'm finding myself shifting my settings just a bit for each race. It's nowhere near as comprehension an experience as you'd get with something like WRC 10: The Official Game, but it asks me to think about my car and track just enough to make the preparation part of the race interesting.
Smooth Smashes
Speaking of WRC 10, one of the most impressive parts of Wreckfest is how absurdly better looking it is on the Switch than that game. Both of these were originally launched on much more powerful systems and underwent delays before landing on Nintendo's hybrid console.
With WRC it was easy to see where cuts were made for the underpowered hardware. Textures were muddy and obviously repeated, lighting was dull, and the load times were long.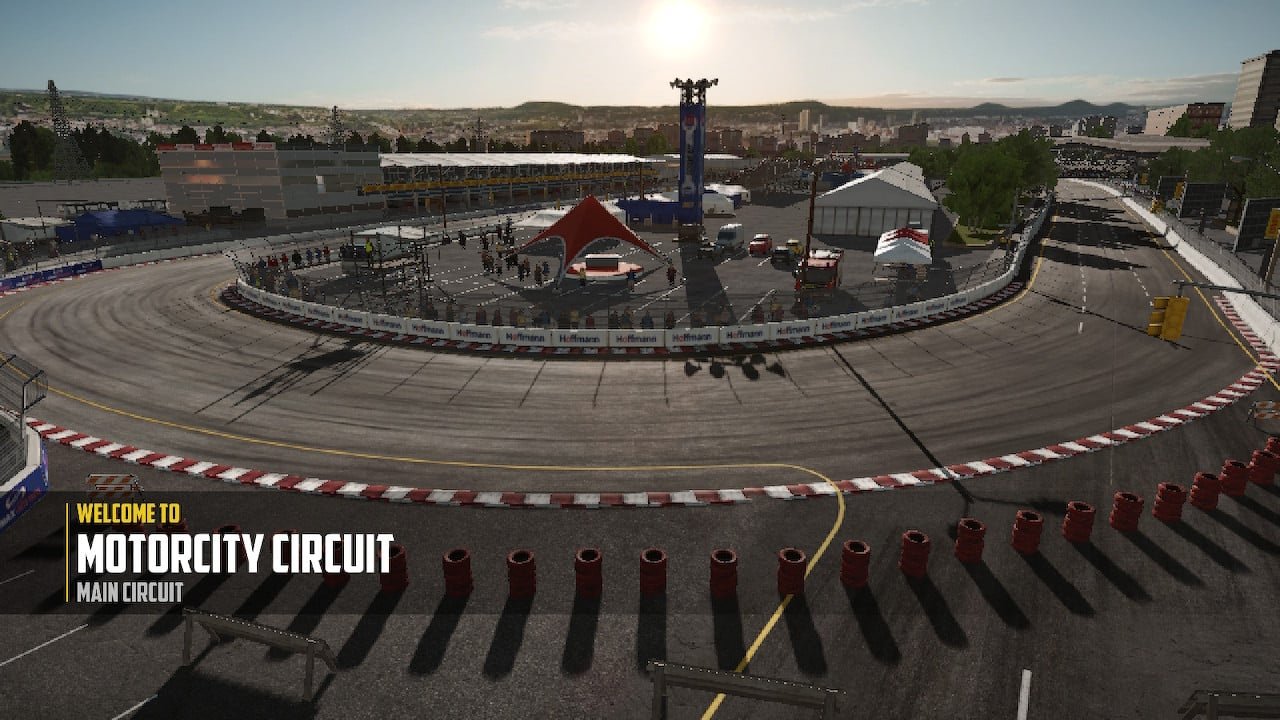 Wreckfest looks absolutely wonderful, from gorgeous panning views of the tracks to big, beautiful sunbursts, and all of that with cars getting smashed up constantly.
Sure, if you stop to really look closely some of the details are a little lacking, but on the whole, the visuals in this game are fantastic.
Final Thoughts
The Nintendo Switch version of Wreckfest is very impressive. If you are just after looks you're better off playing it elsewhere. If you are after a pure, clean, simulated racing experience you probably won't find what you crave here.
However, if you, like me, love both handheld gaming and the spectacle of cars slamming into each other at high speeds, this is an absolute must! Seeing a game like this on the Switch, and especially on the Switch Lite, is fantastic.
Geek to Geek Rating: 5 out of 5 Guilt-Free Head-On Collisions