Pokémon, Nintendo's mega franchise, is turning twenty five this year! With that comes some exciting news in this year's Pokémon Presents. Let's break it down.
New Pokémon Snap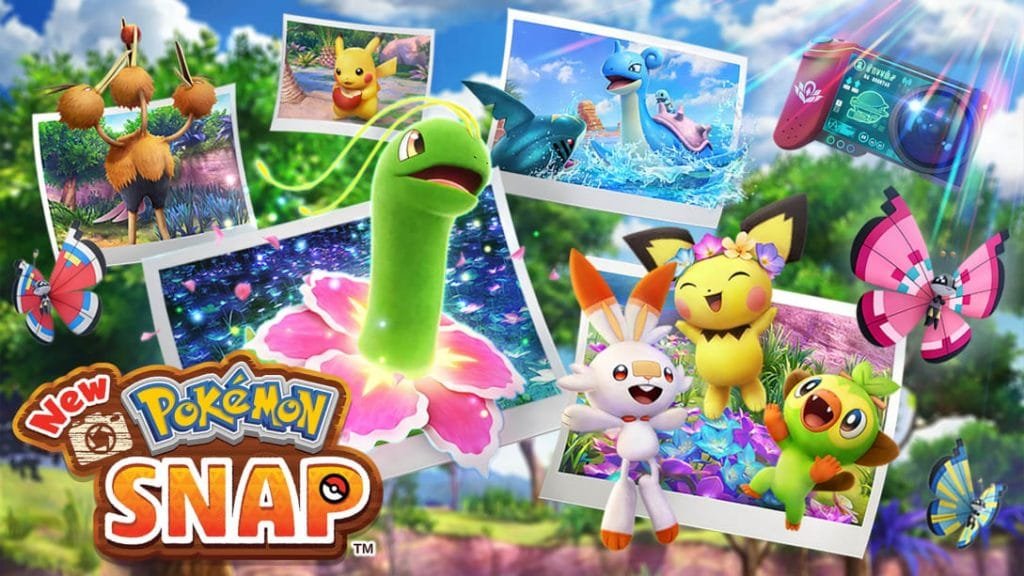 The first of the large announcements at Pokémon Presents was a sequel to fan favorite Nintendo 64 game, Pokémon Snap. Pokémon Snap was a 1999 game that had the player take on the role of a Pokémon wildlife photographer. The player would choose different areas and ride through them in a rail car. Pokémon would appear throughout each area. The player could interact with the world using fruit and other items in an attempt to incite unique experiences to in turn take unique pictures. Nintendo's upcoming game, titled New Pokémon Snap, seems to follow a similar formula; with the player arriving in the newly created Lenthal Region.
The major difference between the games, besides twenty years of software and hardware updates, is that the number of identifiable Pokémon has blown up considerably. In 1999, the world was still on the original 151 Pokémon, today that number is well over 800. At the very least, fans get more exposure to some of their more recently created Pokémon. New Pokémon Snap, like its predecessor, is perhaps superfluous; a creatively stale mini-game – turned full game – created to cash in on Pokémon's massive popularity and…maybe that's okay.
Brilliant Diamond and Shining Pearl
Fans of Pokémon Generation IV games can finally rejoice! Nintendo announced that remakes of Pokémon Diamond and Pearl are coming to the Nintendo Switch in late 2021. These games, titled Brilliant Diamond and Shining Pearl, are long awaited remakes of the Nintendo DS generation of Pokémon. Fans have been clamoring, mostly because this is the largest gap between an original release and remake. Pokémon Red and Blue were released in 1996, the remake eight years later in 2004. Pokémon Gold and Silver were released in 1999, the remake ten years later in 2009. Then Pokémon Ruby and Sapphire were released in 2002, the remake twelve years later in 2014. If you're bad at math, this remake of Diamond and Pearl is coming out fifteen years after it's initial release. 
However, for some fans not all news is good news. It was revealed in game play that Brilliant Diamond and Shining Pearl will look a little different. It will not be featuring a graphics system comparable to modern games Sword and Shield and the Let's Go games. The gameplay for this remake is mirroring the top-down style of older games. It is noticeably "chibi", with graphics reminiscent of the 2019 remake of Link's Awakening.
The only other newsbyte of note in the Sinnoh remake announcement was that BD/SP is being developed by ILCA Inc; who has worked on titles such as NieR: Automata and Dragon Quest XI as well as the newly constructed Pokémon Home app. However, the game will also be worked on by Pokémon Diamond and Pearl's original director, Junichi Masuda. Fans were excited and expectant for the Sinnoh remake but Nintendo had one more surprise up it's sleeve.
Pokémon Legends: Arceus
Pokémon games are expanding once again with the hotly anticipated Pokémon Legends: Arceus. Self described as a "new approach" and "new ground" in the Pokémon  games; this game seems to be an open world game set in Sinnoh, years before Red first set foot on his journey. 
The game will follow a new trainer on their journey to help a professor create the region's first pokedex. Rustic versions of items like pokeballs can be seen in the game's trailer and the character is dressed in a garb that's more reminiscent of Ninja Gaiden than Pokémon. This new endeavor still features Pokémon battles and catching mechanics. However, the trailer's limited material is perhaps a promise of bigger and better things. Pokémon Legends: Arceus looks like a departure from the fast paced, sports driven focus of previous mainline games. Fans can't help but compare the game's setting to Nintendo's critical and commercial darling, Zelda: Breath of the Wild. We're unsure how exactly the game's plot will play out. How Arceus plays into it. However, the mystery and majesty of the trailer leaves fans excitedly waiting for its release in early 2022.
Let's Break It Down
The Pokémon franchise has had its ups and downs these last twenty five years. The company seems to understand how to grow and evolve with the times. The three trailers released today are three very different Pokémon experiences. Fans can rest assure that the Pokémon Company will continuously expand and put effort into making the Pokémon experience accessible for fans of every kind; whether they be new or old, casual or hardcore, new trainer or Pokémon Master.