LumbearJack on the Nintendo Switch is a tiny, cute game where you are a tiny, cute bear with a big ax to grind… with a big ax!
Quick View
Title: LumbearJack
Release Date: June 11, 2022
Price: $12.99
Suggested Audience Age: Rated Everyone 10+ by the ESRB
Time to Play: 1.5 hours, according to How Long to Beat
Availability: Switch, Xbox, Steam, GOG
Recommended for fans of: Donut County, Power Wash Simulator, and Chill Vibes
Geek to Geek Media was provided with a review copy of Lumbearjack.
LumbearJack and Bear and Breakfast both caught my eye around the same time. They are both delightful indie games with great art styles where you play as a bear interacting with humanity. In Bear and Breakfast, you try to build a vacation destination for folks to visit. In LumbearJack, on the other hand, you take up an ax to tear down every human element that has encroached on your habitat.
Be the Bear
LumbearJack's story is simple. You, a cartoon bear, wake up in your adorable cartoon home to realize that human industrialization is ruining your idyllic cartoon forest and decide to fight back.
You pick up an ax and start hacking away at every human element you can find.
Each level in the game shows you a specific way that a specific industrialization action is hurting your fellow woodland creatures.
After you wreck a shop, you are rewarded with a cutscene of your forest friends celebrating with you as nature reclaims the land.
Linear and Light
LumbearJack is really a very cute experience, but it's also a very short and straightforward one. Within each level, the items you destroy turn into recyclables in your backpack. As you whack at everything in sight, some things will be too big for you to destroy. Once you've collected enough recyclables you can find a workbench in the level that lets you upgrade your ax, and then you can whack at bigger things.
There are three hidden items to uncover in each level, but other than that there's not really a challenge to the game. There are no enemies, no timers… there's just a cute bear who breaks stuff.
On some of the game's 20 levels, there are small puzzles to solve. Usually, these involve manipulating cranes or conveyor belts to move things around until you can upgrade your ax. Occasionally you have to hit bombs or wrecking balls to destroy distant objects. These are very straightforward challenges, so the game feels more like a slightly puzzling experience than a puzzle game. Think along the lines of Donut County rather than Katamari Damacy.
A Short Game That Felt Long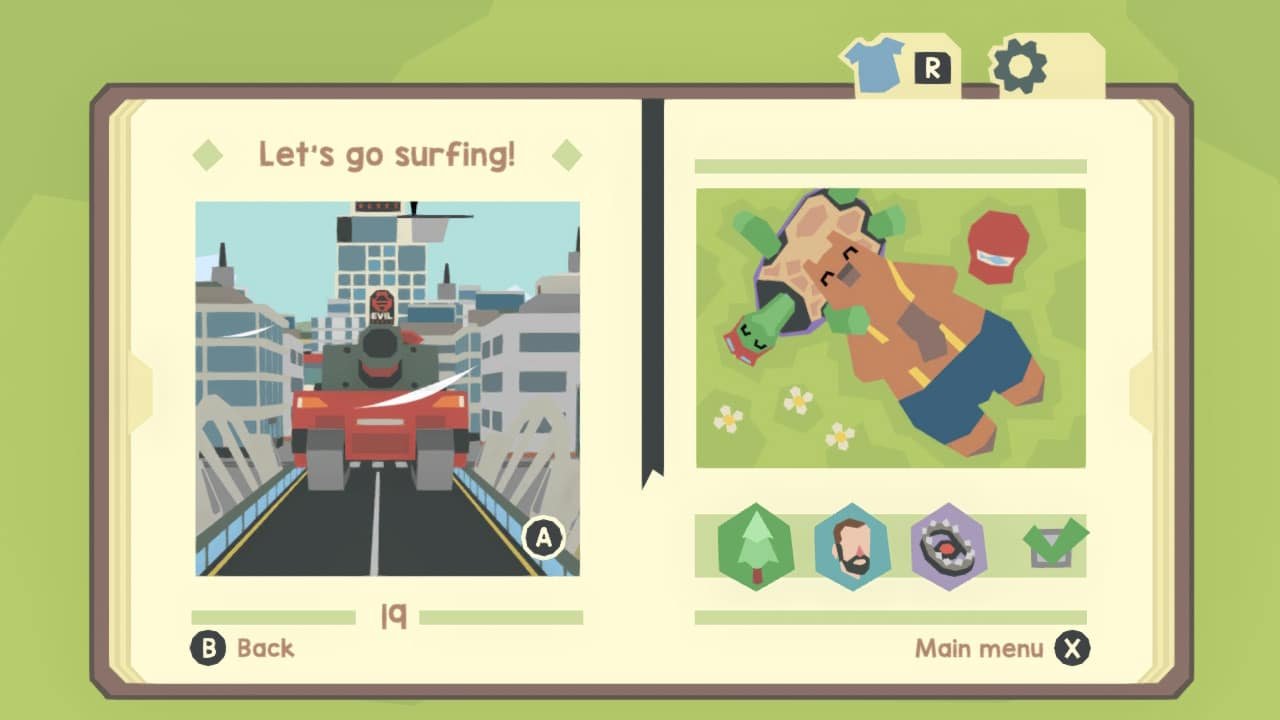 I liked LumbearJack, but I absolutely didn't love it. The game is cute and the feeling of whacking things is fun, but it's also so light that there was very little pulling me along.
The puzzles were lackluster, and there was no strategy to anything else in the game. You just hit stuff…it doesn't even matter where you hit things. You just hit everything you can, get a bigger ax, hit more stuff, get an even bigger ax, and then move on.
The cutscenes were cute, and unlocking different outfits for the bear was neat…but it just felt like there was something missing from the game. How Long to Beat is pretty adamant that most folks will make it through the whole game in 90 minutes. It took me several sessions over a few weeks to actually push through the whole game because I rarely felt driven to play more than a level or two at a time (kind of how I felt about LEGO Skywalker Saga).
LumbearJack Review: Final Thoughts
I think I have to accept that LumbearJack just isn't a game for me. It's got a super cute art style and a fun core concept, but the gameplay always felt just a little dry. If you've got a kiddo around that's too young for Diablo or Torchlight, I think this could be a fun introduction to isometric action. Otherwise, it feels a bit like giving Power Wash Simulator to a fan of first-person shooters. They might like it in concept, but the execution might be a bit too relaxed.
Get it? RelAXed.
Geek to Geek Rating: 3 out of 5 Ax Upgrades
Oh! When you encounter human workers you can hit them with your ax and turn them into chill outdoorsy folks and then you can pet them.