It's a secret to absolutely no one, but I really love Dragon Quest 11 S. Even when I first played the vanilla version, I fell in love with DQ11 almost instantly. There are plenty of reasons to love the game, and I've tried to narrow down the best ones – the ones that mean the most to me. It can be tricky, because Dragon Quest XI S is really, REALLY good. Seriously, this list could go on forever.
From monsters to party members, and outfits to combat, there's just so much I really love about this game. The art style, the dialogue, the story – it's just all so great. But since I can't write this post indefinitely (and that'd take WAY too long to read), here are the best reasons to fall in love with Dragon Quest XI S.
5. Old & New Dragon Quest Monsters
There are a ton of memorable monsters in Dragon Quest XI S. Some of these are iconic regulars, like the blue slime and the Dracky, while others are brand-new bosses like Dora-in-Grey (pictured in glorious 2D above). Cruelcumbers (evil cucumbers, of course) and Professaurus (a scholarly dinosaur) are other monsters in DQ 11 that really stand out. And if you're playing the game in 3D, then you can experience all the wacky monster animations for yourself.
4. Mini-Medals, Casinos, & Horse Racing
Does this technically count as three things instead of just one? Maybe. But Dragon Quest XI S has a lot of mini-games and I love pretty much every single one of them. Hunting mini-medals is still one of my favorite parts of any Dragon Quest game. The horse racing is also a ton of fun, and I don't typically like racing mini-games. Then you have casinos, just one of the many ways you can spend hours of time trying to get rare items, pieces of armor, and cool weapons. There's still something incredibly nice about seeing JACKPOT! on the screen when playing roulette that'll never get old.
3. The Fun-Sized Forge
I like crafting in most video games, and I've spent a ton of time with the fun-sized forge in Dragon Quest XI S. This is mostly because of how, well, FUN it is. It might not talk like the Krak Pot from DQ9, but it's still pretty cool. Between getting in-game Accolades and trying to get Trophies and Achievements, it's pretty rewarding. Plus, you get some truly awesome armor pieces and weapons from it. The fun-sized forge in DQ11S is even better, since you can use it whenever you want (instead of needing to be near a camp site).
2. The Characters In Dragon Quest 11
Dragon Quest games have great characters. Over the years, the series has given us lots of characters to love. Whether you like butt-kicking ladies like Jessica and Alena or loyal companions like Yangus and Sancho, there's a little something for everyone. Dragon Quest XI might just have the best cast of characters in the entire series (and maybe any other game ever). The Luminary is a great protagonist, Veronica and Serena are excellent as magic-casting sisters, Erik is the thief with a heart of gold, Rab is the dirty old grandpa you can't help but love, Jade is a no-nonsense martial artist, and Sylvando is the entertainer who just wants the world to smile.
1. Visiting Past Dragon Quest Worlds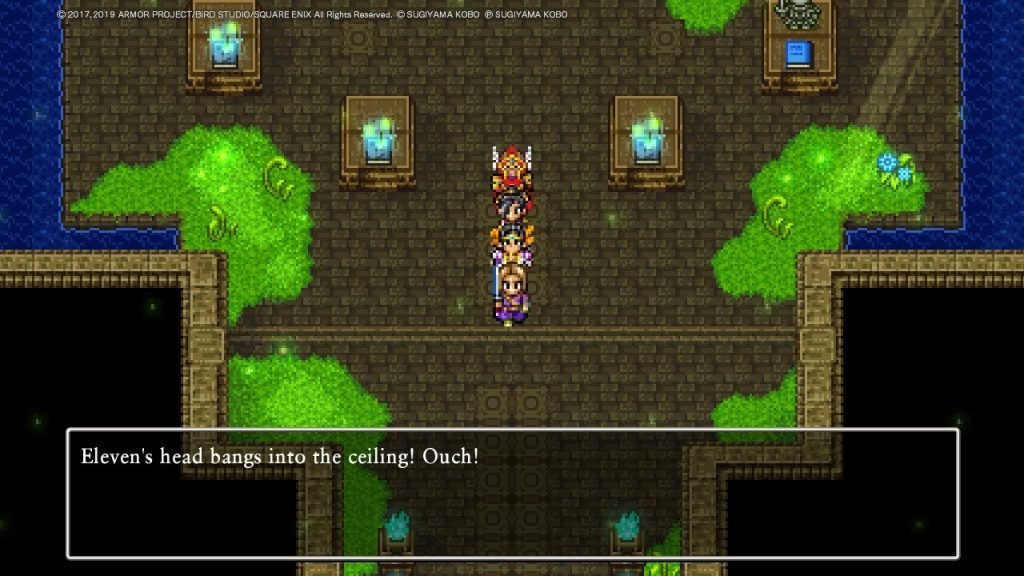 When Dragon Quest XI S was first announced, I was excited for one big reason: getting to visit past worlds. This was included in the 3DS version of the vanilla DQ11 (which sadly never made it West, but which I have actually played), and I was eager to see how it was handled in English. The Altar of Ages and Pastwords don't disappoint. For longtime Dragon Quest fans, it's a great way to see the cast of DQ11 interacting with your favorite characters, locations, and bosses from past DQ games. It's also great for giving newcomers a taste of what the rest of the series has to offer. If there's one reason you should be playing Dragon Quest XI S, this is it.
This post is a part of ongoing articles to help support the release of Dragon Quest XI S, whichcomes to PS4, Xbox One, and PC on December 4th, 2020. For more information, please visit the Official Square Enix site.