For the past few months, we have done individual episodes about the playable characters in Dragon Quest XI. If you know us, then you're aware that DQXI is one of our favorite JRPGs out there. And a lot of that is because the cast is simply phenomenal. There isn't a real dud among them.
While most RPGs have a character or two that nearly everyone avoids (looking at you Kimari and Amaranth in FFX and IX), Dragon Quest XI characters are all pretty special and worth playing with. Plus, the side-stories that are only available in the Nintendo Switch edition flesh them all out enough that they might be the top Dragon Quest characters in the entire franchise.
Rather than play favorites with the cast, we went through from the other in which you gather your party. Except for the Hero himself — we did him last because, well, he's the hero, the Luminary of legend, the…well, you get it.
Anyway, here's the cast of Dragon Quest XI in all their glory. Honestly these are some of our favorite Dragon Quest characters out there.
Erik
Erik is the first party member you meet in Dragon Quest 11. A blue-haired thief who's super loyal to the hero. He's kind of sarcastic, and then he gets taken down a peg when he can't remember who he is in the post-game.
Veronica
Veronica is the sassy mage with a big personality. Whether she's wearing a cat suit or a schoolgirl medal hunter's, Veronica is one of our favorite Dragon Quest characters, period.
Learn all about Veronica here.
Serena
Serena is up next. Sister to Veronica and a harpist in the folk band Austin wants them to form, Serena is the Priest in Dragon Quest XI. But does that mean she's the one who fills the healer role in our party? Who knows?
Sylvando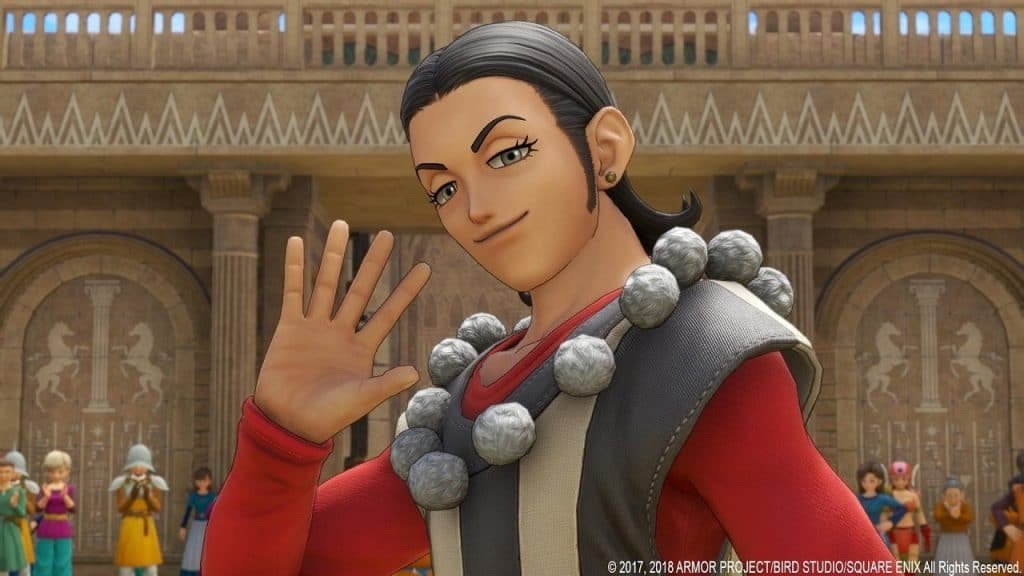 Love him or hate him (or love him), Sylvando is the life of the party wherever he goes. But he's far more than just a pretty face. He has one of the most robust backstories of all the Dragon Quest 11 characters, and we gush over how wonderful his outfits are.
Learn all about Sylvando here, darlings.
Rab
Rab is the cranky, perverted, dethroned-king grandfather you never knew wanted. Oh, and you can marry him, too. What's not to love?
Jade
Martial artist, big sister, and seventh party member, Jade deserves all of the spotlight she can get. Whether she's clawing folks up or just beating them with hands, she's one of the most powerful characters in Dragon Quest 11.
That Spoilery Eighth Party Member
We can't say too much without giving away the surprise, but once Eight got recruited (and no, we don't mean The Trodain), they found a slot in our party and never left it.
Learn all about THAT party member here.
The Luminary
The hero of our tale, the Luminary (or is he the Darkspawn?) is the final of our deep dives into Dragon Quest characters. From his flowing locks, odd speaking voice, and absurd power in combat, we go through what makes the Hero a hero.
Learn all about the Luminary here.
Who's Your Favorite?
In each episode, we discuss a Famitsu poll where folks voted on their favorite Dragon Quest XI characters. Ours sometimes lined up with the results, but sometimes, we were just baffled. And we're curious about you.
So chime in with a comment below or tweet us at @dragonquestfm or even shoot us an email with who you think is in the top tier of Dragon Quest characters.
Article featured image by dewdneym / newgrounds.com