Dragon Quest XI S has some great characters. In fact, it has some of my favorite characters in the entire series – and just in video games in general. The cast is a lively and likable bunch, and it's one of the reasons I fell in love with DQ 11 in the first place. My favorite character in the game is Sylvando, which shouldn't surprise anyone who's read my "Most Memorable Characters in Each Dragon Quest" post before.
There's a lot to love about Sylvando. It's why he won an official poll last year by Famitsu. Fans can't get enough of him. And whether he's your favorite character in Dragon Quest 11 S or not, he's still pretty great. In fact, since the game is releasing on PS4 and Xbox One soon, it seems like a great time to celebrate everyone's favorite entertainer.
5. Sylvando's Pep Powers
Sylvando's Pep Powers are pretty great for metal slime farming, but they're also as animated and crazy as the character himself. People love Sylvando's pep powers so much that it's even a running Friday night gag on Twitter. And while the animations are a lot of fun to watch, it's Sylvando's flexibility and prowess in battle that make him really awesome. He's got heals! He's got buffs and debuffs! He's got spells! And he's got crazy amounts of sass, darling!
4. Sylvando's Top-Tier Sass
Yeah, Sylvando is super sassy. Between smooth sarcasm, quick quips, and eye-rolling on a whole new level, I guarantee he'll make you smile more than a few times in Dragon Quest XI S. Seriously, though, Sylvando's personality is a big part of who he is. It's one of the biggest reasons I love the character, and it's probably why so many people have fallen in love with him since the game first released.
3. Sylvando's Ship (And Dave)
Okay, look, you need a ship to get around. The world of Dragon Quest XI S is HUGE! There's a ton to explore, including past worlds of other Dragon Quest games. And early in the adventure, you can thankfully explore the world of Erdrea a little faster thanks to Sylvando's super cool ship. Oh, and it comes with a first mate named Dave (pronounced "Dahv-ay", like a white girl trying to make "Target" sound fancy).
The ship is cool, because it makes traveling around Erdrea much easier. Dave is cool because he's a muscular dude in a pink gimp mask. Both are great additions to Dragon Quest XI S. If you haven't played the game already – you're gonna love 'em!
2. Sylvando's Story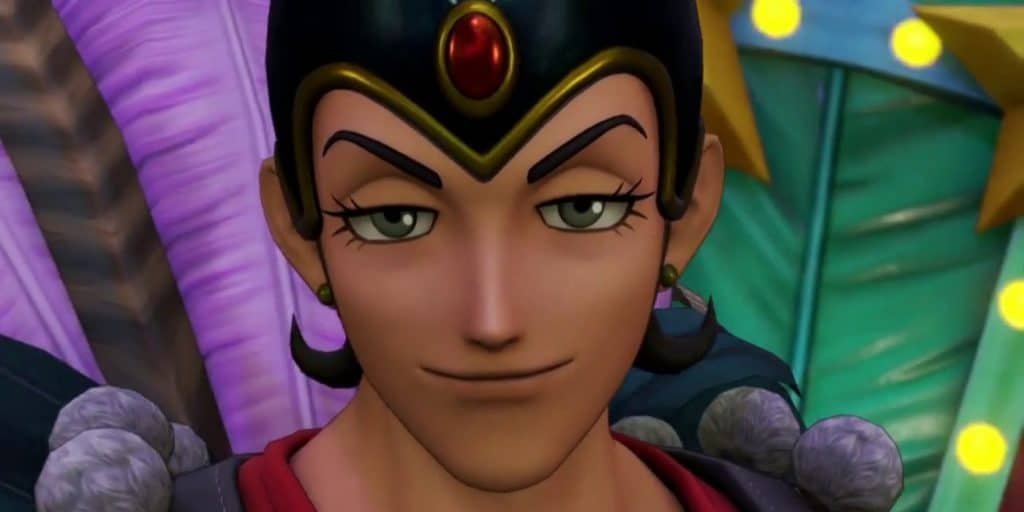 Sylvando's story is also fantastic. There's some great backstory about being estranged from his father that's sure to put a tear in anyone's eye. He teaches a bratty prince about chivalry, teaches his friends how to be brave, and then wants the whole world to stay happy after an apocalypse (you'll know it when you get there). He just wants people to smile, and his heartbreaking but wholesome character arc is astounding.
1. Sylvando's Message
One of the biggest reasons (maybe THE biggest reason) I love Sylvando so much is that the character sends such a positive message about self-acceptance. No matter what struggles with yourself you've faced, you can see it reflected in Sylvando's character arc. He's all about loving yourself (and everyone else). It's such a positive message about inclusitivity and love that it's hard not to, well, LOVE it.
This post is a part of ongoing articles to help support the release of Dragon Quest XI S, which comes to PS4, Xbox One, and PC on December 4th, 2020 . For more information, please visit the Official Square Enix site.