TroytlePower wraps up his thoughts from PAX West 2022 with some final standouts and shoutouts, including a game that now tops his "most anticipated" list!
I'm a bit sad to be putting this post together… I had a great time at PAX West 2022, and saw a ton of incredible games, and got to chat with some great folks. Even though my trip got cut short, I saw way more than I've been able to share in these posts. Still, before I called it a wrap I wanted to share some final highlights.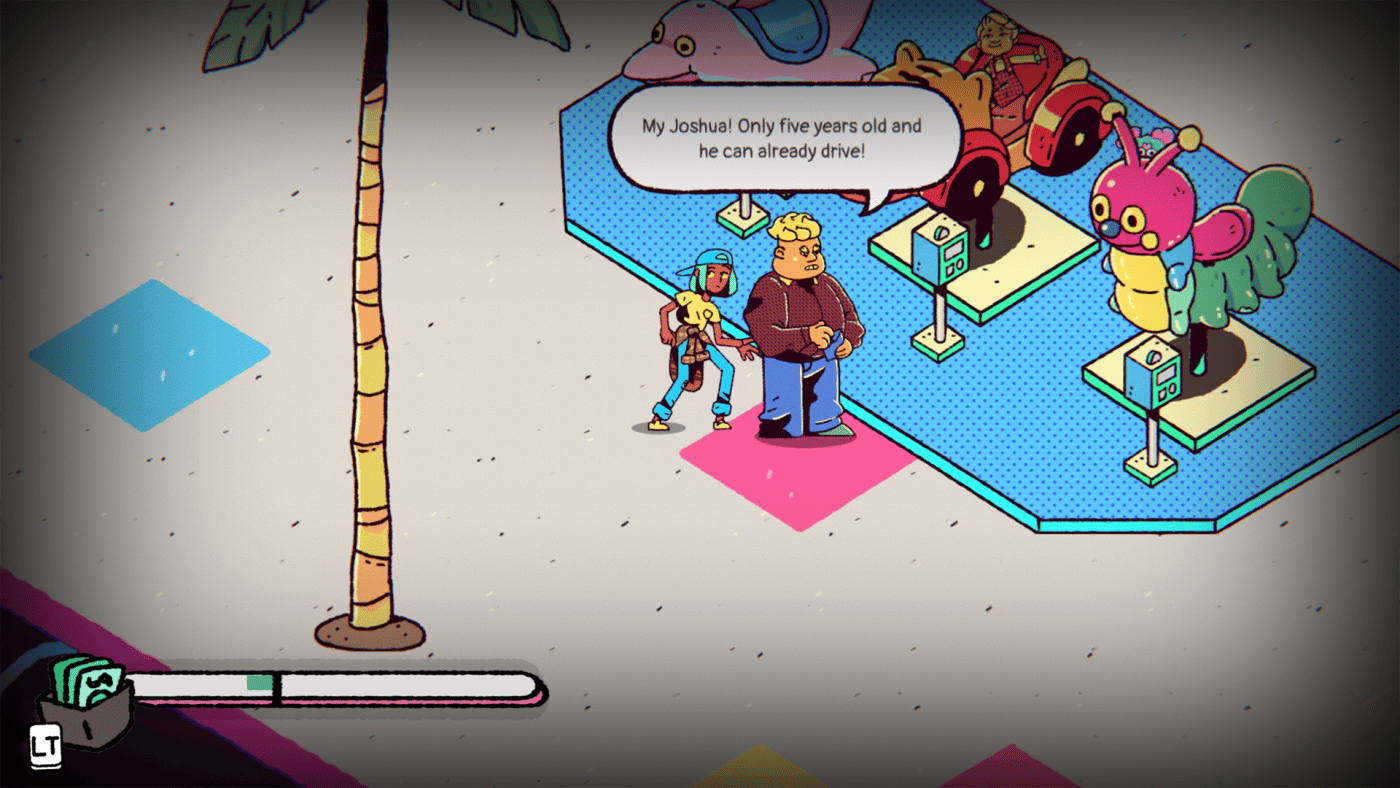 I remember seeing The Big Con show up in a presentation some time ago, but I never got around to playing its PC release last year or the Switch version that landed earlier this summer. After spending a bit of time with a demo and talking to the team members representing it, I'm really looking forward to playing the whole game.
The Big Con is an absolute love letter to the 90s. It's impossible to look at any screenshot and not know exactly what vibe they are going for. The whole world looks like it's ripped straight from an episode of Doug. Your main goal in the game is to swindle people out of money in order to save your mom's VHS rental shop. Heck, even the transition between scenes is dripping in nostalgia: it's a wipe-to-black in the shape of that cool S we all drew on every single notebook for ten years straight!
Since The Big Con is already out, the team was actually selling Steam codes for it on the show floor. Better than that, though, they were also selling a bundle of a steam code, a sticker, and a random, mystery VHS tape wrapped in brown paper packaging. What a dumb and wonderful idea. I love it!
Demonschool
I am always keen to check out a tactical RPG, even if I rarely finish them. It is a genre that I find interesting to analyze, so seeing what any individual game is doing just a bit differently than the rest piques my interest. With that in mind, Demonschool looked right up my alley. The screenshots showed pixel art and anime-styled characters on a grid, and I was already sold.
Sitting down to play was interesting. While I waited, the crew staffing the Ysbryd Games booth handed out little pamphlets explaining the core controls and movements of the game. This was well put together, but other than side-stepping being a free action I didn't really see what the game was doing that was unique.
Then I sat down to play it, and immediately got wrecked. I was not understanding how to play the game at all. Thankfully, the developer was there and sat down with me to give me some coaching, and that's when I became totally captivated by Demonschool.
The closest comparison I can make for this game is Into the Breach. Like in that title, you get to plan out all of your characters' moves before the action all plays out at once. Each of your characters has unique abilities, and they all draw from one pool of action points. This allows you to just focus on one character during a turn, but multiple moves per character take up extra points. Therefore, it's more economic to spread your actions out across the team.
On top of that, each character has unique ways of interacting with enemies or allies. The healer, for example, does not have a default attack at all. Instead, they will only inflict damage if you have another character push an enemy into them. Combos like that end up being a huge part of the game.
The combat system is super interesting and thought-provoking, and Demonschool also features a Persona inspired social system. This game doesn't have a release date yet, but any tactics fan should be watching for it. After my brief demo time, this is now one of my most anticipated games.
Exophobia was a really interesting game for me to go hands-on with at PAX West 2022. I first saw this game about a year ago, with an October 2021 release date. In fact, we included it as a game to check out that month. Since then it's been delayed several times, but it looks like it should finally be coming out this year.
Exophobia is a throwback boomer shooter, but with the sort of flat 3D pixel shader that I've really been loving lately. In motion, the game really looks lovely, and it feels exactly like you'd expect this sort of game to feel. The surprise came in the boss fight that the demo was built around.
The foe was a sort of automated defense system in the center of a missle-silo-like space. What was interesting was that you could unload as many bullets as you wanted at the boss and it took no damage. Instead, you had to wait for it to shoot homing projectiles at you, then deflect them back to make them vulnerable. Then you had to slide under lasers it shot at you or take massive amounts of damage.
This game definitely has boomer shooter DNA at its core, but this demo leads me to believe it's going to incorporate some more puzzley elements as well.
Oh also, the developer of Exophobia was on site and I had a blast chatting with him about the game. It is an absolute miracle that any video games are made, but the passion of indie devs like this is inspiring.
Final Thoughts
… And that's it… that's what I have to share with y'all from PAX. I regrettably had to cut my trip short after a bit of a family emergency came up, but I still had an absolutely wonderful time. The show floor was incredible, every booth employee I talked to, whether it was with an appointment or on a whim was super nice and seemed excited to be there, and the Enforcers that keep PAX running did an incredible job. It was weird to go to a convention with COVID still a thing, but PAX West 2022 was great, and I'm already looking forward to going again next year.