The Big Adventure Event runs January 20th-24th, 2022.
Codes for Warp Frontier and Aquamarine were provided by Brawsome and Hitcents respectively.
---
We love independent games at Geek to Geek, especially indie adventure games – at the very least, I do. From the pensive LUNA to the expressive Behind the Frame to the ambitious Book of Travels, they never fail to delight with their creativity.
I've also loved Steam's game festivals in the past. They're a fantastic way to spread the word about inventive new-and-upcoming games and get insights with the creators.
So why wouldn't I be head-over-heels for a mash-up of the two?
The Big Adventure Event is in full swing on Steam, spearheaded by publisher Hitcents and boasting a jam-packed schedule of developer interviews, live Q&A sessions, streams…. the works. And, of course, creators are using the event as a launchpad for public demos and the release of a fresh crop of adventure titles.
Of course, with over 100 demos, previews, and freshly-launched games, sifting through all of the offerings can be daunting. While this list is far from exhaustive – for each one featured here, two more have caught my eye – here are a few favorites to get you started:
Survival games tend to set me on edge. Terror around every corner, hyper-limited resources – the genre exists to put players in a corner. Aquamarine plays in that same space, and even features keywords like "roguelite" and "corpse run" that sound stressful on their face.
And yet, it had me totally at ease from start to finish.
Arguably the headliner of the Big Adventure Event, I had high hopes for Aquamarine's claim of "survival made serene". And with a surprisingly friendly color palette and a difficulty that can only go down from "Normal", it delivers. Where a game with only one, permanent save file would typically feel daunting, Aquamarine feels patient with you as a player. It's asking for your attention and consideration, to weigh choices without feeling guilty or panicked about them.
Also, it has this goofy platypus-thing, and it's hard to feel too stressed out when I look at them.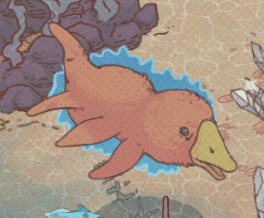 Maybe it's a bit obtuse – operating your exploratory submarine requires a lot of manual fiddling with knobs, most of which are sparsely-labeled, and the whole machine wants for an in-game manual. I've burned more fuel than I'd care to admit grasping for the edge of yet another underwater clearing. And its charming comic-book presentation can often leave foreground items blocking your view.
But Aquamarine is clear with its affordances. At worst, you'll be kicked back to a resting point and have to re-try the current screen. Some resources poorer, sure enough, but never with so few that you can't manage. And in breaking it down this way, Aquamarine almost feels like a nonviolent tactics game, or even a nautical sliding-block puzzle with an eventual end goal.
I've been chipping away at this one for a bit now, and the pressure does mount as it goes on. It's becoming more challenging to balance my impulse to explore with my character's need to, you know, not starve. But I find that, true to life, the pressure often relieves itself when I can slow down and be considerate about my next best steps. And Aquamarine feels built to encourage exactly that behavior.
Granted, it has some stability issues at launch – though its developer is working diligently to mitigate those issues. But if Aquamarine can be patient with me, I can stand to be patient with it. After all, hit the combination of a welcoming presentation and a just-challenging-enough puzzle that keeps me constantly on the hook to reach just one screen further.
Aquamarine is available now.
I've carried a love of science fiction all my life, and I adore how its depth allows me to explore it more thoughtfully with age and experience. Warp Frontier feels like the very best of that, thoughtfully exploring – literally and figuratively – a galaxy beat down by war.
The whole experience feels a little bit old. The edges of every hand-illustrated panel are stained with grease and rust. Likewise, the edges of every puzzle smell of the '90s, falling back on the "rub objects together until something sticks".
Luckily, Warp Frontier has one of the most thorough hint systems I've seen in a long time. On one level, a simple press of a key will highlight every interactable object on the screen – no more click-hunting. And on the next, there's an in-built set of escalating prompts for every step of every puzzle in the game. With a steady ramp-up from "reiterate the problem" to "step-by-step directions", it never feels like you're being babied. Just prodded a bit, exactly as much as you need.
Unfortunately, I did need quite a bit of help in places. Every screen is chock-full of points to interact with, and your inventory fills up alarmingly quickly. Often this means sifting through items that seem near-redundant or ambiguously "gadget-y". It's a lot to process at once, and some may be up to that challenge. But personally, its gradual "release valve" pointing me in the right direction was a welcome boon.
It almost stood out next to the multiple-choice conversation system, simple as it is. I'm a big fan of micro-decisions over spare-and-obvious story junctions, and Warp Frontier offers the former as levers to steer a conversation toward items, information, and character beats in equal measure. The dialogue feels like it's part of the adventure rather than a frame for it, which is an attitude I'd welcome in any title that prizes its writing as much.
If you're hankering for a weighty, lived-in science fiction setting, though, Warp Frontier will set you straight. I feel like I'm learning about it naturally as I play rather than having things explained, adding yet another layer to its sense of exploration. And, in return, I feel like its world responds to me, even if just a little. It's a slow, thoughtful, and just a tinge bitter, but I'm more than willing to take my time savoring it.
Warp Frontier is available now.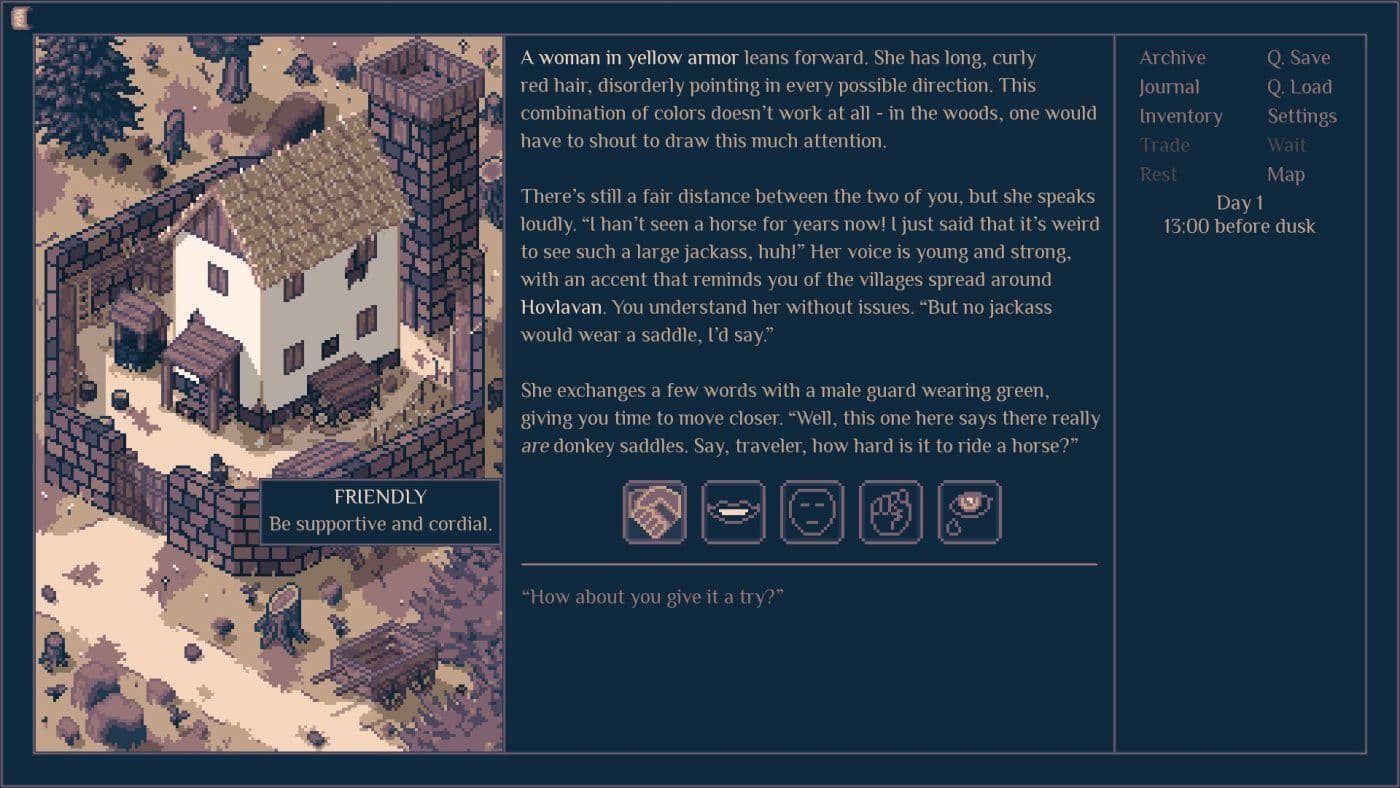 Roadwarden is, more-or-less, what I've always wanted out of a tabletop RPG in video game form.
It at once feels highly directed and very open. Dense paragraphs of prose exist to push you into branches at every turn, from the tone of a greeting to whether to chance outrunning a gryphon. It's the closest I've felt to having a virtual GM sitting opposite me, playing the familiar song-and-dance of a vibrant description followed by a "what do you do?"
With lovably-rustic pixel art environments to set every scene and a constant stream of decisions big and small, I feel like I'm the central participant where other games might take me along for a ride. And, really, that's how a good bit of interactive fiction should make you feel.
The demo for Roadwarden is available now, with a planned release in 2022.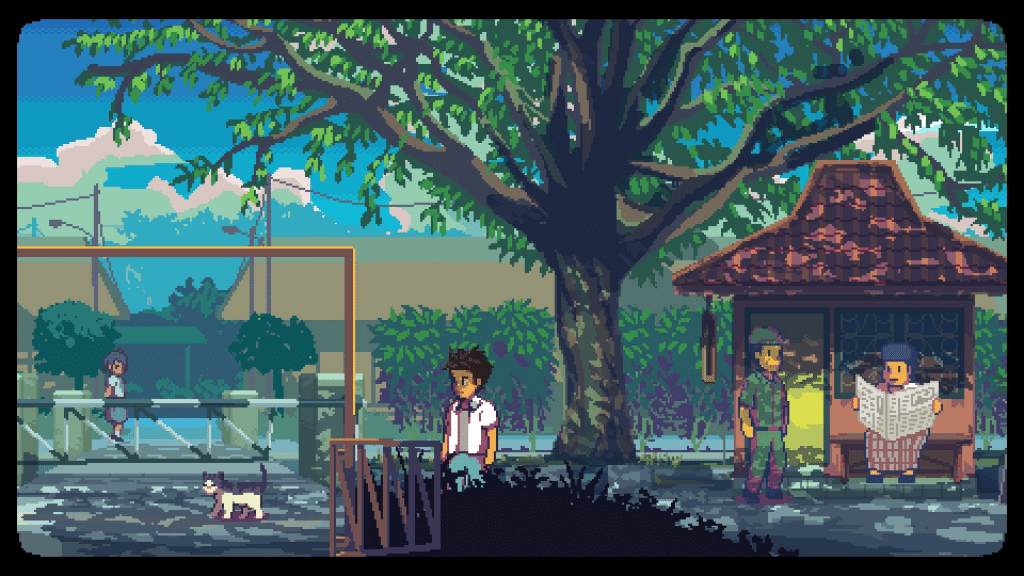 You may have already seen this game – it's been a regular at Steam events for a while. Seeing it back for the Big Adventure Event is hardly a surprise, but it's always great to see it again!
From Indonesian developer Mokijen, A Space for the Unbound lovingly conveys a specific sense of nostalgia, and one that Western players may be less familiar with. That just makes it even easier to see the developers' fondness for its distinct sense of time and place. From the stunning pixel art to its charming characters and weighty story, I can't help but stop to linger in every scene. Toss in a few story hooks that promise more beneath its surface, and this project has my rapt attention.
For now, I find joy in how I can pet every one of the numerous cats in town. They even make satisfyingly-bassy purring noises, which is exactly the level of detail that I care about.
The demo for A Space for the Unbound is available now, with a planned release in 2022.
While I've written in depth about A Twisted Tale before – read all about it here – I can't let The Big Adventure Event go by without calling it out again. It may be just a one-room preview for now, but that room is stuffed to the gills with love for its home genre. In fact, the entire demo seems to exist as a serving-platter for witty dialogue and references to adventure-games past.
And what a marvelous platter it is. This game moves inch-for-inch like the hand-animated games of yesteryear, and those games feel ageless for good reason. Sure, it's a little wonky, but that's an explicit part of its charm. If the final game is lavished with this level of love, classic point-and-click fans are in for a treat.
The demo for A Twisted Tale is available now. I eagerly await its full release.
---
Any one of these is worth taking for a spin and, for those still upcoming, to tune in to their ongoing development. But there are sure to be plenty of wonderful options we've missed out on here! If you find one, be sure to call it out in the comments below or drop us a line on Twitter!