While 2021 may have been a rocky year for the world at large, here at Geek to Geek Media we were fortunate enough to celebrate a few major milestones: we added more great creators to our staff and had the opportunity to play even more great games than we did last year. Rounding up this year's best games proved to be a real challenge with the breadth and diversity of titles we had to consider but we put our heads together to present the 2021 edition of our Geek to Geek Media Game of the Year Awards!
A quick point of order before we get to the awards: Any video games our creators played that were released between Dec-01 2020 and Dec-01 2021 were eligible to be nominated for awards. Games released after Dec-01 this year can be nominated in 2022. For this year's awards, we made a few changes to the categories to better fit the pool of eligible games; we added an Adventure category and consolidated all RPGs into a single award. Also, in lieu of presenting honorable mentions in this article, we'll be highlighting some of our creator's personal favorite games of 2021 in a separate post. With that out of the way, on to the awards!
Best RPG
When it comes to genres loved by the Geek to Geek Media staff, RPGs would easily take the top spot. Whether it's immersing yourself in a fantasy world or devoting hours to optimizing your stats, there's something about role-playing games that just speaks to the geeky mind.
Monster Hunter has come a long way in even the last five years, growing from a borderline cult favorite into arguably Capcom's flagship franchise. After World dazzled us, Rise brought the series back to fighting form on a portable system, hooking many of us so hard that we were up in bed playing it 'till two in the morning.
Monster Hunter has never been more appetizing than in Rise, from its traditional-Japanese flair to pet-worthy dog companions to the snappiest controls the series has yet seen. And for all the shiny and new, Rise still feels true to the series' dense core, with some of the most satisfying action gameplay on the market in service of that all-important quest for even-better gear and ever-higher stats. Here's to all the good times spent tracking Tetranodons across the hills, and to many more to come in the Sunbreak expansion! – Data_Error
Need help getting into Monster Hunter? Then check out Ariel's guide to the basics.
Best Action Game
While we may be an RPG-loving crew, sometimes we crave a pure white-knuckle experience. For the purpose of these awards, "action" is a catch-all category for combat-focused genres like shooters, brawlers, and fighting games.
There hasn't been an original 2D Metroid game in nearly 20 years, and after such a long hiatus, many Nintendo fans wondered if the House of Mario could deliver a stellar experience in a genre that has been dominated by indie studios for years. Well, all of our doubts were instantly alleviated when we got our hands on Metroid Dread. With the tightest controls and move-sets of any Metroid game yet, kicking alien butt as Samus felt better than it ever has before. In particular, this game's challenging but fair boss battles made excellent set pieces that cemented Metroid Dread as our favorite action game of 2021. – Capsulejay
If you're looking to jump into the Metroid series with Dread, be sure to check out Erik's catch-up guide to Samus's story.
Best Adventure Game
Exploring new worlds, solving puzzles, and meeting interesting characters along the way, adventure games are one of the most diverse categories in gaming. For these awards, we considered everything from old-school point-and-click adventures to faster-paced action-adventure games.
Chicory is a showcase of the interesting directions that an adventure game can go. Most adventure games involve exploration but this one has you literally leave your mark on the places you go; your character is a painter who fills the world with color using as they interact with it. This unique painting mechanic works its way into puzzle-solving and even some light combat as well. To top it off, the game tells a heartfelt story and features a great soundtrack to accentuate the emotional beats. This unique, cute, and sometimes surprisingly dark adventure is one that will stick with us for some time to come. – Capsulejay
You can read Troy's thoughts on Chicory in his recent Weekly Cheapery article.
Best Platforming Game
Running, jumping, falling, and skewering your cute cartoon mascot on spikes are hallmarks of the platforming genre. These games follow the long-running tradition of classics like Mario and Sonic.
The remarkable thing about Bowser's Fury is how much it feels exactly like a Mario game while also feeling totally new. From 2D on the NES, to 3D environments starting on the N64, to the way that 3D Land and World feel like they combine the two, Mario has gone through a lot of changes over the years. Bowser's Fury is a great evolution of the 3D side of the franchise, that fuses the compact level-based feel of the 2D games with fantastic 3D platforming and an open world.
Add on Super Saiyan Bowser, and how can you not love this game!?
Really, the only downside to Bowser's Fury is that it is so incredibly short. Here's hoping that it's the first step in a new direction for the plumber and his pals. -TroytlePower
For more of our coverage of Bowser's Fury, listen to Season 6, Episode 7, of the Geek to Geek Podcast.
Best Spooky Game
Whether they're actually terrifying or just spooky in a more welcoming way, we love games that give off that Halloween vibe.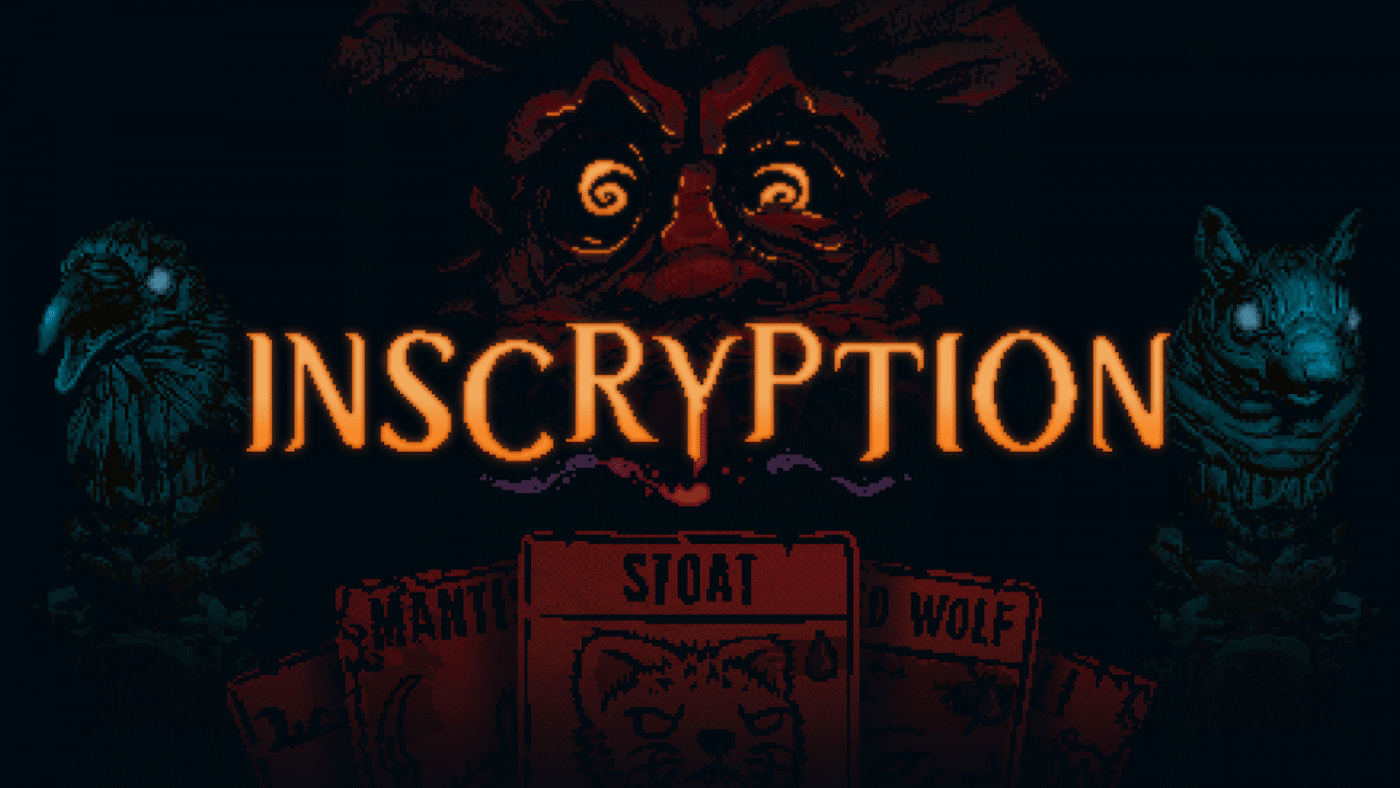 Inscryption is horribly, terribly compelling. Part deck-builder, part escape room, and fully enrapturing, this game has more twists and turns than a haunted maze, introducing a steady stream of new and terrible elements that effortlessly inject terror into its mechanics. Good horror will shock and surprise you and leave you squirming in your seat, and – without giving away its secrets – Inscryption does so in such a unique way that we couldn't help but recognize it here. – Data_Error
If you're looking for other spooky games like Inscryption, check out Troy's Halloween roundup.
Best Cozy Game
Want to curl up on the couch with a blanket and warm beverage? That's where cozy games come in! This category recognizes laid-back experiences like slice-of-life games, puzzle games, and visual novels.
Farming Simulator 22 surprised a lot of people, myself included. It is the perfect relaxing, zen game to kick back and chill out to. Turn on a podcast or music, or play multiplayer, and just putter your way through the fields. In fact, I'm going to use it to help me with my New Years Resolutions! Also check out Geek to Geek Network's podcast: Farming Simulated! – Elinzia
Best Map Game
A big open world, a bunch of vague symbols, and a massive to-do list? Sign us up! Map games are those that focus on the joy of discovery and the satisfaction of checking off boxes.
Beautifully changing scenery and what feels like endless activities are what will keep you playing Forza Horizon 5 and driving around the Mexico countryside for far longer than you've ever intended; Forza's map design gets you absolutely hooked! This map is overloaded with things (big or small) to do. Feel like driving in a coast-to-coast race? Launching off a mountainside to get an air distance record? Just finding collectibles or discovering all of the roads? Filter by your preferred activity or just tackle whatever you drive up to. There's always something there that will surely keep most players driving around and always ready to go check out that "one last thing over there". – Nixxee
For some thoughts about the broad appeal of Forza Horizon 5, listen to Void recount his father-son playthrough of the game in Season 6, Episode 28, of the Geek to Geek Podcast.
Best Multiplayer Game
Considering world events in 2021, being able to connect with friends online and play games together was a real blessing. We enjoyed many multiplayer games this year, but if we had to pick just one…
Monster Hunter games have always featured plenty of single-player content, but the real appeal of the game is in teaming up with up to three other hunters to take down a seemingly unstoppable monster. Formulating a plan with friends and choosing weapons makes for some immensely satisfying action, but the game's quirky sense of humor and silly gesture animations make even pre-hunt downtime a fun multiplayer experience. With plenty of cosmetic DLC and a substantial expansion on the horizon, the future looks bright for Monster Hunter Rise. – Mr Alarm
In Data_Error's Keywords article about Monster Hunter, he discusses the value of teamwork when hunting down a big monster.
Best Writing
One of the great things about video games is that they're not just interactive software, they can be literature as well. This category highlights games that told us great stories, developed interesting characters, or maybe just made us laugh.
Final Fantasy XIV's latest expansion, Endwalker, is a triumph of storytelling because it truly manages to stick the landing on an ongoing multifaceted story that has been actively worked on for a decade. Endwalker manages to introduce new story elements while adding to the lore and worldbuilding of the MMO but the more impressive feat is how it managed to tie all the past lore together.
This is the end of the saga that started back in 1.0. For those unfamiliar, that's before the entire game relaunched as Final Fantasy XIV: A Realm Reborn. Since then, we've gotten 8 more years of expansions starting with Heavensward, taking us through the conflict of Stormblood, redefining what we know of the world with Shadowbringers, and now ultimately concluding with Endwalker.
I've purposefully avoided story specifics here since the story is the heart of FFXIV and I don't want to spoil that for anyone.  But, it's worth reiterating that they actually managed to stick the landing on a decade worth of storytelling.  On top of all of that, the FFXIV writing team leaves the state of the world in a place where they can truly go any new direction they want to with the next expansion.  I don't know when the last time was when I was so impressed with the narrative of a game. – Void
Void was so impressed by Endwalker, that he also brings up during the Geek to Geek Podcast's GotY episode. Check out Season 6, Episode 29 to see how it ranked!
Biggest Touchstone
Sometimes games resonate with us in ways that reach beyond the buttons we press or the things we see on the screen. For games that had significant cultural or community impact, we honor those games with the Touchstone category.
Halo has been a gaming touchstone since the first game launched the Xbox and Microsoft into the console market. Since then, the franchise has had its up and downs… but lately it's mostly been downs. Halo: Infinite was mocked mercilessly when it was first shown off, then it got delayed away from its console launch and it just felt like the game was destined to be a letdown.
A few months ago, they started up some open testing of the multiplayer and it felt really, really good. Each chance to play it got more people excited for the release of the game, then when the multiplayer surprise launched early as a free-to-play game on Xbox One, Xbox Series, and PC, it took over the gaming conversation.
I'm not far into the campaign yet, but it seems great… but the way that the multiplayer manages to recapture the feel of when Halo 2 got everyone on to Xbox Live is what makes it such a touchstone this year…and being free for everyone definitely helps!
-TroytlePower
Part of what makes Halo so iconic is its impactful music. You can read about our staff's favorite pieces of game music, including the Halo theme, in "Great Moments in Video Game Music".
Game of the Year 2021
This award probably speaks for itself. Our overall favorite game of the year for 2021 was…
The game is gorgeous, the multiplayer is enticing, the cars are stunning…what isn't there to like about Forza Horizon 5? In fact, pretty much every member of our staff has been playing this game. Whether driving around the jungle looking for an old junked up "barn find" car, or racing in The Goliath race of the Horizon Festival, there is always something to do here. In fact, stop reading this and just go play it. You'll thank me later. – Elinzia
Now that we've taken some time to recognize some of our favorite games and game of the year from 2021, we'd to thank you, our community members, for hanging with us through what felt like another very long year! What were your favorite games this year? Let us know in the comments below!
Happy New Year from all of us here at Geek to Geek Media!